This $0 Project Was the Best Mother's Day Gift I Ever Gave My Mom
We
independently
select these products—if you buy from one of our links, we may earn a commission. All prices were accurate at the time of publishing.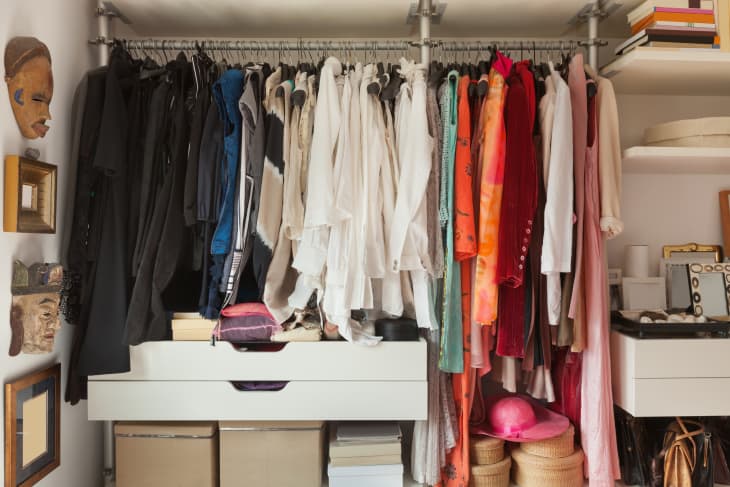 Growing up, there was one spot in the home that my sisters and I relished sneaking into: my mom's walk-in closet. Where else could we possibly find new school supplies, high heels from the '80s, extra bags of candy left over from Halloween, and pre-wrapped birthday presents all in the same 70 square feet? It was a childhood wonderland of clothing and miscellaneous goods. It wasn't until I got much older that it dawned on me that the messy, multi-purpose closet likely wasn't quite the same treasure trove for my mom. 
When COVID-19 first hit the U.S. and closed everyone's doors, I fortunately decided to leave my city apartment and decamp to my parents' house. Spending months on end indoors together, we started to envision new versions of certain rooms — we decluttered the office and painted it a warm gray, finally took down the magazine collages that covered the closet doors in my childhood bedroom, and made plans to redo the primary bedroom. As Mother's Day approached, I decided it was time to overhaul the iconic closet. 
I started by gutting the small room and making piles: things for my mom to go through, things to donate, things to store somewhere else in the house. Over several slow days, we sorted through everything. We listened to the Home Cooking podcast in its entirety, my mom tried on clothes and told me the origin stories behind old outfits, and I mourned the fact that we don't wear the same size because she has very cute style. Especially during lockdown, when a lot of days blurred into one, this time together still stands out in my memory of being home. 
When we finished paring everything down, I banished my mom from the closet so I could get to work reorganizing it. But first, I decided to give it a makeover. This part wasn't technically free, but was pretty inexpensive: I covered the blah-white walls in a couple of quarts of a deep green hue by Benjamin Moore called Sweet Basil. On Craigslist, I found someone selling a plain pine shoe rack, a set of foldable cloth storage bins, and a pack of matching wooden hangers, which I bought all together for $20. I also ordered some sweater dividers to keep the shelves looking neat through the seasons, new wooden closet rods that I stained to replace the old metal ones, and a wall mirror so she could try on outfits easily.
In the end, I made my mom close her eyes for a full "While You Were Out"-style reveal and… she loved it. She has famously great reactions — I think she screamed. While she adored the new paint color and organizing accessories, her favorite parts were the free details: A glass door from an old-fashioned entertainment center we were giving away, which my dad helped repurpose into a wardrobe door; and small note I wrote, framed, and placed on a floating shelf that says, "You look amazing." And the thing she still talks about today? How organized everything is. 
Whenever I go home now, she urges me to go look at her closet — and it's always immaculate. There are no plastic boxes of school supplies or tools or old prom dresses cluttering the racks. It's a space just for her, and the week spent organizing it was a gift for us both.