Here's How Long You'd Need to Live with Your Parents to Buy a House in 20 Different Cities
We
independently
select these products—if you buy from one of our links, we may earn a commission. All prices were accurate at the time of publishing.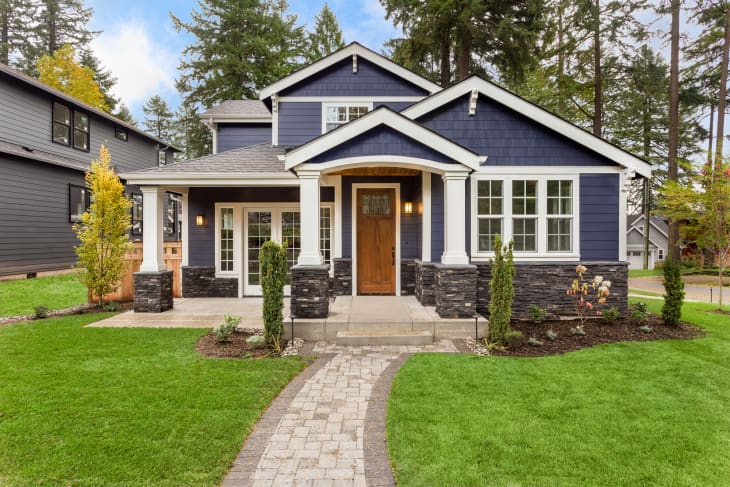 Dear Pandemic: Gosh, the things we can thank you for. Mass tragedy, soaring unemployment, a billion conspiracy theories. You're really having quite the productive stay here! I'm lucky because I was able to keep my job and decided to stay in my apartment. But many people opted to cut costs by moving back in with their parents. And, Dear Pandemic, those people might have something to actually thank you for: They are now potentially more able to afford a down payment on a house, according to a new report.
Realtor.com just released a report showing that the millions of young adults who kept their jobs but moved back in with their parents during the pandemic could have a 5 percent down payment for a home in about 11 months, even in the face of the student loan debt crisis. The numbers are based on median one-bedroom rent costs and median home prices in the United States. So if someone put $1,533 into a savings account monthly instead of spending it on rent, they could save $17,000 for a 5 percent down payment on a $340,000 home in less than a year. Realtor.com analyzed December home listings and rental costs in the country's 20 largest metros to arrive at these numbers.
This idea that young adults will be able to buy a house in 11 months hinges, of course, on the notion that these people have parents to move in with in the first place, have parents who are willing and able to house them for free, and have the ability to sock away the average one-bedroom rent payment while ostensibly living rent-free. Not every renter pays close to the median one-bedroom price in a given city, after all — and living with parents doesn't mean there aren't other expenses that the saved rent money could go toward. And, of course, this report focuses on young folks who are still employed, so its findings are not meant to be universal.
Since each major metro area has different living costs, the Realtor.com crew calculated it out per city to determine how long it would take to save enough rent money for a down payment. For example, in Chicago, where the median home price is $327,000, it would take the least amount of time: 11 months of stashing away $1,521 to save 5 percent. And in Los Angeles, it would take the longest. Homes there have a median price of just less than $1 million, and median rent for a one-bedroom is $2,250. Per Realtor.com, it would take 22 months to save a 5 percent down payment.
"Although many members of the millennial and Gen Z generations were forced to move home because they lost their jobs in 2020, others chose to forgo their rental because they had the opportunity to work remotely and preferred to wait out the pandemic with family," Realtor.com's chief economist Danielle Hale said in a release. "For those who have been able to channel their would-be rent into savings, the pandemic's silver lining could be becoming a homeowner sooner than they otherwise would have."
Philadelphia and St. Louis follow Chicago in being the quickest areas to save for a down payment. In Philadelphia, with median one-bedroom rent at $1,495 and the median home price at $327,000, it would also take 11 months. The same goes for St. Louis, with a $1,035 median monthly rent and $232,000 median home price.
San Francisco and San Diego join Los Angeles in the longest savings time. San Francisco residents would need 21 months of setting aside $2,414 monthly for a down payment on a $995,000 home, and San Diegans would need to save $2,000 for 20 months for a $797,000 home. See the entire list here.