4 Moving Apps That Will Help You Find the Right Movers for the Job
We
independently
select these products—if you buy from one of our links, we may earn a commission. All prices were accurate at the time of publishing.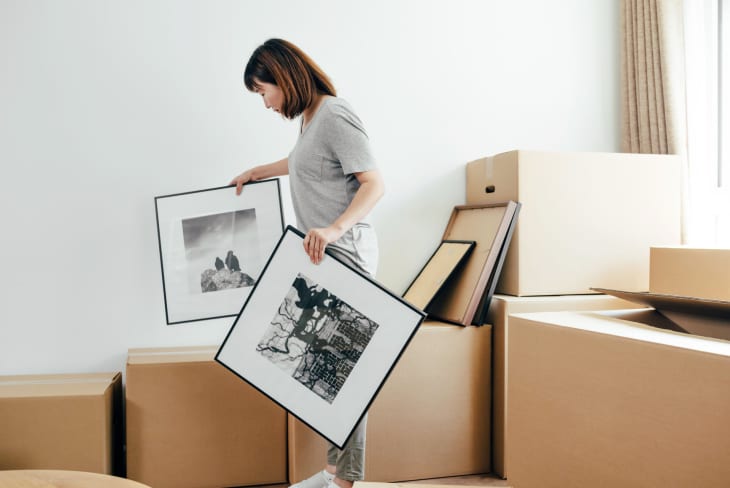 Moving is definitely one of life's more stressful experiences. Though when you're not in the throes of planning a move, it's easy to forget about the unique challenges of hauling a sofa up three flights of stairs. To make things less hectic when the time does come, hiring professional movers can be a smart choice. Movers will make the big day run that much more smoothly, and you won't have to ply your friends with promises of beer and pizza for lugging your dresser out of the car (again).
To ensure you're getting the best bang for your moving buck, here are four apps that'll help you shop around for movers in your area and get quotes. Your future self will thank you. 
Dolly is an on-demand moving app that allows you to book movers for a variety of needs. When you sign up, you provide the info on when, where, and what you need help with and get an upfront price quote. 
When you get connected with "helpers" (the app's term for movers), you can chat with them in-app and track your move as it happens. In addition to full-scale moves, Dolly can also be used for smaller moving jobs, such as if you need to move just a single piece of furniture or to move or deliver items purchased or sold through Craigslist, OfferUp, Facebook Marketplace, and the like. 
Moved bills itself as "your free moving concierge," and promises to eliminate many of the common headaches that come with moving, as well as save you time and money in the process. After a few short questions about your move and what you're looking for, you'll get multiple quotes from vetted professional movers, and you can choose the one that works best for you. The service also offers coordination of moving logistics, such as scheduling and elevator reservations, plus help with finding storage solutions and setting up mail forwarding. 
With Unpakt, you provide inventory and location details to get detailed pricing quotes, including the cost to move each item. You can compare guaranteed prices from several companies and read reviews from real customers. Unpakt promises to match you with one of 600 hand-picked moving companies featured on the app.
You'll only pay for what you end up moving, so if you decide some of your stuff isn't coming with you to your next abode, it won't cost you. Unpakt's guaranteed prices are based on algorithms and pricing from their movers. Customers do not pay movers directly; Unkpakt pays them after the job is done. When you book a move, you can cancel for free up to two days before the big day.
On MyMove, you can get free moving quotes and contact movers after providing a few bits of information on your move, including your location and number of rooms. You can sort through companies by price and rating, and also filter for your needs, such as if you need a truck or are just looking for labor. Use MyMove's Learning Center to check out advice on everything from hosting an estate sale to lighten your load going into your new home to how to properly file your taxes after a big move.