I Now Swear By This Really Smart Packing Tip from a Friend Who Moved 12 Times
We
independently
select these products—if you buy from one of our links, we may earn a commission. All prices were accurate at the time of publishing.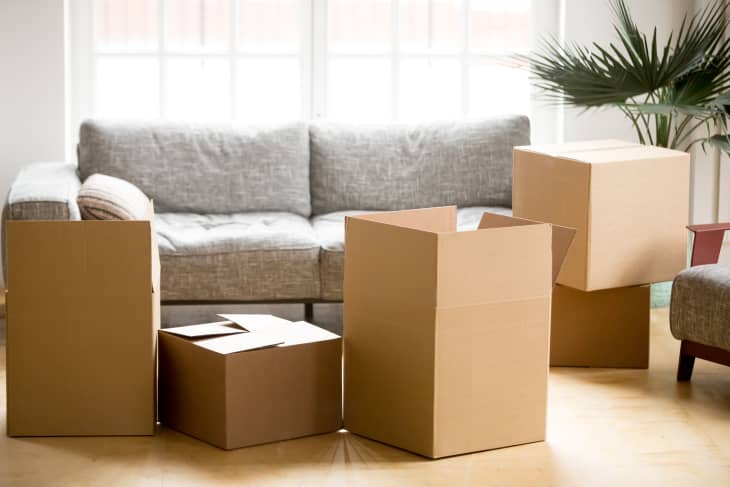 My family is in the middle of an interstate move. I haven't moved in more than ten years and the prospect of packing up everything we own is both terrifying and exhilarating. 
During the time we've lived in our house, we've added three more children to our family and built an addition onto our home. The move is a good time to reevaluate our belongings, keepsakes and beyond — in fact, one of the things I'm grateful for is the opportunity to start over with all of our stuff, or, more accurately, without all of our stuff!
Beyond decluttering, packing presents another opportunity, one that not only affects the moving-out process, but that will make moving into our new place smoother, faster, and more enjoyable. My friend who has moved a whopping 12 times in 16 years gave me this advice: Add organizing and containerizing to my decluttering efforts. 
The difference between decluttering and decluttering and organizing seems subtle, but it makes a profound difference when it comes to settling into your new place. Decluttering alone might lessen the load when it comes to filling up boxes, but the focus is still on the here and now. Decluttering and organizing, on the other hand, offers a welcome jumpstart on the future you're preparing for in your new space. Imagine the difference between opening a box of pared down kids' toys versus unpacking a box of an edited down collection of their favorite toys that are also meticulously sorted into their respective, labeled containers. 
Incorporating this idea into my packing routine means that when we arrive in our new home, in a sea of boxes and chaos and displacement, rather than trying to figure out how to store our belongings and making mental notes to go through this and that and the other thing, I can just put our organized things where they belong. I'd rather spend the time on this end making life a little easier for my future, frazzled, adjusting self. It will help get all of us, including my children, to that feeling of "home" in a new and unfamiliar place that much sooner. 
With this advice in mind, I've been making my way through the messiest spots in our house — like the craft, game and kids' closets — decluttering, then fine-tuning the existing organizational systems that can be transferred to the new space.
For example, we keep many of our board games in 8×8 plastic storage boxes to save on space and make accessing them day-to-day easier. Through the last couple years, especially because of the pandemic, we've added more games to our collection, but haven't always included our new additions in the system we'd already set up. With my friend's packing strategy in mind, I ordered some more of the storage boxes, sorted through our games, put whatever could fit into them, and updated the labels. 
I did this not only with the games, but with every single category of things in that closet. Sure, it took more time, but this would have had to be done at some point, no matter what. Plus, it gives me peace of mind to know that getting reorganized won't be on my to-do list when I'm trying to settle my family in to our new home. 
Ruthlessly decluttering and organizing now means a more peaceful move all around and it's one of the best pieces of moving advice I've ever gotten. Thanks, friend!