Half of Americans Want to Move. Here Are 5 Things to Know If You're One of Them
We
independently
select these products—if you buy from one of our links, we may earn a commission. All prices were accurate at the time of publishing.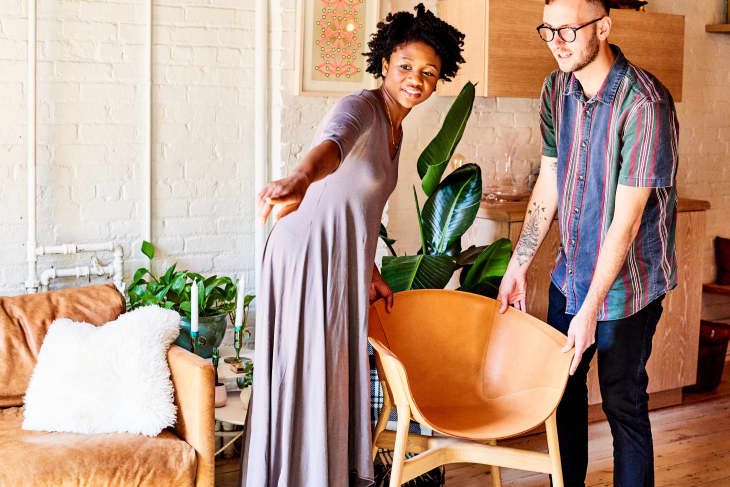 COVID-19 has been a part of daily life for almost a year now, redefining just about every aspect of it. Stay-at-home orders and lockdowns have caused many to rethink their living spaces, and the economic uncertainty brought on by the pandemic has caused some to go into super savings mode. 
As a result, nearly half of Americans are considering a move in an effort to save some cash, according to a LendingTree study of more than 2,000 participants. Already, moving requires some high-level logistics (have you ever studied elevator traffic patterns to figure out the optimal time to maneuver a couch to your fourth-floor apartment?) Now, throw in varying regional COVID-19 restrictions, delivery delays, appliance shortages, and the fact that a lot of other people are also looking to move, and moving in 2021 has become quite the large-scale operation. 
Whether you're going to ink a new lease or buy a home, experts have shared their best tips for smoothing out the bumpy (and busy) moving process this year.
Book in the middle of the week
The busiest days for moving are weekends and those at beginning and end of the month, says Lior Rachmany, the founder and CEO of Dumbo Moving and Storage in New York City.
"If you have trouble booking a day to move, try to book in the middle of the week or towards the middle of the month," he says. "Also, since these are typically less busy days, you are likely to get a cheaper rate for your move as well."
Ask if you can start moving your items in early
Higher-than-usual vacancy rates in major metros could be advantageous to you. 
"If the place you're moving to has been vacated for some time, ask your landlord if you can start leaving items in your new place," Rachmany says. 
Some landlords restrict moving large items to certain times of the day or times of the week, but you shouldn't have a problem with moving a few boxes before your official move-in date, he says. This way you will have less things for your movers to move, resulting in a cheaper and quicker move. 
Instead of boxes, try renting bins
Moves can produce a lot of garbage, and customers typically end up wasting a lot of time going out and scouring for boxes. And, if a lot of people are moving, free boxes will probably be even tougher to come by.
Ask your movers if you can rent bins. Your movers will drop off the bins before your move, and they pick them up after you are done unpacking. It's eco-friendly, too.
Ask movers about their cancellation policies
Buyers: If there is any way at all to avoid it, do your best to not move on the same day as closing, says Kate Ziegler, a realtor with Arborview Realty in Boston and with Coldwell Banker Lifestyles in New London, N.H.  
"If there are any delays at all, you'll be rescheduling and stressing about timing," she says. "It's better to give yourself some breathing room if there's any way you can afford to do so."
When booking movers, ask about their deposit and cancellation policies — everyone hopes a purchase can close without delays, but they do happen, and you want to know that you're not leaving money on the line if they do. 
"Book things early to be sure you have the tools and teams you need, but only if you know you can adjust without a major cost," she says.
With so many moves happening right now, there's potential for a rise in unlicensed movers and scams, cautions Homes.com president David Mele. "To protect your peace of mind, ensure that you're working with professional, licensed and insured movers," he says.
To help, you can check reviews online and the mover's proof of insurance. Scammers will often advertise extremely low, and fake, prices to trick people into the scam, in which they could steal your money or your possessions, cautions Consumer Affairs. Also, be leery of a company that's gone through several name changes, because Consumer Affairs says this could be an attempt at covering up negative press coverage or bad reviews.