15 Places to Score Moving Boxes for Free
We independently select these products—if you buy from one of our links, we may earn a commission. All prices were accurate at the time of publishing.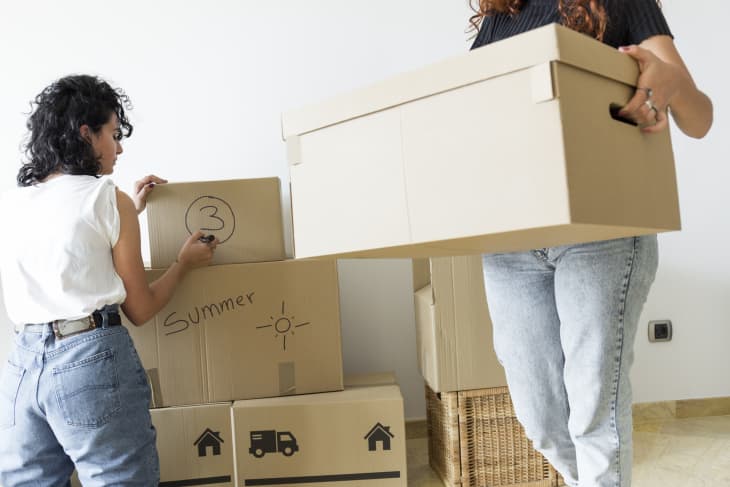 Moving is stressful enough on its own, and hunting down the cardboard boxes you need to get your possessions from one home to the other is often the last thing you want to do. Thankfully, finding moving boxes doesn't have to be a Seinfeld-esque experience if you know where to look—it actually can become one of the simplest tasks on your moving checklist! 
Quick Overview
Where can I get moving boxes for free?
There are plenty of places to score moving boxes without paying for them, including grocery stores, liquor stores, bookstores, and Facebook marketplace.
If you're short on time, purchasing cardboard boxes is a breeze, but they can fetch up to several dollars per box. We're highlighting 15 destinations to find free cardboard boxes in your neighborhood, nearly all of which should be easily accessible for the average person. 
Turns out, your local Walgreens, CVS, or even your mom-and-pop pharmacy could be an excellent destination for finding cardboard boxes at no cost. When it comes to Walgreens, for example, call your local store in advance to ask if they will save you a certain number of boxes from their next shipment, according to Neighbor.com. So long as you give the pharmacy notice, you should leave with an armful of boxes. 
The Nextdoor app is a great source for finding free moving boxes. If you're unfamiliar with the app, it connects you with other users in your community who can share news, sales, and other information with the neighborhood. Try posting to see if anyone has extra cardboard boxes they aren't using, and you're sure to find a friendly neighbor at the ready. 
3. Costco and Other Big-Box Stores
Needless to say, big-box stores like Costco come across tons of cardboard boxes on a given day. While it's a great destination for purchasing moving boxes, calling ahead to see if you can pick some up after your local store's next shipment comes in can ensure you snag some for free.
Your local recycling center is a prime location for scoring moving boxes of all kinds. Call ahead to make sure you can pick some up for yourself, or visit the center to learn about your options while dropping off your ready-to-recycle glass, plastic, and paper products.
 Do a quick search of Craigslist's  free section (found under the "for sale" heading) to find free boxes from people in your community. You just might find an amazing item for your new place along the way.
Join your local Freecycle group and put out the word or search to see if anyone is already offering them. This organization serves to connect neighbors and communities in order to prevent amazing items from ending up in landfills. 
Your local liquor store can be a gold mine for finding free boxes. Boxes from a liquor store tend to be small and sturdy—great for books, photo frames, and more. Ask for boxes with lids (otherwise, contents are bound to fall out in the moving truck).
Your local bookstore is a perfect place to pick up boxes specifically for moving books. Look for smaller cardboard boxes, since books can be heavy and bulky.
Pro tip: Call your neighborhood grocer to save their apple and banana boxes for you to pick up—these freebies are perfect for moving fragile items
10. Fast Food Restaurants
Before those infamous McDonald's fries find their way into your Happy Meal, they're shipped to each location frozen—and in sturdy cardboard boxes. These boxes are strong and excellent for hauling heavy items that require a smaller-sized box. Because the original contents of the box are frozen, you won't have to worry about the boxes being smelly (or greasy). McDonald's fry boxes also happen to have a Facebook page for fans of their versatility.
11. Your Local Coffee Shop
Typically, a local Starbucks store will receive anywhere from one to two shipments per week, so there's a good chance they'll have boxes available on a weekly basis. Because Starbucks boxes range in size, ask them to hold their larger-sized containers for storing lighter, bulkier items.
U-Haul has created a message board allowing you to search by location for free boxes in your area. It's a simple way to score just the right-sized boxes for your moving needs. 
Schools get a ton of deliveries, between foodstuffs, books, furniture, and supplies. Try connecting with the janitorial staff and offer to take boxes off their hands and save them the time of breaking them down for recycling.
If you drive to work, ask your office manager or the folks at the loading dock if they have any clean boxes you can have. If they don't, tell them your move date and ask them to set some aside for you to pick up another day.
Facebook Marketplace often has boxes available. Finding them is as easy as typing "cardboard boxes" into the site's Marketplace section.