If You Like Denver's Access to Hiking, Try Moving to This Smaller (Cheaper!) City
We
independently
select these products—if you buy from one of our links, we may earn a commission. All prices were accurate at the time of publishing.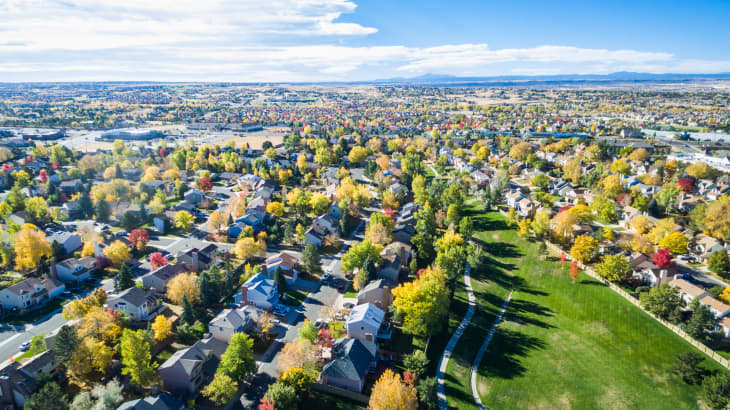 The secret's out about Denver. The Mile High City (it's called that because the elevation there is 5,280 feet) is a launching pad for all kinds of weekend adventures — skiing, hiking, mountain biking, white-water rafting, and exploring the historical remnants of boom-town mining camps turned ghost towns. It's got a lot of great beer, not to mention the Beer Spa. There are also pro sports teams, an exciting restaurant scene, cool art districts, and a whole lot more. 
In short, Denver is very cool*. (*I'm biased; I live in the area, but I'm sure the more than 115,000 people who have moved to Denver in the last decade would also agree). Denver's population has indeed surged, growing 19.2 percent between 2010 and 2020. And, not surprisingly, the cost of living has gone up here, too. 
So, if you're drawn to Denver because of its amenities and its proximity to the mountains, but find the prices to be a little too high, turn your attention to Aurora. A suburb to the east, Aurora's population is 370,000 — about half that of Denver. Median home prices are $460,000, which is $100,000 less than in Denver. Median monthly rent is $1,563, a couple hundred dollars cheaper than Denver, according to figures from RentCafé. Aurora also boasts 8,000 acres of open space, and residents can still get to the foothills in under an hour.
"Aurora has almost the same accessibility to the things that drive people to Denver, but with a more affordable price tag," says Tianna Matheja, a Colorado realtor with RE/MAX Leaders & the Tamborra Team. She says Aurora also has more accessible parking, larger lot sizes for homes, and lots of wide-open spaces.
As the Denver metro area continues to build its light rail system, living in the suburbs of the city continues to grow in appeal, says Carla Ferreira, director of onsite development at The Aurora Highlands, a 3,700 master-planned community that, upon completion, will be one of the Denver metro region's largest mix-used, master planned communities with four schools, 21 miles of trails, and 500 acres of parks and open space.
Aurora recently landed at number 36 on Livability's list of the 100 Best Places to Live, ranking high in the demographics category as a minority-majority city, with a diverse population of Latino, African-American, Asian, and foreign-born residents.
Frequent travelers will appreciate the suburb's proximity to Denver International Airport. Aurora also has an established food and beverage scene with 250 ethnic restaurants, plus breweries, including Lady Justice Brewing Company, a Latina-founded, queer-and-woman owned brewery that donates thousands of dollars to local charities. 
My own friend group leaves Denver behind for frequent dinners and brunches at Annette, which serves wood-fired fare and is led by James Beard semi-finalist Caroline Glover. The restaurant is among the 50 some Colorado businesses that make up the Stanley Marketplace. 
Another perk of moving to Aurora? You'll have a cool nextdoor neighbor, Denver, to the west.