Tons of People Are Moving to This Unexpected Small City, and It's Not on a Coast
We independently select these products—if you buy from one of our links, we may earn a commission. All prices were accurate at the time of publishing.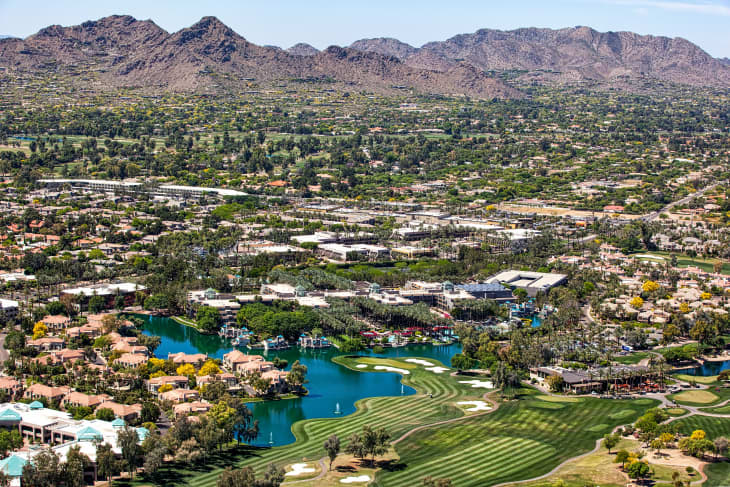 Ready to flee a large urban metropolis for a smaller city or town? You're not alone. HireAHelper is a service that connects people with local movers, and the company studied more than 25,000 moves booked on its platform and cross-referenced their findings with U.S. Census data to get insight on how, where, and why Americans moved in 2019.
Movers see Scottsdale as smaller, cheaper, and better for families than other major U.S. cities
So what makes this unassuming city so popular? People are drawn to the relative affordability, safety, and family-friendly nature of smaller cities compared to larger ones, per the report. While New York City, San Francisco, Chicago, and Los Angeles all lost more residents than they gained in 2019, Scottsdale was followed by Durham, North Carolina (population: 274,291) and Sarasota, Florida (population: 57,738) on the list of cities to see the biggest net gains in population. 
Scottsdale has a median home value of $521,515, while Durham's is $251,243, and Sarasota's clocks in at $271,800. These figures put Durham and Sarasota's home values in line with the national median of $245,193. While Scottsdale may seem steep with a median home value above the half a million mark, it's still well below that of Los Angeles ($723,783) and New York City ($652,728).
Definitions of home are changing
While some may still hold the belief that the Big Apple is the proverbial center of the universe, thanks to our increasingly global and digital lives, more people are realizing that they can live anywhere and still lead the lifestyle they desire.
Dr. Wendy Parson, a sociologist at Varsity Tutors, points to increased opportunities to work remotely as well as people's desires to downsize and live more environmentally conscious lifestyles, as evidenced by the popularity of tiny homes and the trend toward paring down our possessions. Taken together, these factors are influencing people's motivations to explore areas outside of major hubs.
"Today's emerging adults value experience more than stability," she explains. "The ability to stay connected via the internet is easier, so distance is less of an issue."
While the report showed that Gen Z (or people ages 18 to 24) moved the most, with 58 percent of them moving at least once a year over the past five years, people of all ages are experimenting with a more nomadic lifestyle.
"The notion of the stable 'family homestead' where everyone's mail went while they globe-trotted is now over, with many seniors downsizing and choosing to live in smaller, cheaper and warmer areas," Parson explains. "Now, those who leave home earlier to explore are roaming—not just leaving home to settle down with a family after marriage and stay in one spot for an extended period of time."
Chasing the sun isn't so bad, either
Scottsdale, Durham, and Sarasota are also great destinations for sun seekers. With average highs that range from 66 up to 101 degrees in Scottsdale, it's an ideal locale for those hoping to put cold winters behind them. It's also no surprise that it's a major destination for golfers.
The desire to live somewhere warm is also reflected in the study's finding that more Americans moved to Florida than any other state last year. 
Parson partly attributes the popularity of these southern states to people's desire to follow their "snowbird" parents who relocated to these areas upon retirement. 
"People are living longer, and their vitality and freedom are just beginning as they reach retirement age," Parson says. "Coupled with the responsibility of their aging parents who are still driving and playing tennis into their 70s, it makes sense to be near them in a warmer and more affordable place they can both enjoy and be accessible to them should the need arise."