How to Start (and Stick With) a New Fitness Routine, According to a TikTok Star
We independently select these products—if you buy from one of our links, we may earn a commission. All prices were accurate at the time of publishing.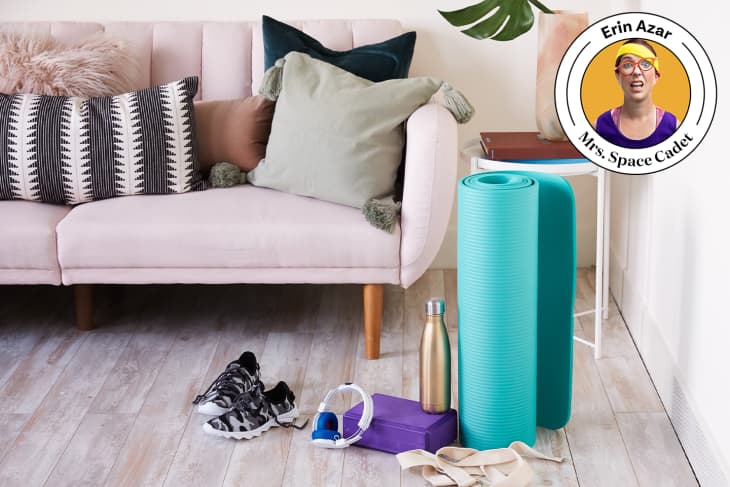 Happy Place is a brand-new editorial series dedicated to helping you live your happiest, healthiest life at home. Every week for 4 months, we're sharing quick, doable, and not-at-all-preachy tips that wellness pros, home decor experts, and Apartment Therapy editors actually use (really!). Sign up now to get 16 weeks of actionable advice in your inbox.
Follow Topics for more like this
Follow for more stories like this
Happy Place is created independently by our editorial team and generously underwritten by Yogi® Tea.
The New Year is here and, just like in new years past, many people have made resolutions. So often, you start out strong, hitting your step goal or remembering to make time to meditate every morning. And then, you falter: because you're back at work and the kids are back at school and there's a new strain of coronavirus and so on.
So how can you make this year's healthy resolutions stick? We talked to Erin Azar, also known as Mrs. Space Cadet, whose adventures in "struggle running" are something of an internet sensation.
"One of my first running videos went viral on TikTok and I realized this stuff was relatable to way more people than just myself," Erin says. "I've been running and documenting on social media ever since."
Read on (and listen in) to find out how Erin keeps up her healthy habit even on days when she really doesn't feel like it.
No time to read? Listen to highlights from our conversation with Erin instead.
Erin's number one advice? Stay with it, even on days when it seems impossible. "I stick with my running schedule no matter what because I know how much consistency plays a role in success. Remember that something is better than nothing. On really tough days, even walking 1/4 mile will help keep the momentum going instead of not going at all and having that "fell off the bandwagon" feeling. This is coming from someone who quit everything in their life, so I know what I'm talking about.
"If you're feeling unmotivated, go for a quick walk, with a goal of taking three pictures. Finding interesting things about your surrounding distracts you from how tired you are and the walk will wake you up."
But Don't Take It Too Seriously
On the other hand, Erin says the biggest mistake people make is taking their new exercise regimen too seriously. "I feel like this is why people quit so fast because they aren't getting to where they think they need to be fast enough. Let go of the expectations so you can laugh at yourself, have fun, and genuinely enjoy movement and how it makes you feel."
She also suggests not taking things too seriously when it comes to nutrition, something she learned from her running coach. "Coach Alysha is super healthy, runs marathons even while pregnant, but doesn't deprive herself of treats or other things she's craving. She has a sustainable mindset on nutrition and exercise that she has passed along to me whenever I ask for her advice."
Because what your mind and body needs is constantly changing, it's important to listen to your body, Erin says. "Some days we might need more sleep, others we might need some deep breathing exercises, and other days our bodies might be screaming for some veggies or sunlight.
"If I'm feeling burnt out, I know it's not because of my exercise. It's most likely because I overbooked myself in work and/or life. When this happens, I start saying 'no' to things more often and I find balance from that."
Involve Your Friends and Family
Being healthy is more fun with company, so, Erin says, "Bring friends or family on your adventures. Even when you're apart, you can compare your routes and talk about how your runs or your walks went."
Or get social, like Erin. She says the online community "helped greatly with accountability" and "made me reflect a lot on my failures and successes."

Ready to find your happy place? Sign up for the newsletter!