This Old-School Laundry Trick Made My White Towels Look Like New Again
We independently select these products—if you buy from one of our links, we may earn a commission. All prices were accurate at the time of publishing.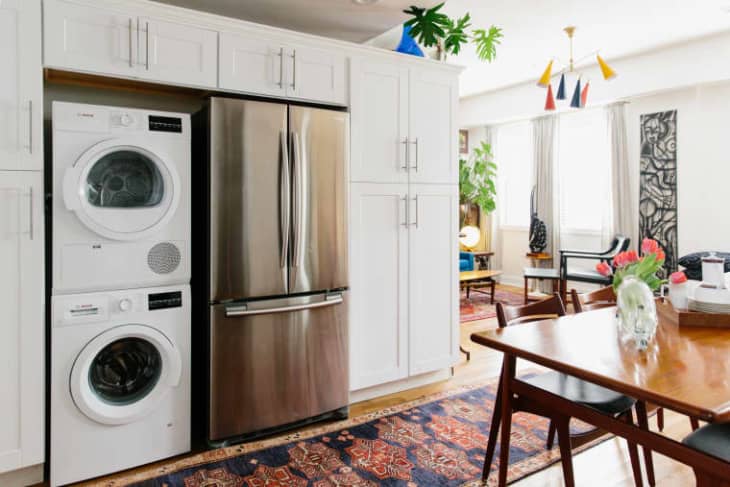 If you're not familiar with the little blue bottle sporting a portrait of a stern, old-fashioned matron on the label, Mrs. Stewart's Bluing is a non-toxic, liquid blue dye (made with blue iron powder) that purports to make your whites extra bright, without harsh chemicals. The idea is that shades of white with an undertone of blue, as opposed to yellow or pink, are the brightest white to the human eye because the blue reflects more light. White textiles are often tinted with the barest hint of blue for that reason, and it's why back in Mrs. Stewart's day, doing laundry always included a bluing tub for whites. 
I'm not sure why we've gotten away from the practice of bluing our whites, but because all of the towels in my house are white (at least, they're supposed to be white!), not to mention the huge stack of flour sack dish towels in my kitchen, I decided to give this generations-old cleaner a try. Could it bring my stained and yellowed towels back to their original condition?
I borrowed a bottle of Mrs. Stewart's from my neighbor to try out on a load of well-stained towels. I followed the directions, diluting 1/4 teaspoon into two quarts of water (using it without diluting it first, or adding too much, will cause blue stains on your fabric). I have a front-loading machine so I had to add it to the dispenser drawer while the machine was filling. Once the wash was done, I pulled my towels out and, well, the stains were definitely not gone. 
That's when I reminded myself of the purpose of bluing. It's not a stain remover by any means. It doesn't clean. It's a dye that, really, creates an optical illusion if the circumstances are right. The blue tint can offset the warmth of yellowed whites and make plain white look brighter, but gray-tinged whites or stained items will not benefit.
So I decided to wash all of my yellow-est white towels, including my bath towels, with the stuff. They weren't stained but they definitely weren't exactly glowing anymore. Apparently washing with bleach can do that to whites, and I do sometimes add a splash to an all-white load. I washed these towels with the bluing stuff and — Hey! It worked! Wonderfully! The towels definitely looked a few shades brighter and whiter, and they were fluffy and soft — unlike the dried, parched texture they get when I use bleach.
Turns out Mrs. Stewart's Bluing is best for maintenance, to re-brighten whites before they've gotten too dingy. It doesn't remove anything from fabric, it adds to it. That's why it's not a replacement for stain removers or detergents, but it can re-brighten your whites — provided they're, well, white. 
I've ordered my own bottle of Mrs. Stewart's and plan to put it in regular rotation on laundry day. Bonus: The max dosage per load is just 1/4 teaspoon, so I'll probably be passing this bottle down to my grandkids!
Have you tried bluing your yellowed dish towels? Do you have other laundry tips for getting your dingy dish towels to look like new again? Tell us your suggestions in the comments below.