If You're Not Drinking Out of Mushroom Glasses, You're Doing Coffee and Cocktails All Wrong
We
independently
select these products—if you buy from one of our links, we may earn a commission. All prices were accurate at the time of publishing.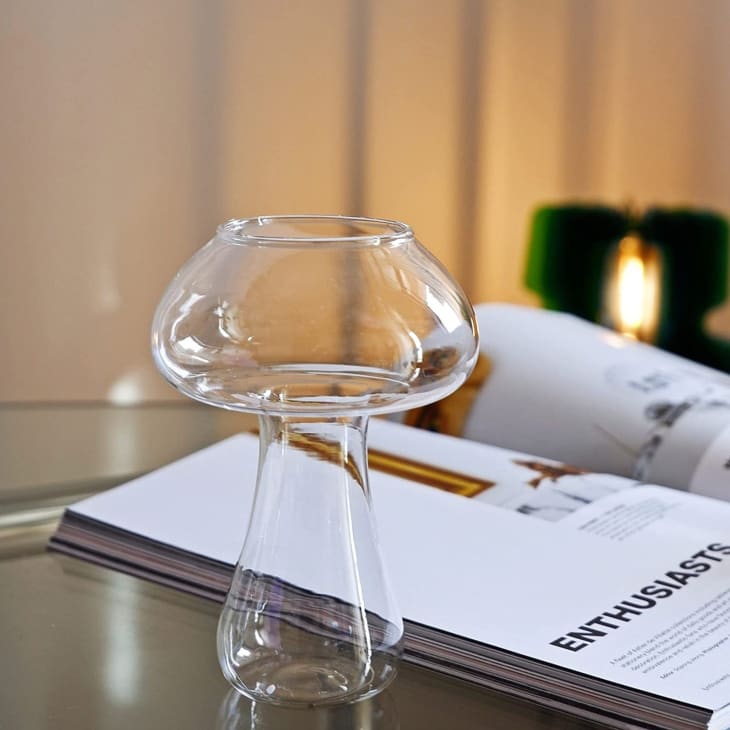 Hot on the heels of the mushroom lamp resurgence, this quirky, cap and stem shape is now sprouting up in glassware form. I don't just mean mushroom-printed drinking glasses either; I'm talking about enjoying your tea, orange juice, wine, and even water from an actual mushroom-shaped vessel. And yes, it's as fun as it sounds.
I first caught wind of this trend via TikTok, the land of all things cool and attention-grabbing. There, user @daisyjanelle shared a video of her disco-infused coffee routine last month, which incorporates one of these cutely-shaped cups. The post shows her stirring an iced latte, whipped cream topping and all, within the mushroom glass using an equally adorable orange straw. Even if you're not a coffee drinker, you have to admit this looks glass downright delightful to drink from — and honestly just to hold, too. I mean, think about the epic cheers-ing potential mushroom-shaped glasses offer. The post also uses the popular TikTok sound that says "The algorithm lumps us together based on common interests and categories, which means that I'm on your For You Page right now… you're like me."
Does my own TikTok algorithm know me better than I may know myself? Maybe. One thing I did know was that I had to put my Shopping Editor prowess to the test and find out where to get these vintage-inspired glasses ASAP. The original TikTok user actually responded to a few comments on her video suggesting typing "mushroom cup" into Etsy — and ding, ding, ding — I found a lot of contenders. One Chicago-based seller specifically, Filtrum, carried an assortment of hand-blown mushroom motif glasses and best-selling mini mushroom vases (!!!) for less than $20.
What's better than one mushroom glass? A set of mushroom glasses, of course! The 16-ounce listing shown above features two- or four-piece buying options as well, for a collection that makes prime bar cart decor and conversation-starting party accessories.
I also had luck searching for "mushroom drinking glasses" around the web, which led me to a fun version from Urban Outfitters as well as colorful glass vases from Etsy. You'll come across equally affordable options via Amazon to top off your glassware collection. Mushroom-shaped bottoms up, everyone!