This Handheld Amazon Tool Makes Barista-Worthy Brews in Seconds and I Never Travel Without It (It's on Sale!)
We independently select these products—if you buy from one of our links, we may earn a commission. All prices were accurate at the time of publishing.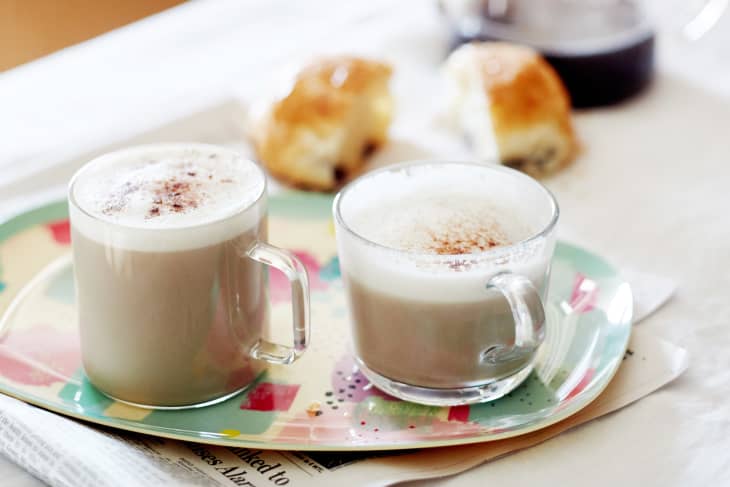 There's one thing that's bound to get me out of bed every morning: coffee. No matter how early it is — or how grumpy I am — it's the thought of my morning cup that motivates me to leave my cozy pile of sheets behind. Unfortunately, as a daughter of some serious coffee snobs (sorry to expose you, mom and dad), I don't settle for just any joe. I was lucky enough to grow up with a fancy espresso machine at my parents house, and even though I still venture over to my childhood home for my childhood brew as often as possible, buying my own coffee-making device of the same caliber is a little more than out of my price range.
Follow Topics for more like this
Follow for more stories like this
So, I've found a few other stellar methods of making a darn good latte at home. One being my trusted Nespresso machine. Which, I know, is a polarizing at-home device, but if I pop in one capsule of the Ispirazione Arpeggio and one Venezia, add my sugar, ice, and oat milk, it's a pretty perfect cup. When I want coffee that tastes straight out of a coffee shop, I'll bust out a frozen capsule of Cometeer. But, because the actual beans (or grinds) are just as important as the brewing method, when I want to experience the flavors of my favorite coffee shop back in LA, I whip out a handy little gadget: WACACO's Nanopresso.
The size of a small water bottle, the Nanopresso is a hand-powered mini espresso maker. Using it is simple: I just grind my beans, pack them into the mini portafilter with the included scoop/tamper combo tool, fill the reservoir with boiling-hot water, screw everything together and give the retractable piston a few easy pumps. There's no fiddling with water temperature or knobs and dials, which makes it super user-friendly. The gadget uses a patented pumping system to deliver 18 bars of pressure, meaning the water forced through the coffee grinds is pushing through at 18 times the pressure of the natural atmosphere. In other words, I'm able to get all that roasty, toasty, delicious bean flavor which just a few pumps of my hand. And, since it's so small and portable, I can take it with me wherever I go!
The shot that flows out the bottom of the Nanopresso is slow, dark, and finishes with a beautiful crema — all the telltale signs of good espresso. I even did a side-by-side comparison with a shot from this portable device and my parents' do-it-all machine to find no discernible difference. In fact, there are even a few upsides the WACACO gadget has over my parents' espresso maker.
For starters, the price tag. (It's just under $70 and on sale right now!) Secondly, it's portable: this thing has saved me from having to drink subpar instant coffee on camping trips and watery gas station brew on long road trips, and it's delivered an excellent cure to jet lag when I'm out of the country. Finally, unlike the lengthy and nerve-wracking process of descaling a top-quality machine, to keep the Nanopresso clean and running smoothly, a less than 60-second hand wash is all that required.
I've bought this gadget for friends and family, and have always gotten the same feedback: "This little gadget changed my life!" Whether you need to make sure you have a good cup of joe on the go, or just want to enjoy delicious easy-to-achieve espresso at home, I'd recommend the Nanopresso time and time again.