12 All-Natural Cleaning Tips I've Learned from My Parents
We independently select these products—if you buy from one of our links, we may earn a commission. All prices were accurate at the time of publishing.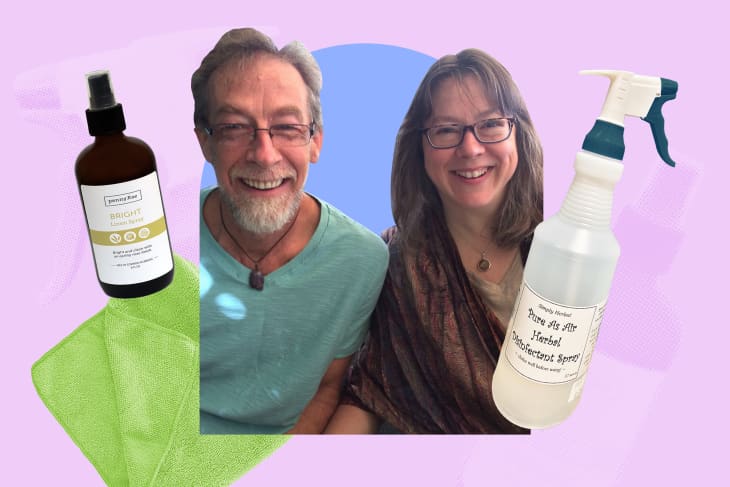 Some parents played golf in the '90s, while others started book clubs. My parents made their own soy milk and cleaners. The soy milk wasn't a huge hit, but the cleaners have been a mainstay in our household ever since. And now my parents sell them at their health food store in Jefferson City, Missouri, under their aptly named brand, Simply Herbal. 
Follow Topics for more like this
Follow for more stories like this
My parents had always used natural ingredients to clean their home, such as baking soda or vinegar. But when my dad started his own office cleaning business in the mid-'90s, he needed something even more effective. He decided, however, that standard commercial cleaners were not the answer. 
You see, my parents learned that people in the commercial cleaning industry face a greater risk of illness and higher mortality rate from respiratory and cardiovascular diseases, likely due to the harsh cleaning formulas they use. One study found that even home cleaning can lead to reduced lung capacity, causing the same amount of harm as smoking a pack of cigarettes every day for 10 to 20 years.
So my dad decided to make his own all-purpose cleaning spray, which he calls "Pure as Air." The spray includes hydrogen peroxide, colloidal silver, water, and essential oils, which you can combine using different amounts of each ingredient based on your preference.
From there, my parents developed a bathtub and sink scrub using baking soda and essential oils; a carpet freshener using baking soda, corn starch, and essential oils; and a linen spray (as part of a different product line) using clear alcohol, water, and essential oils.
In addition to the formulas themselves, here are 12 all-natural cleaning tips my parents taught me. 
Use essential oils with antibacterial properties (such as lavender, lemon, or tea tree) instead of fragrance oils whenever possible.
Don't buy high-end, expensive essential oils for your cleaners — standard ones will work just fine. 
Always keep lavender essential oil in the kitchen. It's a great way to remove odors from your drain or garbage disposal (just sprinkle a few drops into it), your hands (apply a small amount directly to your skin), or the air (release it using an oil diffuser or burner). Plus, it's great for burns and can be used directly on your skin as long as you don't have any open wounds. 
Sprinkle a carpet freshener on carpets and furniture before vacuuming to eliminate odors, especially if you have pets. Just be sure to use it on a test area first to make sure it doesn't stain.
Cut old T-shirts and towels into squares and use them as cleaning rags. 
When scrubbing your bathroom sink or tub, designate a kitchen sponge for that area and use the soft side to prevent scratching if the surface is plastic. 
You don't need a special cleaner for glass surfaces such as windows. My parents' all-purpose cleaner formula or distilled white vinegar will do the trick. 
Use your all-purpose spray combined with water to clean your vinyl, tile, or linoleum floors. You can combine the cleaner with water in a bucket or use a spray mop. 
If you have bamboo or wood floors, you can still use a little water mixed with cleaner — just use less of it. 
Try a citrus-based cleaner like Vermont Soap's Liquid Sunshine for heavy messes such as grease on hard surfaces other than wood, including the areas above and around your stovetop. 
Apply linen spray to your sheets and in the air in your bedroom, bathroom, and car. You can even bring it with you when you travel and use it in hotels and elsewhere. 
Use hydrogen peroxide as a toilet or drain cleaner, letting it sit for a few minutes before you flush or run the water.
Cleanliness matters, but so does your long-term health. "It's important to use all-natural ingredients because they can be just as effective, and we have so much toxicity in the world that you want to minimize it to the extent possible," my mom says. "Using natural cleaners is one way to do that."