My New Neighbor Is My 85-Year-Old Grandmother — And It's the Best
We independently select these products—if you buy from one of our links, we may earn a commission. All prices were accurate at the time of publishing.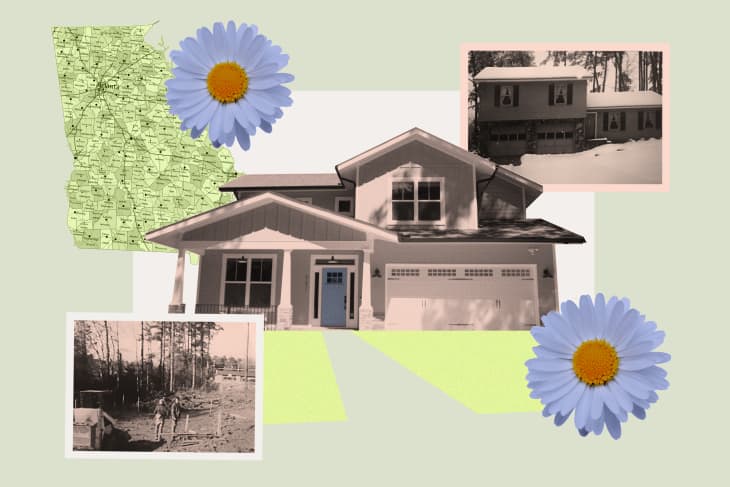 I grew up within walking distance of my grandparents' house in suburban Atlanta, getting off the bus there on some afternoons after school and spending sick days in their care while my parents were at work. My grandfather was usually tinkering with antique engines in the basement workshop, while my grandmother made us our favorite snack, Munster cheese and turkey, set on TV trays in the living room.
Follow Topics for more like this
Follow for more stories like this
The house was a modest ranch that had been added onto over the years. It sat on two lots with a creek running behind them, where my siblings and I played in the summers. My grandfather built the property himself — as well as many others on their wide street. And after he passed away, my 85-year-old grandmother, "Meme," continued to live under the roof he constructed with his two hands. 
I traveled and worked as a freelance writer after college, so I had the nagging sense that homeownership was out of reach for me. But my father suggested that I build on one of the lots that my grandparents still owned — specifically the one across the street. The lot had never been developed (it was just an empty space filled with trees), which gave me the chance to dream. It turned out that homeownership was within my grasp and, in fact, it was only a few steps away.
The land was cleared and I picked out a Craftsman-style design from a website. The process quickly became a family affair, with my mother, sister, and father weighing in on the many decisions that had to be made: the paint colors, the kitchen appliances, the hardware, the landscaping — you name it, we discussed it. My father was the builder, having worked with my grandfather on his home, and it felt as if the lessons passed down from generations were alive once again with every wall and window we put into place. In May 2020, I moved into my first house, across the street from Meme, in an area I'd spent the most formative years of my life. 
Returning to the neighborhood I grew up in put me in a constant state of rediscovery as I drove past the former addresses of childhood friends and began shopping at the same grocery store my family went to for food. I struck up conversations with neighbors who weren't my grandmother, learning their names and, of course, their dogs' names. Meme would describe the houses nearby and tell me stories about who used to live there as we sat on her porch. 
In the months that followed, I started to see Meme every day — I'd come by to pick blueberries from the yard, bring her bagels I'd made, walk my dog over to cool off in the creek, and help with the bookkeeping for the family business. If she wasn't home, she'd leave me notes in her tight, cursive scrawl.
I was worried about respecting our personal boundaries at first, but we soon developed a routine. We have meals together most weeks with my parents and other grandparents. If everyone is out of town, we order Thai or Chinese food, and then I'll often pilfer leftovers until the remnants are gone. When I see my grandmother pull into the driveway to check her mail, I run out of my office to catch up with her for a brief moment. 
We know to give each other space, too, which is important. My grandmother and I are both introverted, and while we love spending time with loved ones, we need quiet time to recharge. I don't take it personally when she ends a phone call with a simple, "Okay, gotta go." 
Meme and I share a love of antiques, so I show her my photos of recent finds from stores and estate sales. Her home is a collection of beloved items, with notes taped to every trinket about where they came from. My own home shares this ethos. An airplane propeller from my grandfather's workshop is now featured in my living room, along with a wicker bench from my grandmother that I enjoy on the front porch. Souvenirs from their travels are mixed with my own, including Russian nesting dolls and a ceramic pomegranate from Turkey. 
I know that the time I have with my grandmother is limited, but I've enjoyed every minute of being her neighbor. And while someone else may one day live across the street, my home will always remind me of her. It's a family heirloom that's been lovingly rooted in the past to secure my future.