What You Can Do (And Sadly, What You Can't) If Your Neighbor's Yard Is an Eyesore
We
independently
select these products—if you buy from one of our links, we may earn a commission. All prices were accurate at the time of publishing.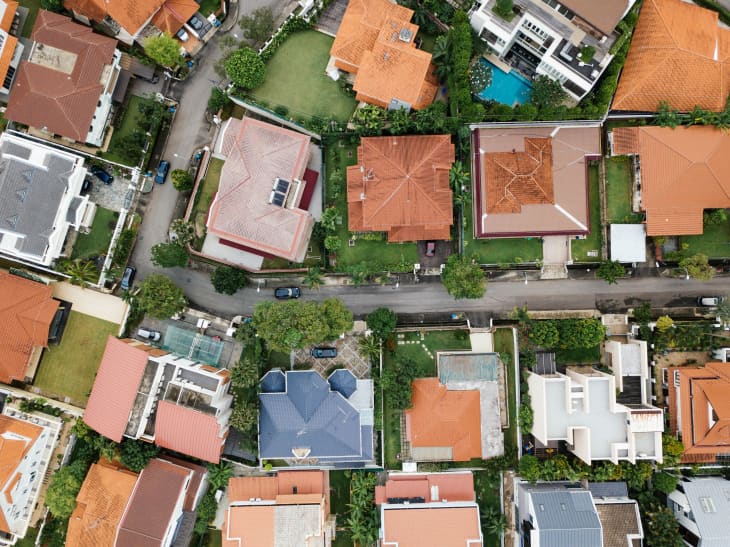 Mr. Rogers used to sing about it being a beautiful day in the neighborhood, probably because he lived next to friendly folks who mowed their lawns and put away their bins on trash collection days. 
But for many homeowners, courteous neighbors and a block full of well-manicured yards aren't the norm. In fact, Offerpad, a real estate tech company, conducted a homeowner survey to find out just how Americans felt about their neighbors. The results were pretty interesting:
About 40 percent of respondents said they'd rather have a nice neighbor with a messy property rather than an unfriendly one with a well-maintained property.
Out of the 72 percent of survey respondents who said they have a security camera installed, about a third of them have seen their neighbor up to something "odd." (Very sorry to report that the survey didn't spill the tea on what constituted as "odd.")
How sweet! Apparently, some people still actually ring a neighbor's doorbell to borrow a cup of sugar. Millennials (31 percent) and seniors age 77 and older (30 percent) were neck and neck in terms of who has asked a neighbor for some type of cooking or baking ingredient.
Well, this is awkward: Half of respondents would encourage their neighbors to move — if they could find a polite way of doing so.
But here's where it gets juicy: A little more than half (52 percent) of all survey respondents admitted they would consider sneaking onto a neighbor's property to fix, change, or remove something. Sound extreme? Your local law officials would like you to think so. Trespassing is indeed a criminal offense, though what constitutes trespassing does vary by state. At the very least, one might imagine that your neighbor wouldn't be pleased to see you in their yard, especially if you were hoping to get invited to their 4th of July pool party.
Here's what you can't do about a neighbor with an unkempt yard.
If you pay a landscaper to maintain your lawn and garden, you might think you're being mighty generous to send them over to take care of your neighbor's yard. But you'd be mighty wrong.
"Hiring any professionals without your neighbor's consent is a pretty bad idea," says Bobbie Schwartz, an Austin-based real estate agent with Orchard Brokerage, noting that the move could be considered trespassing or even property damage, depending on the local laws.
Here's what you can do instead.
Other than buying heavy window treatments, is there a better solution to dealing with a neighbor's yucky yard? The short answer is yes. Here are some tips.
Make the offer to hire services.
"Ideally, you'd reach out to the neighbor and ask them to spruce it up or offer to hire someone," Schwartz says. "If there is an HOA (homeowners' association), you could reach out to ask for their assistance in enforcing any CCRs (covenants, conditions, and restrictions) or bylaws that may be applicable."
Work with an experienced real estate agent.
Kristen Conti, broker-owner of Peacock Premier Properties in Englewood, Florida, has experience in helping sellers who are worried that their neighbors will be deal breakers for homebuyers.
"I counsel the seller to talk to their neighbors about the fact they are selling," says Conti. "If they have a good relationship, that can be enough to cause the neighbors to make the property look its best." 
If it's an icy relationship, Conti will take the bull by the horns herself: She'll introduce herself, inform them of the pending sale, and "enroll them in the idea that the nicer their home looks, the higher the sales price will be and this serves them." Even better? If she finds that the eyesore of a yard is due to financial problems, she has sometimes offered to pay for it. "It is in my best interest to make friends with the neighbors and the investment often pays off," Conti says.
Make a formal complaint for illegal issues.
Sometimes it's not curb appeal that's the issue, but law and order. For example, if you've already asked your neighbor to kindly stop taking up parking spots on the street with their unregistered vehicles, Conti advises her sellers to lodge a formal complaint with the appropriate city official and get it squared away, preferably before the house is even listed.
Sometimes you need to draw a line in the sand — or at least where your property line is.
"In extreme cases and if finances are available from the seller, I suggest a fence or a hedgeline be put up between the properties for privacy," says Conti, who understands that is an expense sellers might be reluctant to take on, but it could pay off. "Homebuyers love fenced yards and it can often pay great dividends to have that done before one lists their home."
Above all, be a kind neighbor.
It bears noting that good neighbors shouldn't make bold assumptions about an unkempt yard. Some people might be dealing with illness (either their own or a loved one) or any host of unfortunate personal issues that simply put yard work or other property maintenance very far down their to-do list. 
"Good communication and treating the neighbors with respect and dignity works to solve most issues," says Conti.