I Thought a Wool Comforter Would Be Too Hot — But This One Keeps Me Comfy All Night Long
We
independently
select these products—if you buy from one of our links, we may earn a commission. All prices were accurate at the time of publishing.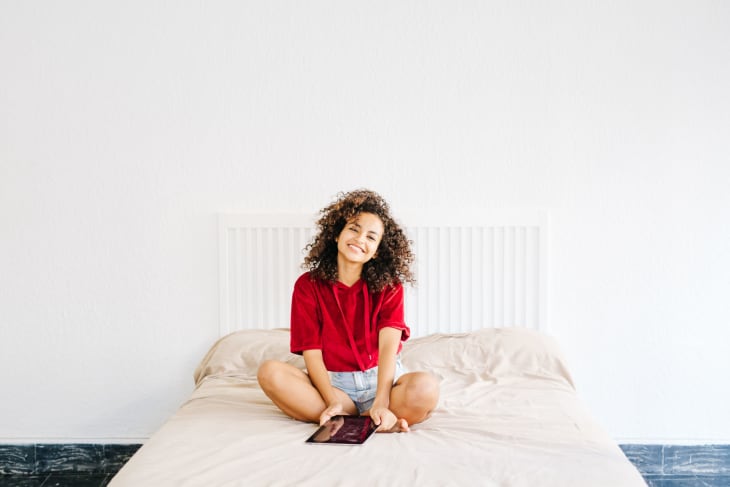 When I think of wool, the first things that come to mind are cardigans, throw blankets, and one particularly itchy sweater from elementary school. Though I've warmed up to wool over the years, it's still not my first thought when considering bedding (much less anything else). So you can imagine my surprise when I was told there was a wool comforter that doesn't overheat, feels soft, and is machine washable — none of the things I'd normally associate with wool! Nest Bedding let me try out their Washable Wool Comforter, and it came with surprise after surprise that healed my wool aversion for good.
The first feature of the Washable Wool Comforter that caught my attention was that it was lighter than any other comforter I've used in the past few years. It's somewhat fluffy but not stuffed, giving it an airy quality that's even further amplified by its off-white color. It's like a cloud for your bed… sigh. The cover is made from 100 percent cotton, and the fill is 100 percent virgin wool that makes it extremely soft and squishable. My first night with the comforter was actually after a cold snap. I knew my bedroom wouldn't be as chilly as it had been, which meant that it'd be a good time to test whether or not the comforter was breathable enough to keep me from getting too warm while I slept. Even with a top sheet, the Washable Wool Comforter passed with flying colors! The surface was cool throughout the night, and I was comfortable and warm without overheating.
The second surprise was learning that the Washable Wool Comforter can be used as a duvet insert. If you're like me and tend to avoid white bedding outside of hotel stays, this comforter is a refreshing way to ease in. There are ties at each corner that can be made into loops that attach to a duvet cover. My Washable Wool Comforter might have been delivered in white, but now it's a cool olive green until I decide to change it up again.
The next unexpected benefit? How easy it is to wash. Growing up, we swore by dry cleaning thick bedding, but as an adult, I don't always make the effort to keep up that habit. Because it isn't too bulky, the Washable Wool Comforter fits into a standard washing machine without trouble; however, it does require gentle handling. To properly clean it, fill your washer or a basin with water, hand wash the comforter with wool-safe soap, squeeze out the excess water, and hang to dry. Confession: I cut some corners in the process, running it through the machine on the hand-wash setting. I did let it air dry naturally, which took literally no effort on my part.
All in all, with Nest Bedding's Washable Wool Comforter I found a new fabric option for bedding that I hadn't ever considered before. Wool and I might have had a tumultuous relationship in the past, but this soft and snuggly comforter makes it worth cleaning the slate and starting fresh.