Netflix's Full 2022 Holiday Schedule Is Here
We independently select these products—if you buy from one of our links, we may earn a commission. All prices were accurate at the time of publishing.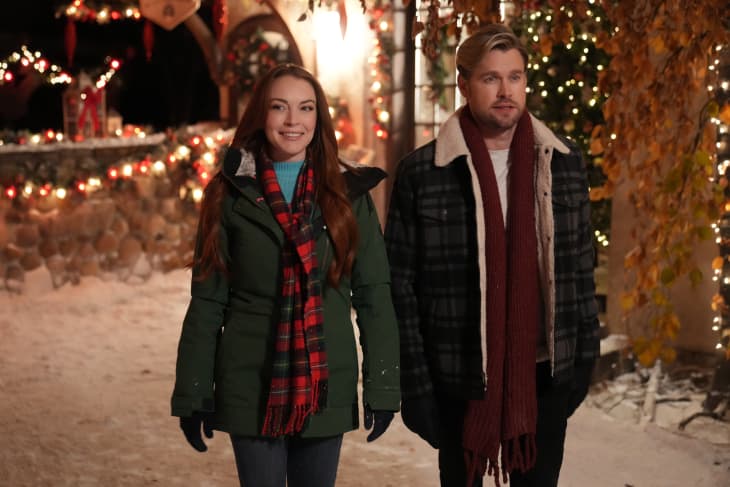 Over the past five years, Netflix has established itself as a memorable purveyor of Christmas movies, even spawning mini franchises like "A Christmas Prince" and "The Princess Switch." This year, the streamer is bringing a festive touch to its offerings with a variety of holiday movies and films sprinkled throughout its November and December slates.
Follow Topics for more like this
Follow for more stories like this
Lindsay Lohan is stepping back into the spotlight as the star of the rom-com "Falling for Christmas," playing an amnesiac hotel heiress who finds herself falling for a lovable single dad (Chord Overstreet) as the holidays approach. Meanwhile, the animated film "Scrooge A Christmas Carol" promises to put a musical new spin on the classic story "The Christmas Carol."
Netflix is also premiering several festive episodes of various TV shows, from a new season of "The Great British Baking Show: Holidays" to holiday specials for series like "Creature Cases" and "My Little Pony."
So grab some hot chocolate, cozy up, and check out Netflix's full 2022 holiday lineup below.
Premiere Date: Tuesday, November 8
Synopsis: Jules Claus (Mo Bakker) has embraced Christmas again and is getting ready for the busiest time of the year together with grandpa Noël (Jan Decleir). Everything seems to go according to plan, until Jules receives a very special letter with an intriguing question.
Premiere Date: Thursday, November 10
Synopsis: A newly engaged, spoiled hotel heiress (Lindsay Lohan) gets into a skiing accident, suffers from total amnesia and finds herself in the care of a handsome, blue-collar lodge owner (Chord Overstreet) and his precocious daughter in the days leading up to Christmas.
Premiere Date: Thursday, November 17
Synopsis: Feeling career burn out, pop star Angelina (Aimee Garcia) escapes to grant a young fan's wish in small town New York, where she not only finds the inspiration to revitalize her career but also a shot at true love.
"The Great British Breaking Show: Holidays" Season 5
Premiere Date: Friday, November 17
Synopsis: Deck the halls with sugar, butter and chocolate as competitors from past seasons bake wondrous winter treats for judges Paul Hollywood and Prue Leith.
"My Little Pony: Winter Wishday"
Premiere Date: Monday, November 21
Synopsis: With different traditions across the three pony lands, the Mane 5 race against time to celebrate everyone's special customs and make it home in time for wishing star.
"Christmas On Mistletoe Farm"
Premiere Date: Wednesday, November 23
Synopsis: After inheriting a farm at Christmastime, a widowed father (Scott Garnham) makes a bumpy adjustment to village life — while his kids hatch a plan to stay there forever.
Premiere Date: Thursday, November 24
Synopsis: Cleaning out his childhood home at Christmas, a novelist (Justin Hartley) meets a woman (Barrett Doss) searching for her birth mother. Will an old diary unlock their pasts — and hearts?
"The Action Pack Saves Christmas"
Premiere Date: Monday, November 28
Synopsis: The Action Pack teams up with Santa Claus to save the day when greedy Teddy Von Taker (Jason Maybaum) plots to steal all of the Christmas cheer from Hope Springs.
Premiere Date: Wednesday, November 30
Synopsis: Everyone's decking the halls to get in the holiday spirit. But Sam (Shash Hira) and Kit (Nneka Okoye) are blasted back in time to the Ice Age where they meet some wooly new pals!
"Christmas Full of Grace"
Premiere Date: Wednesday, November 30
Synopsis: After discovering that his ex-girlfriend betrayed him, Carlinhos (Sérgio Malheiros) takes a stranger to have Christmas dinner at his family's mansion. Graça, played by [Brazilian musician] Gkay, turns out to be a guest capable of bringing the house down. The visit does not please the matriarch of the family, Lady Sofia (Vera Fischer).
"Scrooge: A Christmas Carol"
Premiere Date: Friday, December 2
Synopsis: On a cold Christmas Eve, selfish miser Ebenezer Scrooge (Luke Evans) has one night to face his past — and change the future — before time runs out.
"Boss Baby: Christmas Bonus"
Premiere Date: Tuesday, December 6
Synopsis: Christmas Eve takes a twisty turn when the Boss Baby accidentally swaps places with one of Santa's elves and gets stranded at the North Pole.