I Watched Netflix's Latest Holiday Movie, Christmas Inheritance, and Here's What I Thought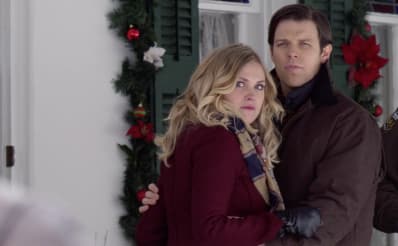 (Image credit: Netflix)
Netflix quietly handed us all another gift in the form of Christmas Inheritance, their latest original holiday movie, starring Eliza Taylor (The 100) and Jake Lacy (Carol, Obvious Child). If you were pleasantly surprised by last month's so-bad-it's-good A Christmas Prince, you might be able to get into the spirit of Inheritance.
Taylor plays Ellen Langford, the daughter of a wealthy retail owner (What do they sell? Gifts. There's no need to be any more specific than that). Ellen, or Ellie, is a former gymnast, but this really only comes up in her intro scene, when we see her vault a table at a charity event she's supposed to be speaking at. She knocks over a Christmas tree, because as a leading woman in a romantic comedy she MUST be seen as a klutz, despite literally being a trained athlete. But it's cool! She's a party heiress now, she just rolls with the punches!
Her dad wants to retire and make Ellie the CEO, but he's none too thrilled about her lifestyle, which includes constantly being referred to as said "party heiress," and planning trips to Maui with her fiancé. To see if she's up to the challenge, he puts her on the first bus to Snow Falls, the town where his giant company began back in 1981. Ellie has never been there because her mom died when Ellie was a teenager, and so she has been avoiding going to the place where her parents met…? It doesn't matter.
Anyway! She hates the bus, but as soon as she gets off it, she meets Jake (Lacy), the driver of Snow Falls' only cab. Conveniently enough, he's also the manager of the inn Ellie's been sent to. Her dad sends Ellie there with $100 and no credit cards, because that's all he had when he and his business partner started the company. Symbolic! However, this also means she has to break a one hundred dollar bill in a town where she's trying to fly under the radar with the clever alias, "Ellie London."
Because she runs out of money almost immediately, she has to learn a work ethic and do everything from make beds at the inn to bake cookies at the cafe next door to pay off her room bill. The best gag in the movie is, when getting ready to bake, she's asked to separate eggs and she is clearly baffled as to what this could mean.
The fish-out-of-water movie is really a story about Ellie going from someone who is definitely a fiscal conservative to someone who organizes a charity dinner in three days. The love interest, Jake, definitely has some trust and/or anger issues, but Andie MacDowell (!!) plays his awesome aunt. The whole thing maybe 20-30 minutes longer than you think it will be, but it's fine. Plus, the guy who plays Jake was on the final season of The Office—one of few bright spots in that rough season.
Like A Christmas Prince, this movie is about a beautiful, but clumsy, blonde woman from New York who has a deceased mother and finds a new life by going under cover. Unlike A Christmas Prince, there is no ballroom makeover scene and there are zero horses or English accents. Still, it's got plenty of snow and Santas, so it'll do just fine from the comfort of your couch this weekend.
Christmas Inheritance is streaming now on Netflix.