I Rewatched Netflix's "The Circle" a Year Later— Here Are 5 Things It Got Right About Maintaining Relationships Virtually
We
independently
select these products—if you buy from one of our links, we may earn a commission. All prices were accurate at the time of publishing.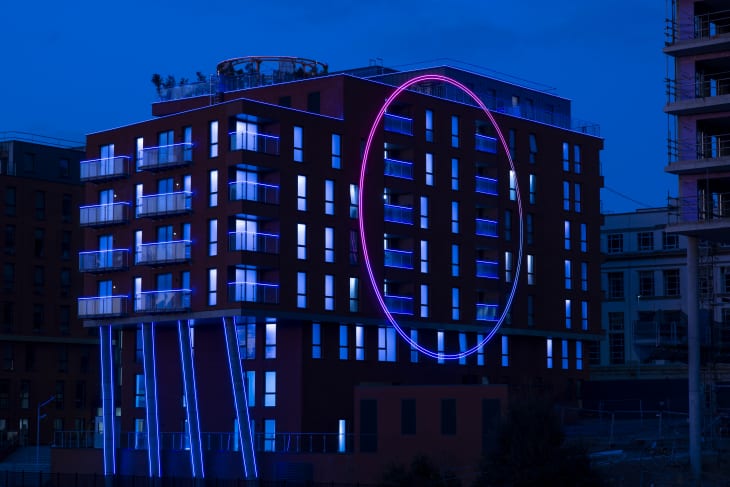 New Year's Day 2020 feels like both yesterday and decades ago: I woke up, went for a run, made a cup of coffee, and nestled into my couch to cheerfully spend the next several hours watching flicks before I had to face reality again. I clicked my Netflix icon and "The Circle" started playing on loop at the top of my screen. People isolated in rooms as part of The Circle, getting to know each other by messaging through a screen, and not being able to physically see one another beyond photos the entire time? What an intriguing concept, I thought.
Two months later, lockdowns started for COVID-19 in the U.S. and other countries around the world. Like many, I went from commuting to work on the subway, to commuting from my bed to a table where I hunkered down to work until 6 p.m. But one of the strangest transitions was getting used to maintaining relationships virtually: spending holidays Zooming with family, FaceTiming with friends who live in the same city, seeing your fitness community on a screen every morning versus in the studio.
Since we've all been living our own version of "The Circle", I decided to revisit the show with a new perspective, and see what it revealed about staying connected while being physically apart.
Playing virtual games can be a bonding experience
During their time in The Circle, the group played a range of virtual games. The show planned the games and sent an alert when it was time to participate, and there was no denying how enthusiastic the players were to engage with one another in any way, shape, or form. But the excitement was also due to the unique games that were proposed, branching outside of the common Houseparty and Jackbox options that are common these days.
In one episode, each person got a package of ingredients sent to their door and were asked to recreate an intricate cake that had a jungle-like theme, a game that was deemed "Nailed It, Failed It." They had 30 minutes to complete the task, the take a photo of their finished product and share it with the group. The results were interesting, to say the least, but it ended with plenty of laughter and bonding over imperfections.
Another game was "Who Dis," where one person was given a photo of a celebrity and had to drop text hints to the rest of the group as to who it might be. The first person who guessed correctly won the round. (I don't think I'll ever get over how long it took for someone to guess Meghan Markle.)
Don't be afraid to get creative with virtual games and make it personalized to your group's interests. Fun moments like this are needed more than ever.
Making real friends online can be hard — but it's possible
I distinctly remember how strange I thought it was that Joey and Shubham made such an intensely strong connection when they've never met each other IRL. There's no way that friendship is going to last. But now, living through a similar isolated situation, I've realized that you can certainly make friends online just the same as you would in person (and I have a few friendships to prove it). In fact, messaging takes away all the other physical distractions that lets you focus on each other's personalities.
But more often than not, it can be challenging. It's easy to wrongly interpret tone over text, and since you don't know the person IRL, it can be harder to infer intent. Take Sammie and Miranda, for example, who had a rocky start in The Circle. Miranda mentioned that Sammie looked like a Catfish in a group message, which Sammie took personally because she had just joined The Circle and didn't have any right to point fingers. On the flip side, Miranda thought her comment was coming off as a joke, and it was only until Miranda apologized that Sammie realized she had mistaken her comment.
Online dating lets you open up quickly
When it comes to pursuing romantic relationships online, things can escalate very quickly. And while that is certainly true of sexual chemistry, getting to know each other virtually can put people at ease and allow deep conversations to happen organically. Take Miranda's first conversation with Joey, for example, where she shared how she and her siblings were put into foster homes at an early age. Joey's response was sympathetic and heartfelt, mentioning that he would welcome her into his family with arms wide open. Now tell me, when does that happen during an in-person date?
Checking in with a personal text is very appreciated
Throughout "The Circle," there were many times that players felt uncertain and emotional, and those were the moments when people showed genuine care for each other. For example, when Sammi, Joey, Miranda, and Adam received video messages from loved ones back at home, Sammi reached out to make sure everyone was alright and not feeling too homesick. Sending messages that had nothing to do with winning the competition brought out a different side of the game, acknowledging that they're all human beings first, competitors second.
When you're not physically with someone, it's easy to be unaware that they're going through something. This past year was extremely difficult, so it's never a bad idea to shoot your family and friends a text to let them know you're thinking of them. They might need that thoughtful message more than you realize.
Let yourself have space when you need it and vice-versa
Although social media is at the core of the show, even the players in The Circle need a break from it. This is something that many of us have struggled with in the past year, saying yes to every virtual event because there's not enough of an "excuse" to not show up because we're home. But screen time still expends a lot of energy, so everyone should give themselves the social breaks that they need.
Chris is especially good at this throughout the competition. Whenever the text conversations seem to run dry, he never has a problem with taking a leave — but he does always feel the need to give a reason. While it's understandable that he probably does this to prevent hurting any feelings, digital fatigue is real, and we need to respect when others want cut a call short or reschedule a video chat simply because they don't feel like it — and allow ourselves to do the same.