From Dance Parties to Book Clubs, Here Are the Best Video Apps for Each Home Activity
We independently select these products—if you buy from one of our links, we may earn a commission. All prices were accurate at the time of publishing.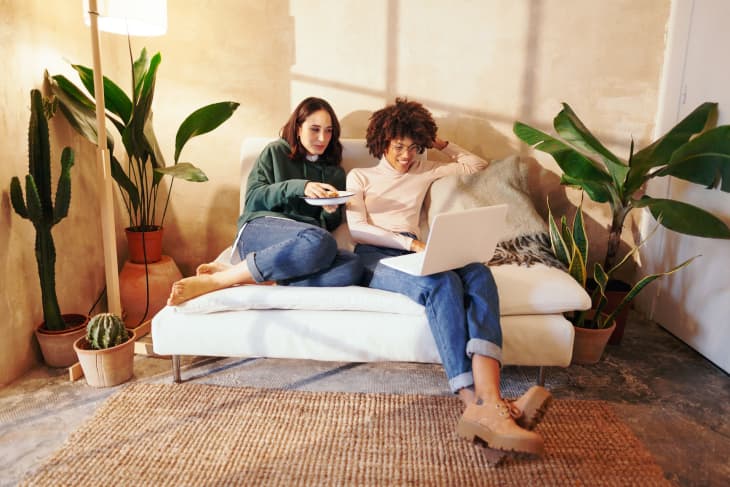 You might have your go-to options for connecting with your loved ones, colleagues, and more right now. But if you're looking for the best program to use for specific activities, here's a breakdown of what video apps might make connecting at home as easy as possible.
Big happy hour with friends: Zoom
Zoom's basic plan is free and can host 100 people on a video call for 40 minutes. After that, you can log out and log back into the same meeting. Or you could upgrade to Pro for $14.99 a month, which allows you to host a meeting up to 24 hours long (just in case happy hour turns into a sleepover). It also has great calendar integration and fun backgrounds that liven things up.
Family gathering: Google Hangout
Everyone can easily join a scheduled a Google Hangout at the click of a link, so it's great for all ages to navigate. Screen sharing is seamless, and can lead to a session of watching home videos and reminiscing over old photos. The calendar integration makes it easy for everyone to remember when the meeting is happening, and the fun backgrounds can transport you to a virtual family vacation.
Cooking together: FaceTime
Since whipping up a meal together can involve moving your camera position to show progress, FaceTime is the way to go! You can prop your phone up while getting busy in the kitchen, then show a bird's-eye view of each step as you go along. Also, you can film the entire cooking process by using the record feature on your phone, then save it for later if you want to recreate the recipe you made together.
For an organized discussion that involves people taking turns speaking—similar to a meeting with coworkers—Zoom is the way to go. It's easy to set up the meeting with the email integration, plus the tile function lets everyone see each other all at the same time like you're in the same room. Hot tip if you're hosting one: suggest participants get creative by changing the Zoom background to fit the theme of the book!
Calls with international friends: Skype, WhatsApp, or Facebook Messenger
Skype, one of the OGs in the video chatting sphere, is oft forgotten, but it still operates well. It's free for up to 50 people all over the world and has a better mobile app than desktop app, though it also works through smartwatches and XBoxes. Its meeting limit is 4 hours. Meanwhile, WhatsApp can only host four people at a time, but it works well for international calls and is free. On a different note, Facebook Messenger (which requires a Facebook account) is free around the world and can hold up to six participants at a time.
Telemedicine is increasingly more important right now, and Zoom provides HIPAA-compliant video conferencing between a patient and therapist. However, while HIPAA is in place to protect patient privacy, the Department of Health and Human Services announced it would waive penalties for HIPAA violations. Still, many are taking it seriously.
Clinical psychologist Beth Brodsky, PhD, who is seeing patients via Zoom, says that on FaceTime on the phone and all other digital means of communication, we have an illusion of privacy that's not always there. Zoom has been working for her practice and patients. "It's a good platform and it works really well and it's easy to set up appointments and you can maintain a semblance of a normal schedule," she says.
Physical Therapy: FaceTime or WhatsApp
When it comes to physical therapy, David Jou of MOTIVNY says he and his physical therapist team are meeting the patient where they're most comfortable on a digital basis. "We'll use Facetime, WhatsApp, however they communicate to check in and see how they're doing," he says, so long as a patient is not post-op, which would mean physical therapy would be an essential business.
For patients being treated for maintenance, Jou works with them over video to maintain overall health while many are moving less at home. "We'll go through exercises together where I'll demo it and watch them do it and we go through every rep together. It comes down to what they need. Sometimes it's coaching them through positions they can or can't be in, what to avoid now that they're stuck on the couch or working from home."
Personal training: FaceTime
For those looking to continue their personal training sessions at home, FaceTime is a great program to use. Since you can connect with people using your laptop or your phone, it allows the personal trainer to use their mobile device and move the camera around to show different angles of a workout move. For the recipient, they're able to pull the personal training session up on their computer for a larger-sized view.
Dance parties: IG Live or YouTube Live
A lot of dance brands and instructors are going Live with their dance routines, letting people across the globe participate in dance breaks that keep people laughing, entertained, and connected. Some of the brands doing this on Instagram and YouTube are 305 Fitness, Forward Space, and AKT.  
Workout classes: IG Live or Zoom
Some studios are moving toward Instagram to meet their communities where they already are (like Noah Neimann from Rumble). Others are holding smaller but personal classes on Zoom, which allows you to ask questions throughout the workout. Kate Posch, a SkyTing senior yoga teacher is hosting her own Zoom classes that are donation-based. "I got Zoom pro so I could hold a longer class and I love that I can record my classes and send them to people, like friends who are moms who can't take the class, so they can practice whenever they want," she says. "It's $15 well spent."