In-Ground Pools Are Totally Overrated—Here's Why
We independently select these products—if you buy from one of our links, we may earn a commission. All prices were accurate at the time of publishing.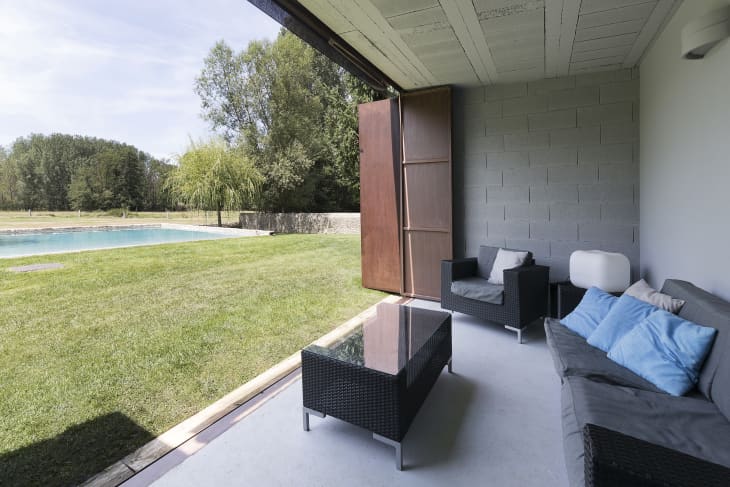 When the summer sun is blazing and the mercury is rising, there's nothing more refreshing or relaxing than taking a dip in a pool, especially if it's your own. For many homeowners, particularly those in warm-weather climates, owning an in-ground pool is high on the priority list (and, sometimes, the bucket list).
Follow Topics for more like this
Follow for more stories like this
But be careful what you wish for. Although having a pool in your own backyard provides plenty of perks, it also comes with a slew of (expensive) pitfalls—some of which you might not realize until it's too late. I spoke with two real estate agents to find out the pros and cons of in-ground pools. Turns out, they're totally overrated for most homeowners without kids. Here's their reasoning:
Exercise and entertainment
This one is obvious, and it's the primary appeal of having a pool at home.
"The great thing about having an in-ground pool is having that source of exercise and entertainment in your own backyard," said Angie Mullings, broker/owner with Century 21 Integrity Group in Springfield, Missouri. "Water activities are a great source of exercise, so if you have kids that like to play video games or are on their phone constantly, the pool can be a great way to get them outdoors and doing something active."
The convenience of having this luxury amenity right outdoors, too, might be an especially helpful selling point: "You don't have to hassle with getting the kids packed up to go to the neighborhood or city pools," she says.
Public pools also come with potential hygiene concerns, Mullings says. If you're maintaining and cleaning your own pool, you can feel confident that it's spic and span—and safe to use. (Plus, if you get the kids involved in the pool maintenance, it could be a great way to teach them some responsibility, she says.)
This is probably the biggest issue with in-ground pools. They need constant maintenance not only to keep the water clean and chemically balanced, but also to ensure related equipment (pumps, filters, regulators, etc.) are in good condition, says Jim DiMartino at Douglas Elliman in St. Petersburg, Florida. This adds up to a lot of time, money, and effort.
"In-ground pools require weekly cleanings and service all year around and can typically cost anywhere from $100 to $175 per month, unless you choose to maintain it yourself," says DiMartino. However, this can end up being another time-consuming chore on your weekend to-do list.
To stay clean and well-maintained, in-ground pools need to run for, on average, about eight hours a day. "This means increased energy bills, potential for something breaking (more money), and, if you decide to heat your pool on a regular basis, be prepared to spend even more on your monthly electric or gas bill," DiMartino says.
Potential for increased property taxes
If you're planning on installing a pool, you'll have to get a permit, DiMartino says. This might alert county tax assessors to a potential increase in your property value. If so, this would result in increased property taxes.
You might assume a pool would increase your home's value, but that's not always the case.
"Depending on where you live, an in-ground pool can be seen as a deterrent," Mullings says. "Where I'm located, in the central U.S., pools don't add any value."
She warns clients buying a home with a pool or planning on installing one to not look at it as a financial asset.
"They should think of it as an investment in their lifestyle," she says.
More great Real Estate reads: