The Things Real Estate Agents Say You Should Never Display in Your Home Office
We
independently
select these products—if you buy from one of our links, we may earn a commission. All prices were accurate at the time of publishing.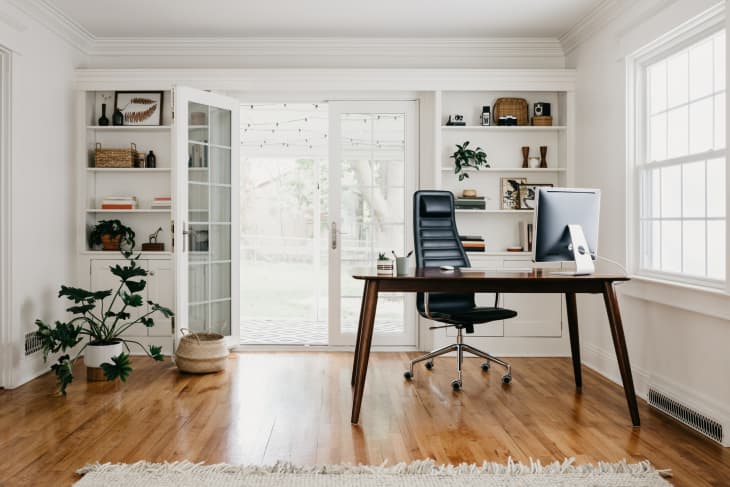 We're asking a lot from our homes these days — during the coronavirus pandemic, "home" has also become our workspace, gym, classroom, happy hour spot, daycare, yoga studio, restaurant, conference room, and more.
This mentality is spilling over into what buyers are looking for during their home search, especially when it comes to a home office. With many people working remotely for the foreseeable future, what used to be a would-be-nice house wish list item is now an absolute must.
If you're trying to sell your home, this means you should think critically about staging your home office. As they do in other rooms of the house, real estate agents recommend removing all those little personal touches in your home office. "For more buyers to see themselves in that office space, you'll do well to take a lot of 'you' out of it first," says Chris Haro, a real estate agent in Hilton Head, South Carolina.
Here's what to avoid keeping on display in your home office.
College Degrees and Other Achievements
If you typically display your college degree or regalia from your alma mater, consider removing them for real estate photos and showings. For one, they're distracting. But beyond that, people often have very specific — and often very strong — feelings about certain schools, as well as higher education more broadly, which is the last thing you want them to be thinking about during their tour.
"Whether they're impressed or distressed or somewhere in between, these feelings will take a buyer's focus away from the property or worse, turn them off of the property," Haro says. "Maybe their son or daughter applied to that school but was rejected. Maybe they got accepted, but didn't graduate. Maybe they got accepted and still carry debt. Maybe they absolutely love your school or your course of study more than anything. It's all a distraction from what we want them to be thinking about: themselves in this property."
Another reason to remove degrees? They may remind prospective buyers of their own college debt which, when coupled with the mortgage debt they're about to take on, may make them feel uncomfortable and overwhelmed about money, Haro says.
While it's totally OK — and, in fact, useful — to keep computer monitors and desks in your home office, you want to avoid anything that makes the space look untidy, frazzled, or cluttered. This includes cords, so bundle them. "Invest the time and effort into neatly wrapping your cords and going wireless wherever possible," says Amy Owens, a real estate agent in Montclair, N.J.
A prospective buyer could certainly Google you to find out where you work if they really wanted to. But in the interest of protecting your privacy and security, it's best to remove anything with your company's logo on it, as well as other confidential information. 
Imagine if home negotiations turn sour and a prospective buyer makes a call into your company's anonymous ethics line. Or they could use clues around your house to help crack your passwords or security questions. Though these examples are highly unlikely, it's always better to be safe than sorry these days, says Andrea Morgan, a real estate agent in Georgia and Florida.
Political Signs or Stickers
It may sound obvious but, in addition to removing any personalized items in your home office, go ahead and remove anything that could be potentially offensive or alienating. 
"It's best to remove political or religious items or anything else that makes the house give the feeling as your 'domain' and not theirs," says Amani McGregor, a real estate agent in Los Angeles. "You want buyers to see your house as a home for their family and not yours."
Working from your bed most days? Consider at least staging a dedicated office area in your home for prospective buyers.
"Even if in reality you're working from the dining table currently, put your office in a separate room or area with good natural light," says Emily Waldmann, a real estate agent in Austin, Texas. "People don't want to imagine themselves working in a dark corner, even if that's what actually happens."