This Is the Year to Start the Holiday Traditions You Always Wanted (and Do Away with the Ones You Hate)
We independently select these products—if you buy from one of our links, we may earn a commission. All prices were accurate at the time of publishing.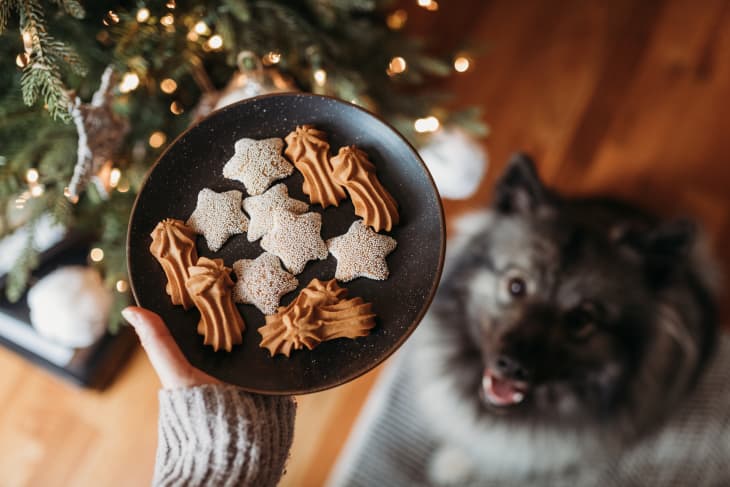 As a child, I always thought the holiday season was nothing less than magical. November and December felt like one never-ending party, full of family members bustling around the house, delicious dishes coming out of the kitchen, and snow gently falling outside. (It was Minnesota, though, so maybe more like "snow pelting the windows during a blizzard.") As an adult, it's been much the same—the same traditions, the same faces, the same joy and love in every room. Until now.
As coronavirus cases continue to rise across the United States, many people have decided to forgo their family holiday dinners and celebrations in favor of smaller gatherings with only their households. Some have taken the pandemic as a chance to start the new holiday traditions they've always wanted, minus distant relatives and awkward family dynamics, while others are adapting to make connection and safety a priority. Even Representative Alexandria Ocasio-Cortez (D-NY) is attempting something different, making Thanksgiving dinner with her family via Zoom rather than gathering with them in person. 
The realities of this year may have put a damper on your usual holiday plans, but in that mix of FOMO and loneliness is also a window of opportunity to make the holidays what you want, completely unbeholden to family pressure or traditions of the past. Yes, you should make space to honor your sadness and talk about what you're missing, but you can also embrace change as much as you can, for now. In other words: There's never been a better time to do your own thing, and maybe even establish a new tradition in the long run.
Keep up the Traditions that Mean the Most, but on a Much Smaller Scale
Typically, my family spends Christmas Eve with my father's side of the family, making a halibut fish soup that has been passed down over hundreds of years. It's the first time in almost 33 years that I'll miss it, and I'd be lying if I said I wasn't feeling guilty about opting to stay home. But I'm also looking forward to skipping that four-hour drive and celebrating with just my immediate family in my cozy new house. There will still be soup, and it will still be special—just different.
While you may feel bummed about missing parties and potlucks, the unique 2020 holiday season can be an opportunity to truly examine what's most important, and which traditions you'll continue once it's safe to do so again. "The process of beginning one's own traditions and celebrations around the holidays can be an important step in individuation and independence," says psychotherapist Allison Ward, who works at a private practice in St. Paul, Minnesota. "You get to really think about which aspects of the traditions you grew up with feel important to you now, and what new spin or flavor you'd like to give to them. In our current world of social distancing, and required separation, perhaps you will find the space to ask yourself what really matters to you."
Adapt Traditions with Creative and Safe Workarounds
I'm not alone in missing out on family traditions but trying to make the best of it. Brenda Peters from St. Paul, Minnesota, and her family have gotten creative in the wake of COVID-19 restrictions. Her typical Thanksgiving is anything but distant: Normally, 40 to 50 people gather for it. In no way did Brenda want to even pursue such an idea in 2020: "We'd like to have family gatherings in the future, so I think we were all on the same page about forgoing this year's celebrations if it means keeping our family members (and their families and friends) safe," she tells Apartment Therapy.
Instead, her family is taking a cue from restaurants and opting for a "curbside pickup"-style dinner, made by immediate family members. Peters herself plans to spend Thanksgiving with her three roommates, making their own (much smaller-scale) dinner featuring the South Indian-inspired dishes she's currently perfecting. She is also spreading good vibes in a simpler way. "I also make a concentrated effort to check in on friends as much as I can, because people bring me more joy than I could begin to explain, and I know that sometimes it changes my entire day when I hear from a friend unexpectedly," she explains. "I guess that's what all of this boils down to for me, whether it's holidays or surviving the solitude of the pandemic: people I love and good food."
Lean into the Potential for a Digitally-Driven Celebration
Many families are relying on virtual connection with their loved ones to either bridge the gap during an "off" year or start new FaceTime-friendly traditions altogether. Amy Kasmir of Virginia and her family started celebrating Shabbat together via video, noting that the tradition "has always been special to my family. Growing up, we always lit Shabbat candles and said the blessings over the challah and the wine." In the spirit of togetherness, her family plans to celebrate Hanukkah virtually, too, and will continue the FaceTime Shabbat celebrations post-pandemic.
Use This Time to Celebrate Exactly How You Want to
Kendal Kelly, who currently lives in London, is no stranger to leaning into the potential that holidays hold, rather than sticking to tradition. "Years ago, when I lived in Japan, Friendsgiving celebrations with my American and Japanese friends were so fun, despite being decidedly different from my childhood Thanksgivings. It showed me you didn't need to follow all the traditions strictly to have an amazing gathering of loved ones," she says. This year, she and her husband are excited that lockdown guidelines are giving them plenty of time to practice getting their festivities right. "We are actually looking forward to being responsible for the meal planning without a captive audience to witness any failures," she says with a laugh.
The two are also skipping Christmas festivities to cut down on travel, as they have in years past. Instead, they lean into what they call "Grinchmas," in which they stay home, watch Muppet Christmas Carol, and hang out together. "My husband decided our first year together that our traditional Christmas Day meal would be chili from a crockpot, although I'm still not sure what sparked that idea," Kelly explains of her less-than-traditional meal. "Definitely less work than turkey!" 
Olivia Auriat of Toronto is also skipping out on replicating the Christmas celebrations of her past. "I moved to Toronto during the pandemic knowing that I wouldn't be able to go home for the holidays in all likelihood," she tells Apartment Therapy. "I'm from rural Manitoba, and my parents are divorced, so Christmases tend to be really hectic, with lots of scheduled dinners and family things, because I have to see everyone while I'm back home." Instead, she's planning to stay home with her kitten, eat Indian food, and relax, and it's something she wants to preserve in the future. 
"It often feels like I need a holiday after the holiday, so I'm excited to just recharge and relax," Auriat says of her plans. "I think I'm definitely going to keep carving out time for myself and ensuring that I get to actually recharge on the holiday!"
How to Break the News of Your Plans to Your Family
According to Daniel Post Senning, author and spokesperson at the Emily Post Institute, disrupting your family's traditions is all about the way you handle it, especially if one holiday is particularly special to a certain family member who is all but relying on you to show up. "Approach it in the most loving, caring, compassionate, and open-minded way you can," he says. "It's a new situation and everybody is dealing with it, so there's naturally going to be some anxiety." 
When calling Mom or Grandpa or Great-Aunt Susan to share your news, be patient. "Give everyone time. It's not always going to happen in one call or text exchange. Let a conversation breathe, let things sink in, let ideas gestate and grow," Post Senning says. "In the moment, remind yourself to be open to listening and hearing other people's ideas and to accept them." He also recommends giving cues that you're listening, asking questions, and not interrupting so your loved ones feel heard and appreciated during a difficult time. 
It's important to hold space for yourself, as well, given that commingling feelings of guilt and excitement are normal for our current world. "People are holding many, and often conflicting, feelings about the holidays this year. Individuals and families have already been faced with an immense amount of disruption to their daily lives and routines that provide a sense of stability," Ward explains.
It's OK if you actually feel like your stress is alleviated by skipping out on the holidays this year, too. "The traditions and celebrations with family that are a source of comfort and security for some can create feelings of anxiety, guilt, or obligation for others. Some are feeling a sense of loss and disconnection, while others might be feeling a sense of relief," Ward says.
She also notes that you should be honest with yourself about how things have changed, and how they may be different in the future. "Creating the traditions and celebrations that you may have always wanted, independent from your family, can be an act of love," Ward shares. "When we are open and clear with ourselves, we can show up for our loved ones in a more authentic and engaged way, rather than being trapped in a sense of obligation or resentment."
The Home for the Holidays vertical was written and edited independently by the Apartment Therapy and The Kitchn editorial teams and generously underwritten by Cointreau.