If You're Tired of Painted Arches, Here's a New Wall Accent to Try
We independently select these products—if you buy from one of our links, we may earn a commission. All prices were accurate at the time of publishing.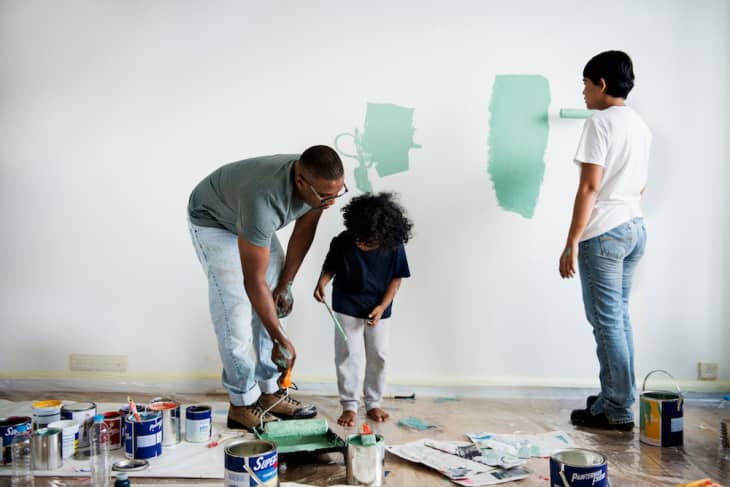 Painted arches were the wall accent of 2020. Who didn't define their bar cart or their dining nook with a simple but striking colorful semicircle?
Anna Jennings, however, decided to try a new, artsy take on a quick and easy DIY painted accent. She knew her small bathroom needed something, but given the size, she was apprehensive about going all-in on a new color. Wallpaper seemed like an interesting option, but that could be physically tricky in a tight bathroom — plus, it's often time-consuming.
Jennings then came across a wallpaper mural that caught her eye, one that seemed like it might be easier to replicate in paint than to actually install. And she did exactly that — with a circular painted accent that took just an hour. 
To get started on her DIY painted accent, she created a large-scale compass as a guide. She put a nail at the center of the wall and tied a piece of thin rope around it. With a pencil tied an inch out, she drew a circle, moved the pencil another inch out, then drew another circle. Jennings repeated the process until she had covered the expanse of the wall. 
Using a regular paintbrush and semi-gloss black paint left over from a project in her son's room, she applied random strokes and freehand dots along the guidelines she'd drawn. The more effortless and irregular the marks were, the better. Sixty minutes later, a circular painted mural added a bold, graphic punch to the previously blank bathroom.
Jennings finished the project by installing a shelf and styling decorative items found around her home. The grand total for this DIY painted accent? Zero dollars. 
Jennings reminds would-be DIYers that this effortless project is best when perfectly imperfect. "I love everything about how it turned out. It was easy and it didn't need to be perfect. It's a one-hour project and very forgiving. Don't overthink it. Have fun with the design."