7 Ways to Have an Amazing-Smelling Home Without the Overwhelming "Room Spray Smell"
We independently select these products—if you buy from one of our links, we may earn a commission. All prices were accurate at the time of publishing.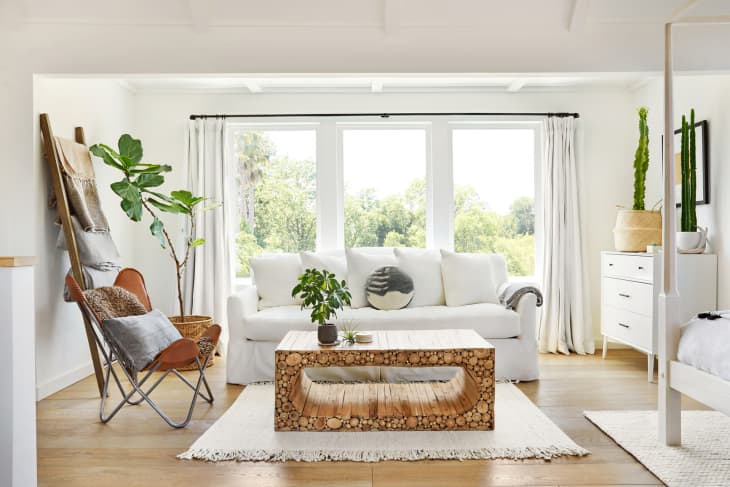 Most people can probably agree that a nice-smelling home is, well, nice. But figuring out how to actually achieve that can be a bit of a challenge. Some scented products can cover up unwanted odors and make a space feel more inviting, but some people are sensitive to strong smells. So what are the best ways to keep your space smelling fresh and clean without it being overwhelming? 
Follow Topics for more like this
Follow for more stories like this
Creating a space that smells amazing without overdoing it can be a fine balance, but it's definitely doable. Below, find seven tips from professional housekeepers. 
Harness the power of essential oils. 
Essential oils, aka natural essences derived from plants, can make your home smell fresh without being perfumey. You can diffuse your favorite oil in any space, but Irina Nikiforova, owner of Rocket Maids LA, says she likes to clean with oil-powered products. "I personally like Mrs. Meyers products a lot because they contain essential oils or plant-derived ingredients," she says. "They also have room fresheners that I'm using in my house."
If you'd rather try a DIY cleaner, Nikiforova suggests whipping up a solution of distilled white vinegar cut with a few drops of essential oil. A nice-smelling oil will neutralize the unpleasant vinegar smell, and some will even help you clean (think: citrus oils, like lemon, orange, or grapefruit). 
Use heavy-duty products judiciously. 
There's a time and place to disinfect, but if your goal is simply to clean or deodorize, Nikiforova recommends avoiding bleach-containing products or those with chemically-produced scents. "They can be overwhelming for many people, especially for those with allergies," she says. If you have to use a strong-smelling product, be sure to crack open some windows to ensure proper ventilation (and to prevent your space from smelling like chemicals for days to come). 
Stay on top of a cleaning routine. 
Cleaning messes before they have a chance to make your home smell bad can also go a long way, according to Nikiforova. If you don't let dishes pile up, spills linger, or trash sit around for days, you won't need any powerful and toxic air fresheners. Keeping spaces dry (especially your bathroom and kitchen) can also prevent unwanted mildewy smells. Plus, cleaning as you go also saves time, so it's a win-win!
Houseplants and flowers don't just lend life to your space — they can also help keep it smelling nice, says Angela Lee, owner of Hellamaid. "Indoor plants not only add beauty to your home, but they can also help purify the air and emit a natural fragrance," she says. If you want to add a subtle-but-pleasant scent, go for eucalyptus, fresh herbs like lavender, or a bouquet of flowers. Just make sure not to overwater your plants, or you might end up with a musty smell (and unhealthy greenery).
Use a natural room spray. 
If you want to add a pleasant fragrance to a specific area of your home, Lee says you can make a natural room spray, which won't contain harsh ingredients or strong scents like store-bought options. Simply mix a few drops of your favorite essential oils with tap water in a spray bottle and mist around your home. 
Opening your windows and running fans where you have them (especially in the kitchen) can prevent food smells and other lingering odors from filling your home. To go the extra mile, Lee suggests investing in an air purifier, which can help remove allergens and pollutants from the air, leaving your home smelling fresh and clean. 
Absorb bad smells with baking soda. 
Another tried-and-true way to stave off bad odors is with baking soda, which naturally absorbs and neutralizes smells. Karina Toner, operations manager at Spekless Cleaning, suggests placing it in a bowl or jar in a room you want to smell good, or sprinkling it on your carpets before vacuuming to absorb odors. You can also stick some in your fridge or at the bottom of your trash can!