Nick, Bryan & Otto's Milwaukee Studio
We
independently
select these products—if you buy from one of our links, we may earn a commission. All prices were accurate at the time of publishing.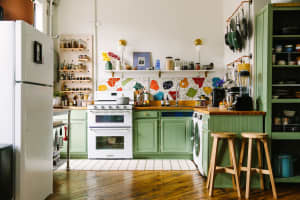 Can't-Miss House Tours Straight to Your Inbox
Keep up with our latest house tours each weekday with our House Tour of the Day newsletter
Name: Nick, Bryan & Otto, aka Blend Studios
Location: Milwaukee, Wisconsin
Size: 1,350 square feet
Years lived in: 1
When you consider how much time we spend at work – it makes sense that we want to love our work space. If you're lucky enough to be entrepreneur and in charge of your own studio, that's exactly what you can do. The men who make up Blend Studios in Milwaukee took a 1,350 square foot office space in an old building downtown and turned it into a creative haven … for them. It's not a cookie-cutter, follow-the-trends designer space; it really reflects who works here, with each of the guys putting his own stamp on his individual room.
Blend Studios is a collective made up of three guys working in 2D/3D motion graphics, video production, story-boarding and sound design. Their space inspires the creativity they depend on and jealously guards over the privacy they need to get the work done.
The trio established their studio in Milwaukee's Third Ward, a vibrant shopping, dining and gallery district that was once home to factories and warehouses, but now cradles the city's premier art school, the Milwaukee Institute of Art and Design. The area is a brick maze of restored and converted warehouses, the result of creative urban planning by former mayor John Norquist whose re-writing of zoning and code freed developers and paved the way for the rebirth of a neighborhood.
It feels right, then, to walk into Blend Studios and sense the age of the building and the industrial roots of the area, as well as the artistic energy that lives there now. There are small homages to industry, trade and design in the old-school light bulbs, a desk made of ancient barn wood and pieces from an old bridge, and stainless steel-sheeted walls paired with luxurious wallpaper … all of it complemented by modern, industrial lighting and exposed duct work.
A great deal of credit goes to the brother of one of the studio owners. Jordan Waraksa is a musician and woodworker/artist who specialises in custom pieces fashioned from industrial scrap and reclaimed wood. His work is featured in one of the popular ale houses in a nearby village, and commissions come from nearby Chicago among other places. For his brother, Jordan took the gears from an old Milwaukee swing bridge and sawed them in half to create the "feet" of a massive corner desk. Old pipes form the legs, attaching the gears to the desktop, which is made from wood salvaged from a 126-year-old barn. Waraksa preserved the nail holes, saw-tooth etchings and imprints of brackets that once held the barn frame together.
Complementing the desk is a wall-mounted collection of "muscatel shelves." Reclaimed from a 20-foot muscatel wine fermentation barrel, the redwood shelves reveal a 57-year-old patina. When the boards were being taken from the Wisconsin Liquor Warehouse in 1967, Waraksa explains, crowbars were used to pull the dowel joinery apart. These crowbar marks, along with nail holes and wine-soaked dowels add to the beauty of the wood. The framework holding the shelves together is made from salvaged steel pipe fittings.
Nick keeps the room dimly lit with vintage bulbs and drawn blinds, and ties it all together with Venetian painted walls and leather furniture. It comes as a bit of a surprise, then, to walk into the neighboring space, occupied by Otto. Here, light gray wallpaper, gleaming hardwood floors and modern lines soak up the light that seems to pour in through the windows. It feels like stepping out of an ancient monastery into a New York City bachelor pad. And it's surprising. But the common elements are there to tie it together, most noticeably in the scrolling curlicue shapes of the wallpaper.
That element is repeated in the third room, where you are once again plunged into darkness, this one an edgy and spare darkness. Black wallpaper, curlicued and scrolled, mimics the gray of Otto's room. Red carpet offers warmth, but if Nick's room is folk and Otto's is jazz, then this room is David Bowie.
Apartment Therapy Survey
Blend's style: Vintage modern.
Inspiration: Combining antiques with modern interior design and technology.
Favorite element: The options for visual and audible privacy, allowing us to work and maximize creativity.
Biggest challenge: Deciding how to set up the main media room. Also, where to put the focus and attention for the people moving through the space as well as to make it feel really open.
What friends say: "Wow, I didn't expect to see this!"
Biggest embarrassment: The bathroom is outside of the space, in the hallway.
Proudest DIY: Hardwood flooring.
Biggest indulgence: The wallpaper and Venetian-painted walls.
Best advice: If you believe in something, build it.
Dream source: Edison Bar.
Resources: Foxlight antiques gallery in Milwaukee, Jordan Waraksa.
Thanks, Nick, Bryan and Otto!
(Images: Elizabeth Setterfield)