Cozy Farmhouse Style in Chicago
We independently select these products—if you buy from one of our links, we may earn a commission. All prices were accurate at the time of publishing.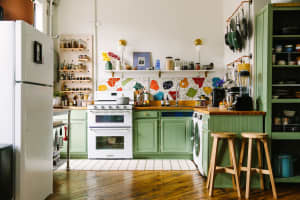 Can't-Miss House Tours Straight to Your Inbox
Keep up with our latest house tours each weekday with our House Tour of the Day newsletter
Name: Nick Fanelle & Spiro Georgi
Location: Andersonville; Chicago, Illinois
Size: 1,100 square feet
Years lived in: 2 years; Rented
There's no reason you can't enjoy both the vibrancy of city life and the peacefulness of a rural retreat. Now, if you were to find an urban townhouse on a farm, it might strike you as a bit odd, but bringing the rustic, worn-in feel of the country into a Chicago apartment turned out to be just the thing for Nick Fanelle and Spiro Georgi. Their home is the perfect retreat, even when they can't get out of the city.
Follow Topics for more like this
Follow for more stories like this
It's one of the most cheerful homes I've ever been in, and although their style takes its inspiration from North American and Primitive Farmhouses, the home feels utterly modern. A clean and modern sofa in the living room faces a wall of pitchforks hanging over a flat screen television, which perches on a wrought iron credenza. In between is a gorgeous red cart in distressed wood boards, with a barn hook atop it. In the dining room, the rustic table and chairs sit upon a striped rug full of vibrant, modern colors. Even in the bathroom, with its distressed cabinets and worn out candle lantern, the blue and white colors speak to a very contemporary palette.
That's not to say that the country is not everywhere in this one bedroom apartment. Collections of fascinating country artifacts are everywhere, having been amassed over a number of years of dedicated antique shopping expeditions. Old washboards line the bathroom; rare blue and green seltzer bottles hang upon a shelf in the entry; and cuckoo clocks, metal gas tanks, lamps made from pulley systems or metal wire, water pitchers, and local plant life fill corners and give the home a wonderful feeling of having been lived in for a lifetime (even though they've only been there for 2 years. Shhh…).
Nick and Spiro's style wasn't always this refined — after all, you don't just arrive at such a beautiful expression of country and modern living without a little trial and error along the way. Little by little, Spiro's love for country florals and a more traditional style was merged with Nick's masculine and industrial leanings, and what resulted was this immaculate getaway home.
In these days when it always feels like we're perhaps a little over-connected, it's nice to know there's a place you can escape to each night, a place with your history and memories built right in, a place that feels as peaceful as this.
Apartment Therapy Survey:
My Style: North American Country, Primitive Farmhouse, Vintage, Bucolic.
Inspiration: The original inspiration came from the house in Vermont in the movie Baby Boom, from 1986. The warmth and coziness of this home inspired Spiro. When we met, Spiro was living as a country bumpkin in NYC. Nick was inspired by the character and coziness of country living, but wanted more of a masculine and industrial aesthetic. By combining our ideas, floral prints became plaids, and our interpretation of the perfect farmhouse became what it is today. Coming home to our version of a country "house" in the big city is the perfect retreat.
Favorite Element: The first thing we purchased for our apartment, a vintage brick red cart, from an old factory. This became our coffee table, and helped set our color scheme throughout the apartment. The cozy layout of the apartment itself, the hallway, large windows, older hardwood floors, seemed to be made for our style. Having trees outside of our windows in the city helps complete a country feel.
Biggest Challenge:Working with generic kitchen and bathroom cabinetry, appliances, and fixtures.
What Friends Say: I don't feel like I'm in the city anymore, are we in the country? You need to have a yard sale! How much did you pay for this old stuff? It's so cozy in here!
Biggest Embarrassment: The kitchen counters remain a generic white Formica, and the white refrigerator is too large for the space. We removed some kitchen cabinets to make the giant fridge less invasive.
Proudest DIY: To make the kitchen and bathroom cabinets less generic and more farmhouse, we removed all the doors. We custom made curtains using our favorite plaid and gingham patterns, using tension rods to hang them. The window curtains, shower curtain, and bathroom towel holder are made of pipes that we purchased from Home Depot. To make some of the hutches more primitive country, we replaced the glass with chicken wire painted a rust color. We also painted and distressed some of our newer pieces of furniture to fit our country style. The dinning room light fixture was originally an old rusted wire basket. An abandoned old yard gate we found in our neighborhood, with a little TLC, became our headboard.
Biggest Indulgence: An over budget Brimfield plaid wingback chair gracefully fills one of our living room corners. Also, the reclaimed wood dining room set and metal media center from Restoration Hardware would not be in our apartment without their generous credit card.
Best Advice: Even if it seems well over your budget, sometimes it's best to purchase quality pieces of furniture that will last a lifetime. Just because you don't own a place does not mean you shouldn't make it yours. A living space should reflect the level of comfort you desire, in addition to making a personal statement about who you are.
Dream Sources: Olde Timers Antique Centre, Brimfield, The Country Bum'kin Antiques, Randolph Street Market.
Bathroom: Martha Stewart Myrtle Blossom
Kitchen: Martha Stewart Sealing Wax
Old Bench: Good Deal Garage
Vintage Hutch: Angel Street Thrift Shop (chicken wire added)
Plaid Wingback Chair: Brimfield
Media Center: Restoration Hardware
Old Cart Coffee Table: Randolph Street Market
Brown Sofa & Chair: Macy's
Side Table: Good Deal Garage
Green Sideboard: Home Goods
Old Pitch Forks: Olde Timers Antique Centre
Side Table Lamp: Pottery Barn
Vintage Milk Can: Good Deal Garage
Wall Lighting: Home Depot
Old Typewriter: Good Deal Garage
Wall Boxes: Home Goods (Rolled Fabrics in Boxes: Joann Fabrics, Hobby Lobby)
Dinning Room Table & Chairs: Restoration Hardware
Distressed Gray Drawer Cabinet: Home Goods
Rusted Wire Basket Light Shade: Sandwich Antique Mart
Distressed Green Bench: Brownstone Antiques
Hutch: JcPenny's (painted & distressed, chicken wire added)
Old Crate: Blue Star Antique Pavilion
Vintage Farm Chair: Angel Street Thrift Shop
Vintage Seltzer Bottles: Ebay
Vintage enamel ware: Olde Timers Antique Center, Liberty Antique Warehouse, The Country Bum'kin
Bakers Rack: Hayneedle.com (metal parts painted gray)
Burlap Curtains: Joann Fabrics
Antique Shovel: Olde Timers Antique Center
Vintage Scale: Randolph Street Market
Vintage enamel ware: Liberty Antique Warehouse
Cabinet Curtains: Fabric From Joann Fabrics, Rods From Target
Mason Jar Drinking Glasses: Michaels
Antique Blue Step Stool: The Country Bum'kin
Vintage Meat Grinder: Good Deal Garage
Distressed Paper Towel Holder: Kennedy's Country Collection
Flooring: Traffic Master Allure Ashlar flooring from Home Depot
Old Yard Gate Headboard: Salvaged from our neighborhood
Night Stands: Pottery Barn
Shelves: Target (painted black)
Antique Rug Beaters: Olde Timers Antique Centre
Antique Oscillating Fan: Randolph Street Market
Antique Desk: Brownstone Antiques
Vintage Desk Chair: Praha
Bathroom Wall Cabinet: Target (painted black and distressed)
Light fixture: Home Depot (replaced original glass with rusty light cage)
Antique Crate Cabinet: The Landmark
Shower Curtain: Pottery Barn
Washboards: Good Deal Garage, Kane County Flee Market
Flooring: Traffic Master Allure Brittany Blanched flooring from Home Depot
Wall Bucket: Kennedyscountrycollection.com (Rolled Fabrics: Joann Fabrics, Hobby Lobby)
Small Wall Cubby: Target (painted black)
Vintage Enamel Pitcher: Rustic Dairy Land Antique Mall
Small Vintage Enamel Pitcher: Good Deal Garage
Vintage Mason Jar with buttons: Foursided
Sink Curtain: Fabric from Hobby Lobby, Rod from Target. (Sink Vanity painted black)
• HOUSE TOUR ARCHIVE: Check out past house tours here.
• Interested in sharing your home with Apartment Therapy? Contact the editors through our House Tour Submission Form.
• Are you a designer/architect/decorator interested in sharing a residential project with Apartment Therapy readers? Contact the editors through our Professional Submission Form.
Updated daily with fresh tours full of photos for you to pin & enjoy!