Niksen Is the Dutch Concept of Doing Nothing and It's the Mental Break We All Need
We independently select these products—if you buy from one of our links, we may earn a commission. All prices were accurate at the time of publishing.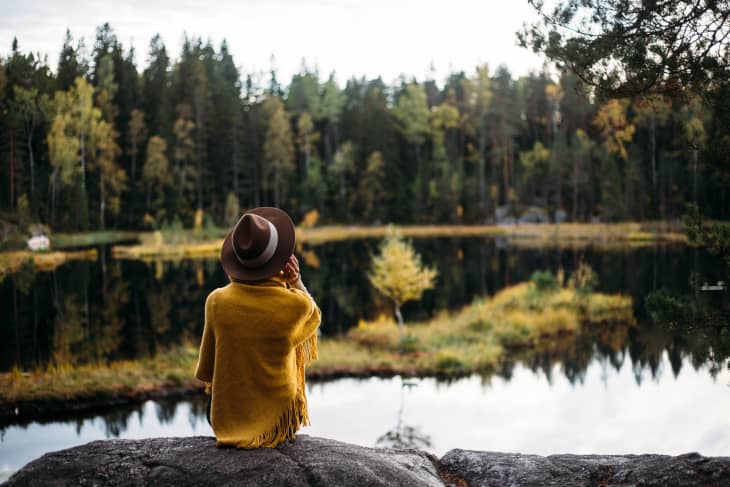 If you can't remember the last time you found yourself wandering aimlessly or staring out a window, you might need a new philosophy this fall. "Niksen" hails from Holland and is the concept of doing nothing. It's that simple, and that's exactly why it's about to be so popular.
Follow Topics for more like this
Follow for more stories like this
Niksen is not just another Scandinavian trend (I see you lagom and hygge). The whole idea of doing nothing is based on recovery research; doing nothing balances out the stress of work and lets your tank replenish. It also allows for a mental break and detachment. (Take note: Niksen is not hygge. If you want the Dutch variation of hygge, look to gezelligheid, which involves going outside, basking in the sun, and spending time with loved ones.)
Niksen is straightforward. It literally means doing nothing. It includes activities like hanging around, observing your surroundings, or tuning into the music. What makes these activities niksen is that they are not intended to be productive or achieve anything.
Still for some, it's hard to wrap your head around the idea of doing nothing. "The way I think about boredom is coming to a moment with no plan other than just to be," Doreen Dodgen-Magee, a psychologist who studies boredom and wrote the book on it, told The New York Times.
Niksen doesn't include potentially leisure activities like bicycling, running, or socializing with friends. These all have a purpose, so they don't count. Mindfulness or meditation is also far too productive to be niksen. Instead, niksen is about just letting yourself be or letting your mind wander aimlessly.
Niksen also encourages a slower pace of life, with no specifics about what exactly you're supposed to do. Allowing time for totally unproductive relaxation can help with stress and burnout. "The Dutch are not at all good at doing nothing. I am a strong believer in the essence of the message: people should do more about lazing around, fiddling, lounging, relaxing, bored and sleep," says Carolien Hamming, a coach at CRS Centrum, an organization devoted to fighting stress and burnout.
Unlike previous lifestyle concepts, niksen doesn't have a strong following in its home country. In the Netherlands, the idea of doing nothing is lazy. The proverb "niksen is niks," says it all. It translates to "doing nothing is good for nothing." 
However, doing nothing can end up being quite productive and can create the space for the brain to problem solve and get creative. Instead of staring at an endless stimulating stream of screens, you may find new ideas. A 2013 study published in Frontiers in Psychology cited inspiration for goals and clarity on decision-making as byproducts of allowing the mind to wander.
Niksen means incorporating downtime into your daily routine. Going from crazed to chill can feel abrupt. Instead, consider easing into ease. Wandering around in nature or writing a thank you letter are two good options. Still officially activities, yes, but these practices give a preview of downtime sans purpose.
The only thing left to ask yourself is: "Lekker niksen?" It basically translates to "are you deliciously doing nothing?"