Before and After: Discovering Your Decor Style After a Breakup
We independently select these products—if you buy from one of our links, we may earn a commission. All prices were accurate at the time of publishing.
About this tour
Location
Mission District, San Francisco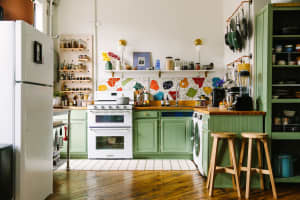 Can't-Miss House Tours Straight to Your Inbox
Keep up with our latest house tours each weekday with our House Tour of the Day newsletter
Name: Jenna Schreck, and Labradoodle, Hansel
Location: Mission District — San Francisco, California
Size: 720 square feet
Years lived in: 4 years, owned
After I broke up with my long-term, live-in boyfriend, it didn't feel like my loft… it still felt like our home. Even after his things were moved out, even after I spent a month away, it still felt like our space, not mine. The funny thing about relationships is that we get so caught up in being a couple (being "us" and "we") that sometimes you—or in this case, "I," as a person, an individual, often slips away. I take full responsibility for this and will make sure I never lose myself again in a future relationship, but in the meantime, I needed to find me and make this beautiful light-filled place that used to be our "love nest" my own space.
What colors and feelings in a photo do I actually like? What style couch suits my personality? What do I want to exude when someone sits down for a glass of wine in my space?
It was completely overwhelming (and she had help designing with Annie Mueller of Currant Design). I also realized that not only is our space not ours anymore, neither is my life. Everything is now "me," "mine," and "I." That is quite the shift! The apartment makeover is just the catalyst, but it's an easy place to start because it's physical. It's a task, a task that led me on the journey to find myself again. The craziest part about the whole thing? A fresh paint job—literally clearing the walls to act as a "blank slate," a main room makeover, and a storage build-out project, really did do the trick. I feel like I've broken out of my cocoon and have discovered myself again. Can I get a hell yes?!
Apartment Therapy Survey:
My Style: Bohemian takes mid-century with a femme-haven twist.
Inspiration: A balance of airiness with grounding elements (literally my Ayurvedic dosha—vata—runs off-the-charts high and I'm consistently working to balance it through food and lifestyle) in a fresh and comfortable environment that serves as a productive workspace, entertaining space, cooking space, and meditation area.
Favorite Element: My favorite element by a long shot are the tall ceilings and windows. I thrive off sunshine, and getting my daily dose of vitamin D, even if it's by way of indoor sunbathing, is key. The way the light bounces off the walls allows my creativity to flourish.
Biggest Challenge: Ugh, the space underneath the stairs. For four years (leading up to the remodel/makeover) the space under the staircase was completely open—no drywall—and my then-boyfriend had rigged up these metal pull-out shelves that scratched the paint each time we took something out. This also meant I could see all the storage from my morning coffee space and it always looked like a cluttered mess. I've since solved the problem by building out the area around Hansel's crate so all of my things are concealed and he has a cozy little nook!
Proudest DIY: I wish I was a crafty person, but to be honest, the only place I can get really crafty is in the kitchen creating allergy-friendly/tummy-friendly foods. Outside of the kitchen, I hate to say it, I call in backup. That said, I did hang my own wallpaper! The space under the bar is the same color as the kitchen cabinets. To make the living space feel like its own area of the house, I hung wallpaper to differentiate the two rooms. I won't lie, this was not an easy feat, but I did it!
Biggest Indulgence: My wall of art. I can't get enough of the tall ceilings, but the flip side of all that glory is that it takes a lot of carefully picked artwork to fill the space. I had some help from my extremely patient designer who carefully chose 13 out of the 70 pieces I sent her that somewhat felt like me. My rationale? The pieces can always be repurposed in other ways in the loft when I feel like I need to switch things up, or even in an entirely new space when the time comes.
Best Advice: Even if you're a Virgo like me, matchy-matchy doesn't always translate. Have fun with it. Choose pieces and colors that contrast or look like they don't mesh… you may be surprised. There's comfort in a little chaos.
PAINT & COLORS
Benjamin Moore Natura — Chantilly Lace (eggshell finish) with a semi gloss trim