I Tried Nutribullet's New Smart Blender — And Was Surprised By How Powerful It Is
We
independently
select these products—if you buy from one of our links, we may earn a commission. All prices were accurate at the time of publishing.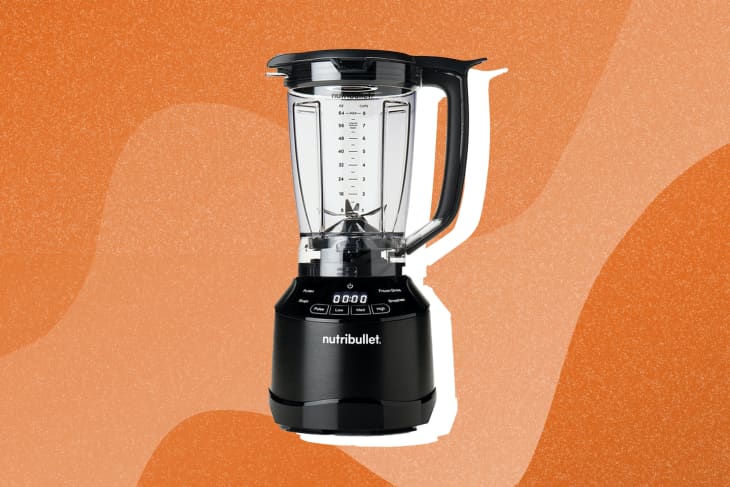 I've been wanting a super-powerful, professional blender for years, but didn't want to spend a ton on one. So when I came across the newly released Nutribullet Smart Touch Blender that promises to give me all the power and precision of a restaurant-quality blender without the anxiety-inducing price tag, I was excited to put it to the test STAT. So I spent the past few weeks using it a couple of times a day to prep everything from smoothies to soups. Here's how it went.
The first thing that struck me when I pulled the blender out of the box was the attractive, sleek design and light up touch screen that's similar to using a smartphone screen. Another pro? The smooth interface allows for easy clean up since there are no knobs or ridges to wipe around. And when it comes to learning how to use the blender, it's so easy, a 10-year-old can do it. No, really, my 10-year-old pulled out the manual and walked me through all the steps to turn it on. It was that simple!
I have used a ton of blenders in the past, but Nutribullet's Smart Touch Blender has some of the coolest features I have come across yet. For starters, the BPA-free plastic pitcher can hold up to 64 ounces (aka, one gallon) at a single go. That's more than enough room for prepping big batch smoothies or soups for a family of four. It also has a vented lid to prevent explosions, which can be handy if you're using it to prep hot meals. And the blender base is fitted with mini suction cups, keeping the blender in place and firmly on the surface while in action.
The first thing I decided to make using my blender, was a batch of hot asparagus and leek pureed soup. Since both leeks and asparagus are fibrous ingredients, I was curious to see how well the blender could break all the fiber down. I started out by roasting the vegetables in an oven for about 15 to 20 minutes and transferred them to the blender basin. Next, I poured hot parmesan stock (made using parmesan rinds) over the vegetables. The display lights will not turn on until the pitcher is safely locked and loaded, which is such a great feature if you have young kids who enjoy helping you with meal prep.
Once the touch screen display lights up, it offers four pre-programmed options: Pureés, Frozen Drinks, Soups, and Smoothies. Plus, there are four speed options as well: Pulse, Low, Medium, and High. I hit Soup, and the blender started a 55 seconds countdown immediately pulverizing the vegetables in the pitcher. The end result: a silky smooth puréed soup. To confirm there were no hard bits left, I even ran the soup through a strainer. What really surprised me was just how powerful the machine really is, and unlike bigger brand names that use 1100 or 1400 watts of power, the Nutribuller Smart Touch blender operates at a staggering 1500 watts.
Besides soups, I have been using my blender to prep smoothies. And even though I pack them with ice, by the end of the Smoothie mode, the blender has completely transformed the hard chunks to a smooth, drinkable consistency. A special shoutout to the blades that use a special feature called nutrition extraction, which means that the blades cut through the cell walls of the stems, seeds, and skins of vegetables and fruits, preserving the nutritional value of the ingredients as well as the natural fibers.
All in all, I am really impressed with Nutribullet's newest blender. It checks off all the boxes a home blender should have — style, power, ease of use, and the ability to hold up to a gallon of ingredients. Plus, it's a very reasonable price for such a powerful blender. Consider me sold!

Buy: NutriBullet Smart Touch Blender, $129.99