This Tiny 280-Square-Foot NYC Studio Is Incredibly Cute and Organized
We
independently
select these products—if you buy from one of our links, we may earn a commission. All prices were accurate at the time of publishing.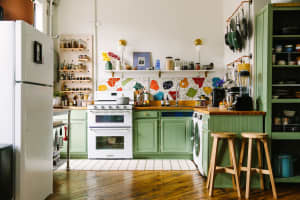 Can't-Miss House Tours Straight to Your Inbox
Keep up with our latest house tours each weekday with our House Tour of the Day newsletter
Name: Juliette Von Hess
Location: Nolita, New York
Size: 280 square feet
Years lived in: 2.5 years, renting
Looking at all the positive features in Juliette's rental studio apartment—clean, white walls, a cozy living area, and a warm DIY wood wall feature—you wouldn't immediately realize that she faced the same issues many New Yorkers do when trying to make a home in a one-room studio. Trying to find space for everything you own in only 280 square feet is tough, but Juliette's accomplished it beautifully. And it doesn't hurt that she's a professional at crafting attractive, functional spaces!
Juliette is the owner of MiniMax, an interior styling and professional organizing business "built on the belief that an orderly and well designed atmosphere produces focus, productivity and creativity." It's refreshing to see that Juliette doesn't just preach the tenants of minimalism and good design to her clients; her teeny home is the perfect showroom of her design passions. She believes that "everyone—no matter what their budget—can live in a beautiful and well organized place." And her lovely Nolita studio is proof.
Apartment Therapy Survey:
My Style: An Organized, Organic and Modern land of Textures and Plantly Abode
Inspiration: My inspiration comes from design elements of trips and places that I've been that bring me joy, peace and/or a calming vibe. I designed my home with this in mind so it subconsciously and constantly brings me back to this state of mind. My home is a soothing sanctuary for me. As a professional organizer, I also can't stand clutter so my design is continually based on functionality and clean lines. Cozy minimalism.
Favorite Element: I would have to say I am really proud of the cabinet design that hides away all my items and allows me to have the extra space to entertain. The floating cabinets allow me the opportunity not only hide things away, but great surfaces to display the items I want to showcase. I also am in love with my Gandalf branch I found hiking in Texas. (Yes, I took it all the way home on the plane when I moved back to NYC!) I have done so many many different things with that branch since I found it. I have hung it from the ceiling with air plants all along it, I have attached it to the wall over my bed and now it currently holds my hand towels and adds the perfect outdoor element to my bathroom. Guests are never confused which towel to use because it's conveniently placed next to my sink.
Biggest Challenge: My biggest challenge was a fairly common one found in New York. Finding a place for everything in a single room while only having one flat wall in my space. Not one wall (besides the window wall) was able to accommodate a queen bed since there are all these small nooks, that was definitely a bit frustrating and troublesome. So I researched and found a really inexpensive Murphy bed frame that was designed to be put in a closet (much cheaper than a regular Murphy bed). I then sought out an artist I had been following on Instagram and asked if we could collaborate and design a cover together. Thankfully she was up for the challenge with me. When it arrived, it was gorgeous but so big that it had to be shipped in four pieces. I had to rig it together and then find a way to secure it to a track in the ceiling. It was a big undertaking as my ceilings are almost 8.5′ tall and the pieces were pretty heavy, but it was so worth it. I love it every time I walk into my room and it works great! Most people never even know it's a bed cover.
What Friends Say: Everyone always says they feel very relaxed in my space, as if they could take a nap. I get a ton of compliments that it also feels very roomy. I think that is in thanks to all the hidden storage and neutral palette I chose. Everyone definitely admires that everything has a place and is so neat. They always ask to peek through my cabinets to see how I have organized all my belongings.
Biggest Embarrassment: Attempting my first party of almost 25 people, having it rain and all of them come rushing down from the roof into my space and having to explain to all of them that I've never had these many people in my space and that yes, they were all in fact in my living room/office AND bedroom. Manhattan living is funny sometimes guys, but we make it work!
Proudest DIY: My floating branch curtain rods were a quick thought when I first moved in. I bought branch in the floral district, cut it in half and hung it up by fishing line. They make my space feel really casual and dreamy.
Biggest Indulgence: My Herman Miller style chair from Rove Concepts. I waited 12 weeks for this customized piece and I sit and work in it almost every day. I love it and will have it forever.
Best Advice: I tell all my friends and clients, especially the ones who are not tidy and have a lot of stuff.
Look for closed storage and use your wall height! Your space will immediately appear larger and more orderly.
Don't be afraid to make a few holes. And paint. Hang art, go for those floating shelves you have had your eye on and that punch of color that makes you happy.
I encourage grabbing functional items like cute baskets, bowls, and bins if you want to buy something during your travels. You can never go wrong with cute containers, something will always need a place to go and you can easily display them around your home as a decorative, yet useful piece. I use them for jewelry, textiles, plants and as even for my hamper.
Dream Sources: The citizenry, Home Nature, McGuire and a currently a teak wood base from Hook and Ladder.
PAINT & COLORS
Benjamin Moore — White Dove
Benjamin Moore — Mexicali Turquoise
BATHROOM
Godmorgan — IKEA
Cacti wall decals — Urban Outfitters
Wooden piece — TjMax
Branch — From hiking trip in Austin
Chevron Towels — H&M
Macrame hanging plant — Gift from Mother
Mini long Horn — Homegoods