7 Reliable Old-School Cleaners This Neighborhood Grocery Store Always Keeps In Stock
We
independently
select these products—if you buy from one of our links, we may earn a commission. All prices were accurate at the time of publishing.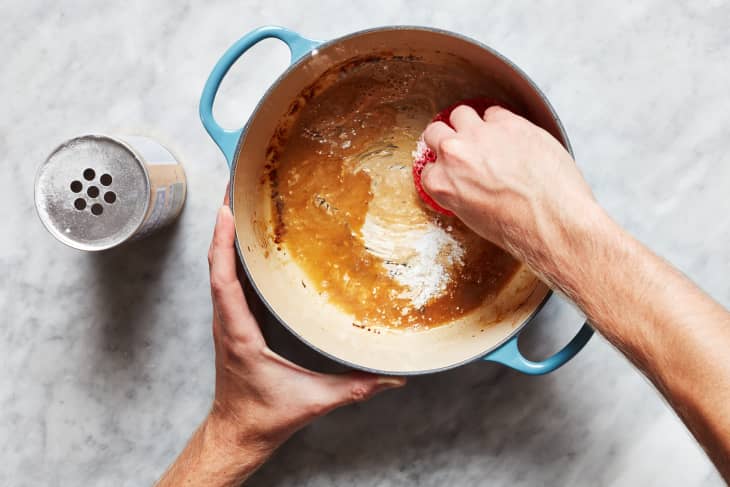 About a mile from my house, there's a local grocery store I've been going to for ages. I spent my college years perusing the aisles of Lunds & Byerly's for dorm staples like Pop-Tarts and Hot Pockets, and more than a decade later, I go there for everything from pantry essentials and, more recently, cleaning products. When my local big-box store was sold out of paper towels and Clorox wipes, Byerly's often had what I needed—and more. 
I noticed on a recent toilet paper run that Lunds & Byerly's stocks tons of old-school cleaners I wasn't familiar with. It made sense: The store is just down the road from a couple of assisted living communities, so much of its clientele is people who have been cleaning their homes for more decades than I've been alive. (I'd be remiss not to mention the abundance of retro cocktail mixers a few aisles down, and the full end-cap of bagged sugar-free candies.)
As a cleaning writer with history at this particular store, my wheels started turning. Which of these cleaners did Byerly's purposely keep in stock for the experienced cleaners who shopped there? And should I consider trading in my trendy, internet-bought cleaning supplies for some of these reliable standards?
To find out what the seasoned crowd couldn't get enough of, I spoke with John Lind, one of the store managers at Lunds & Byerly's in Roseville, Minn. Here are some of the products his senior shoppers love.
Apparently, Lunds & Byerlys shoppers swear by this mild, ammonia-free (read: minimally smelly) silver polish—but only when it's time to break out the fancy flatware. "We don't sell much of it most months, but this one flies off the shelves between November and January," Lind told me. I don't own any silver (yet), but I discovered in my research that Wright's is also safe to use on metals like gold, brass, copper, and aluminum. 

Buy: Wright's Silver Cream, $8.98
Spot Shot Instant Carpet Stain Remover
I didn't think much about the cleanliness of my carpet until I had kids. The amount of effort I put into my carpeted rooms doubled when I got a dog. So I was excited to learn from Lind that his shoppers trust Spot Shot, a laundry and carpet spray that removes stains *and* deodorizes WITHOUT SCRUBBING OR VACUUMING. I bought myself a can and will report back after one of my kids inevitably spills juice on our beige carpet. 

Buy: Spot Shot Instant Carpet Stain Remover, $9.80
Fels-Naptha Laundry Bar & Stain Remover
Another Apartment Therapy favorite, Bar Keeper's Friend is popular among the older set. And it's no wonder: This bleach-free cleaner has been around for more than 100 years, and you can use it to remove unsightly rust, tarnish, and stains from almost any surface, including stainless steel, porcelain, Corian, and ceramic! I've long been convinced that everyone needs a can of Bar Keeper's Friend in their home, and now my suspicion is confirmed.

Buy: Bar Keeper's Friend, $7.90
Chore Boy Copper Scouring Pad
The store hasn't been able to stock this one in a while, but Lind says his shoppers consistently ask for these throwback scouring pads. Apparently, Chore Boy is effective at removing baked-on foods and burnt-on grease from copper, stainless steel, multi-clad pieces, and glassware. Adding this one to my list, too!

Buy: Chore Boy Copper Scouring Pad, $3.99
Who knew blue stuff whitened whites? Lunds & Byerlys shoppers! Yes: You can freshen up your white clothes with this tried-and-true detergent. It's safe to use on synthetics and natural fabrics, without the risk of harming clothes like bleach can. Be careful to follow the label instructions, though—one Amazon reviewer says Mrs. Stewart's turned her white underwear blue.

Buy: Mrs. Stewart's Liquid Bluing, $5.39
Of course, I've heard of Comet, but I've never actually used it. And I guess I'm missing out, because Lind says classic Comet powder is the store's number-one selling cleaning product. Comet is especially relevant now since the standard iteration contains bleach, making it effective in staving off viruses and other germs. Just sprinkle the powder on a wet surface, let it sit for 15 seconds, scrub, and rinse! (Just double check that your surface is bleach-safe, and ensure you're taking proper safety precautions in the process.)

Buy: Comet with Bleach, $8.51

Read this next: I Kept Up With a 1950's Cleaning Schedule for a Week—and I'm Exhausted