Here's What the Inside of the Olympic Village Really Looks Like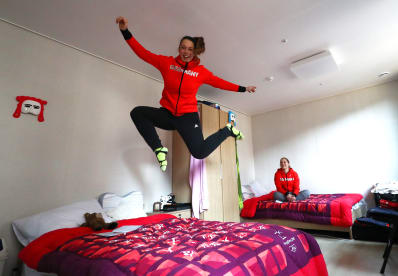 (Image credit: Alexander Hassenstein/Getty Images)
The 2018 Winter Olympics in Pyeongchang, South Korea will kick off Friday, February 9 with the opening ceremonies — likely to be an explosion of flying colors, multi-cultural unity and fanfare. With thousands of Olympians converging, we started wondering about their temporary homes and of course, what they look like. We mined the available photos and athletes' social feeds to get a behind-the-scenes look. And while it might sound hyperbolic, seeing where the athletes stay, sleep and prepare for the Winter Games got me very excited to watch!
The two villages, PyeongChang Village (a cluster of eight 15-story buildings) and the Olympic Village in Gangneung (a total of nine 25-story buildings), were completed in December of last year and opened for athletes to start moving in last week on February 1. (This YouTube video gives more info and a tour of one of the units.) The villages are where the athletes do their eating, sleeping, training, recovery and yes — even laundry. Early views of the unoccupied athletes villages were a series of brightly lit photos of clean — but very sparse — modern interiors.
The athletes — who will be competing in games like bobsledding, speed skating and other winter sports — will be staying in these apartments for three weeks or so, as they prepare, train and ultimately compete during the 2018 Games, which run from February 9-25.
According to the Olympic.org website, "The PyeongChang Village will house as many as 3,894 athletes and team officials during the Olympic Winter Games. It will then provide accommodation for up to 2,268 people during the Paralympic Winter Games. The Gangneung Village will house more than 2,900 people, at the Olympic Winter Games only." The buildings are organized in units that feature multiple rooms surrounding a central kitchen and open dining area and lounge. Bathrooms are modern and sleek, with beige tiles, stainless steel fixtures and clean toilets and sinks.
(Image credit: Kyodo News/Getty Images)
Many of the rooms feature double beds, nightstands with locks, a tall cabinet for storage and garment racks. I also see leaning floor mirrors. On top of the modern, low-profile platform beds are extraordinarily colorful bedspreads in either red or blue, depicting the Olympic logo and cute graphics of the various winter sports. Some rooms don't have windows, while others seem to have balconies. (And yes it's true, the village will be stocked with more condoms than ever before.)
As athletes from countries around the world began moving into the villages... Instagram and Twitter began to feature insider views of these rooms, with competitors snapping photos of their temporary home away from home.
The formerly sparse rooms I saw in press photos began to come to life as the excited and extremely buff athletes began moving in.
Athletes showed off the welcome gifts and free goodies waiting for them in their rooms. Others were, understandably, first struck by the vibrant comforters they found on their bed.
And it didn't take long to understand why the rooms come standard with cabinets and wardrobe racks... athletes have a ton of gear.
Between training and practicing and other Olympian prep (I spotted a lot of outfit and uniform fittings on peoples' feeds!), there's probably not a lot of time for interior design. But it was interesting to see how some of the athletes customized their quarters in the villages.
I spotted lots of country-specific blankets at the end of beds and some had taped up sports photos and other mementos on the wall.
Not even the exterior of the villages' buildings escaped personalization; I saw flags representing countries on balconies.
But honestly, you know what I saw the most of?
Grateful groups of people overjoyed to be able to compete for their country and have fun doing sports they love...
...and proof that it's people — not furnishings — that bring the most life to interiors.
Good luck to all the athletes competing in this year's Winter Olympics, and may they all get a great night of sleep tonight!
Oh, and in case you're wondering, Olympians have to do their own laundry, too. Sleek laundry rooms with new machines are just one of the amentities (along with dining halls, media centers and even post offices) available in the villages.
(Image credit: FRANCOIS-XAVIER MARIT/Getty Images)