This Item Just Might Be the Secret Weapon in a Small-Space Bathroom Layout, According to a Designer
We
independently
select these products—if you buy from one of our links, we may earn a commission. All prices were accurate at the time of publishing.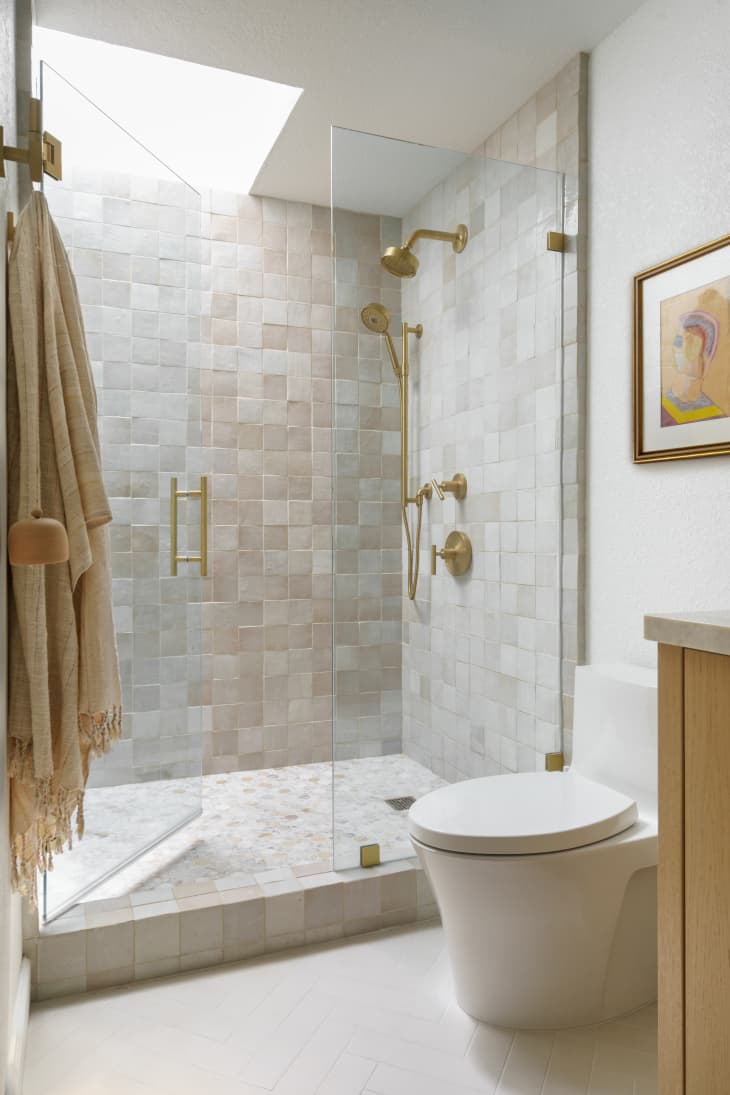 When you're updating a bathroom, it's easy to obsess over gorgeous tiles or exposed shower systems, but something most people don't really think about when putting together their design scheme is what toilet to buy. This is, of course, in part because toilets can be boring, and all the spaces you turn to for inspiration — fancy bathrooms featured in the pages of interior design magazines or luxury residences on Instagram — never really show the toilet. It's typically tucked away in the "water closet" or separate little room. Honestly, if I had the square footage and money I would hide that bad boy, too.
Since I've waited six years to tackle our main bathroom renovation though, every little decision — even this most unsexy one — feels important to me. That's not only because I'll finally have a sanctuary I'm not sharing with my little ones — where a terrifying plastic snake isn't lurking behind a shampoo bottle, or the tub isn't covered with Hot Wheels — but because the room is small, and you see everything, toilet and all. The last thing I want messing up the vibe is one of those industrial-looking public toilets. I also can't spend thousands on a toilet, either.
So it was really exciting one day when randomly scrolling through Instagram that I was stopped in my tracks by a bathroom designed by Salthouse Collective. It wasn't the dreamy zellige tiles or the beautiful brass shower fixtures that grabbed my attention, but rather the compact toilet holding court in the space. Sculptural and sleek, the toilet felt like a design moment in its own right. I immediately sent the image to an interior designer friend who said it's probably one of those high-end wall-mounted toilets that's out of my budget. 
One look at the comments section on the post, and it was clear I wasn't the only one curious about the stylish fixture. Thankfully designer Leigh Jendrusina was gracious enough to respond to our queries. Turns out the toilet isn't some super-extravagant, 100 percent out-of-reach model but rather Kohler's Veil, a one piece model that isn't inexpensive but also is so exquisite and space-saving.
"I like how pretty and modern and clean it looks," says Jendrusina on why she chose the minimalist fixture for the project. "It feels like a hybrid between a normal toilet and a tankless one." Therein lies the key: If you're dealing with a small space and want to eke out every square inch — and find a toilet that looks good and works with your budget — look for a compact but elongated one-piece toilet that has a bowl design that appears tankless. When asked if she was surprised at all the traction it was getting on social media, the designer said no.
"There are so many people doing their own spaces because they have a good design eye, but the plumbing stuff is harder for people to figure out," she says. "This one makes a statement in a small space."
If Kohler's compact beauty is out of reach, the Swiss Madison St. Tropez provides a similar, more budget-friendly option that you can also order right off Amazon. You can shop them both here, or let me know what you find in this vein. I'm looking, too!