It's Official: This Is the Smallest Apartment in the U.S.
We
independently
select these products—if you buy from one of our links, we may earn a commission. All prices were accurate at the time of publishing.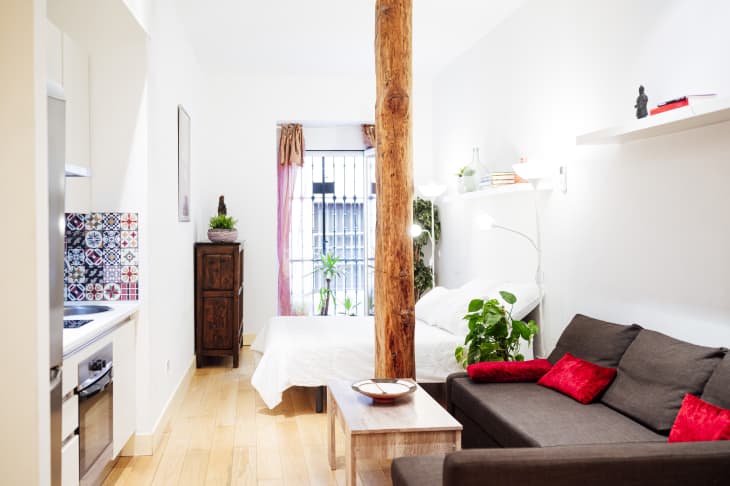 The trend of tiny apartments is only getting, well, bigger — a recent analysis said that the average square footage of newly built apartments has decreased by 54 feet in the past decade! We've been ahead of the downsized trend, and we're big fans of creative ways to maximize even the teeniest of spaces. After all, there are no small apartments, only small storage ideas (that's the saying, right?).
So when we got wind of a record-breaking small space in New York City (where else?), we were excited by the challenge of outfitting this home for smart living. This $3,100 (with 2 months free!) studio in Manhattan is less than 100 square feet, but there's still plenty of space for a renter who knows how to decorate creatively!
Before you take a look at it, we just want to set the stage to let your imagination run wild: Because the box-shaped studio has a classic rectangular shape, the world is your oyster when it comes to layout. We'd recommend a Murphy bed to maximize floor space, and consider what you really need in the kitchen. Can you survive with a mini fridge and no dishwasher? Or how about an adorable, fully functional micro microwave instead of an oven? The space saved by reducing major kitchen appliances can be used for thoughtful vertical storage for dishes and cooking must-haves. (Here are some of our favorite storage solutions.)
If you're still balking at the square footage, don't worry. Although the apartment has low ceilings, there are simple hacks that won't make you feel boxed-in: Try floating shelves with lots of greenery to create a fresh, spring vibe, and lots of mirrors will create the illusion of extra space. In fact, you might try lining an entire wall with floor-length mirrors. Suddenly, your 100-square-foot hideaway has doubled in size! To create a dining area that doesn't steal focus (or space) from the room, find a collapsible piece that can conveniently double as an entryway table — collapsible desks, bar carts, and other furniture are going to be the saving grace of this humble home. Another fun idea: Instead of traditional living room seating, stock up on pool floats, which can be easily deflated and stored away after guests leave!
There's only one real downside to downsizing — you'll need to shell out quite a few bucks for some of that "Honey We Shrunk the Kids" technology in order to move around the apartment without damaging the walls (which we know is a big no-no in city rentals). Why? Because the home looks like this …
But again, it's a steal! We asked our home and design experts for other creative ideas for this space, which is located in a dream spot in Manhattan. They suggested investing in a good camper set for dishes and other kitchen utensils — because these tend to be small, durable, and often stack into each other. This is also the perfect space for someone who likes to go antiquing … for doll-house furniture. If a Murphy bed seems too expensive or too much trouble, you could build a compact pillow fort with a cotton ball and a one-ply Kleenex — soft and space-saving!
Unfortunately, this cozy apartment doesn't have an in-unit bathroom. But luckily there are tons of new advancements in waste technology — like robotic self-cleaning litter boxes! — that make it easy to survive without a real toilet. And makeup wipes and dry shampoo will become your best friend.
Haven't you ever heard that New Yorkers live in shoe boxes?