This Instagram-Famous (and Constantly Sold Out) Entryway Rack Is the Best Thing to Happen to My Kitchen
We independently select these products—if you buy from one of our links, we may earn a commission. All prices were accurate at the time of publishing.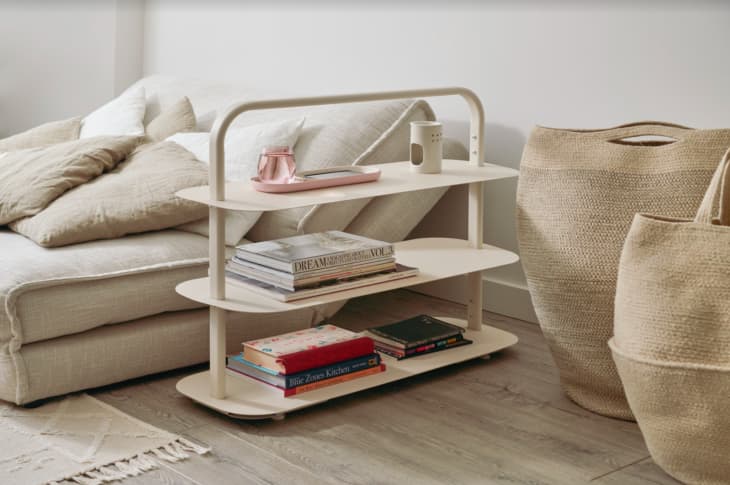 You may have seen Open Spaces' Entryway Rack flooding your Instagram feed or pasted along bus stops and construction walls — you basically can't do anything without seeing the stylish storage solution somewhere. Its sleek design and multifunctional purpose makes it a coveted organizer, and for good reason. While Open Spaces boasts loads of ideas for its famous home fixture (shoe rack, bookshelf, and so on), I've mostly seen the Entryway Rack used as just that — an entryway rack. My one-bedroom apartment has a true entryway of its own; however, I was in desperate need of a pretty, practical kitchen storage solution for my small space. So I decided to take the sought-after rack for a spin.
Follow Topics for more like this
Follow for more stories like this
It came in just a few short days and upon arrival, I unpacked it to find that assembly was unbelievably easy; the rack took a total of seven minutes to put together. Once constructed, the rack's three lightweight steel shelves seemed to defy gravity as they rested upon the continuous railing, which I promptly used to move the rack to its designated spot snuggled between my kitchen cabinets and dining table. At just under 34″ long, the rack fits easily in my small space, sticking out from the wall just over a foot, so taking a seat at my table is no issue at all. Once filled with a variety of kitchen items, I now use it as a combination of a bar cart, general kitchen storage, and a culinary reading material hub.
On the top shelf is my bar station: bottles and glasses along with a few tchotchkes for good measure. The second shelf holds my beloved Caraway saucepan and a fruit bowl. The bottom shelf? Cookbooks and the corresponding bins Open Spaces also makes, which come in multiple sizes and fit perfectly between the shelves (get a matching or complimentary color).
I use them to store kitchen towels, napkins, and placemats (yes, I am that low on drawer space). But it's easy to see how any of these shelves could house plates or bowls, glasses or water bottles, and even pots and pans. The versatility is what makes this storage gem such a wonderful kitchen fixture. I can no longer imagine mine without it.