5 Curb Appeal Trends That Will Make Your Home Look Dated, According to Experts
We
independently
select these products—if you buy from one of our links, we may earn a commission. All prices were accurate at the time of publishing.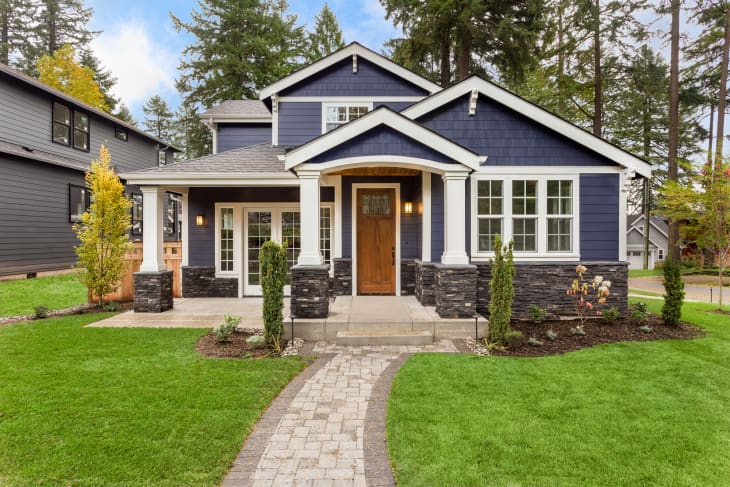 Curb appeal on a house is a lot like going out on a first date (or swiping endlessly on a dating app). If you like what you see initially, you're going to want to know more. The landscaping, door color, and even the condition of the driveway are all going to entice potential buyers inside, or as it sometimes goes in dating and in real estate, send them running for the hills. 
"[The curb] is the spot where buyers spend the most time. They're waiting for the agent to use the code, unlock the door, so they spend a lot of time sitting on that front porch or in front of the house. That's why you want to spend a lot of time making it perfect," says Riann Emch, an agent in the Dallas area. 
But, like everything else in real estate, what was popular in curb appeal trends 20 years ago won't necessarily wow your potential buyers today. Although achieving good curb appeal is ultimately about keeping everything maintained, there are a few things that may make your home look dated when you put it up on the market. 
Boxwood shrubs are often used to "hide" foundations on a home or to fill out a garden bed, but this ubiquitous feature in the front yard of many homes is starting to feel outdated. 
"Curb appeal trends that are fading include anything that's got high maintenance. Box hedges are pretty up there on that list—you have to shape them and make sure they're just right," says Emch. 
Ready to nix those shrubs in favor of a more simplistic garden? If your boxwood shrubs pre-date you living in the house, it's likely you're going to need a landscaping crew to come in and get the shrubs out using professional tools, as their roots can run too deep for just some sweat equity and your hard-working shovel. 
Although shutters can look downright adorable on the right style of home (think Colonials or farmhouses), they can make other types of homes feel too cookie-cutter, according to Tracy Jones, an agent in Sarasota, Florida. 
"People have begun to shift away from using shutters in favor of more simple, wide, white trim around their windows. This offers a very clean look to the front of the house," she says. 
Can't bear to part with your shutters? Simply spruce them up with a splashy coat of paint to make the front of the home pop. 
If you were a child of the '80s or '90s, you may have grown up with a front door that featured windows on either side of the front door, which are called sidelites. Though they bring in a lot of natural light (always a good thing), but potential buyers may take one look and think the rest of the home hasn't been updated since "Full House" was on the air.
"Big, beautiful picture windows next to the front door are more in now. Instead of windows on either side of the door, you're better off going with a double door," says Emch.  
Though the address on your home is a small detail, it's an opportunity to showcase some personality and make your home stand out from the crowd. Big brass placards were once the norm when it came to displaying your address, but this look likely isn't doing your front door any favors. 
"Now it's more common to have contemporary plates on—the nailed up single ones where you have the hanging three or four numbers," says Emch. 
Some curb appeal trends fade away thanks to the influences of articles, magazines, and social media, but others can disappear for more practical reasons. Border hedges that were once established for privacy may be a nuisance when it comes to the maintenance of your front or side yard. 
"In Sarasota, especially, where there are a lot of HOAs, any type of hedges that were once used to separate properties have been removed, so that the mowers hired by HOAs are able to seamlessly mow from one property to the next," says Jones.