7 Driveway Trends on Their Way Out, According to Real Estate Pros
We independently select these products—if you buy from one of our links, we may earn a commission. All prices were accurate at the time of publishing.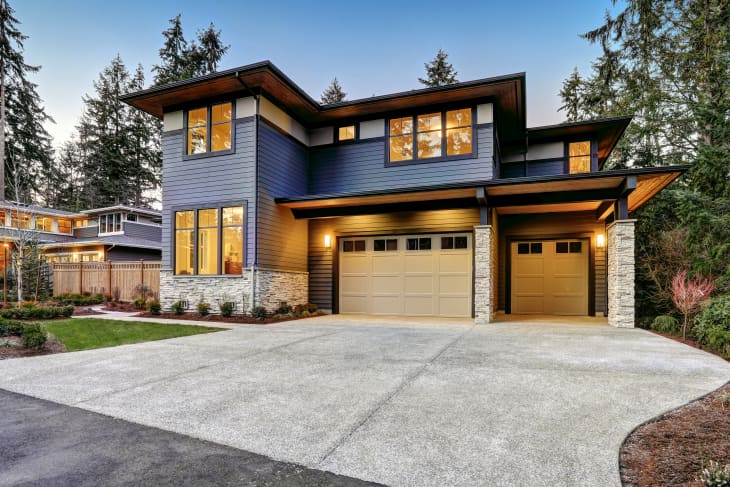 The driveway is one of the first things guests notice about your home when they visit, which means that dated styles can make your home seem out of step, no matter how updated the interior is. If you want the exterior of your home to reflect your home's stylish interiors, real estate agents say there are a few trends you should put in your rearview.
Large statues or figures that stand at either side of the driveway have fallen out of style, according to Suzi Dailey, a Realtor with Realty ONE Group. "Simple and tasteful is much more popular," Dailey says. "Ornate is not popular at all… people view it as ostentatious."
With the farmhouse aesthetic still as popular as ever, Joseph Hermon of Oxford Property Group in New York says people are bringing the style outside. "People are opting to bring the modern farmhouse look into their driveways as well, so wood, wood-style plastics, and stone are more popular than shiny metals right now."
Whether it's the rising popularity of gated communities, or the fact that home security systems are now available at a variety of price points, manual gates are quickly falling out of favor. "Gates without remote control are passé because most people are home more often now, and the act of getting up to open and close your driveway gate multiple times each day is definitely considered a nuisance and a turn-off for buyers," explains Hermon. 
"Gravel driveways are over — the maintenance is a pain in the rear and they're nearly impossible to enjoy for any leisure activities, and that's a major consideration when you have kids or lots of company coming and going," says Hermon. "Blacktop is a step up, but pavers are coming back into style in all shades and shapes."
Asphalt and Stamped Concrete
A well-designed driveway can set the tone for your home, explains Shane Graber, a broker at Graber Realty Group in Miami. "Asphalt and stamped concrete driveways are out." Instead, he says he's seeing a trend for artistic-formed concrete driveways, paver driveways, and turf stone pavers that have minimal ground imprint, allowing grass to grow in between the pavers "to create an uber-natural appearance," he says.
"Clean lines and minimalism are dominating the exterior home stage, especially for important entry statements like a driveway," says Bonnie Heatzig of The Luxury Real Estate Authority and the executive director of luxury sales at Douglas Elliman, adding that people shouldn't be afraid to change the shape of their driveway. "It doesn't need to remain the same shape as it was when you purchased the home," she explains. "Lifestyles change and your driveway's shape can too, to fit your needs." 
It's nearing the end of the road for ribbon driveways, also known as Hollywood driveways. They feature just two parallel strips of concrete where your tires would go, according to Brittany Kovatch with Keller Williams North Atlanta. "Texture, geometric shapes, color, and mixed materials (think concrete and brick or grass block pavers) are now the hottest trends," she says.