8 Low-Cost Activities and Day Trips You Should Schedule This Fall
We independently select these products—if you buy from one of our links, we may earn a commission. All prices were accurate at the time of publishing.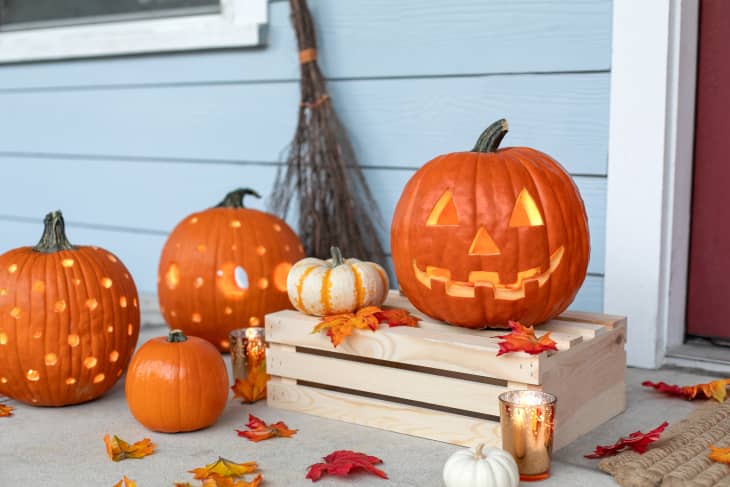 The entrance of fall brings with it many things to celebrate. From spiced flavors and comfort foods (hello, Crockpot!) to getting cozy with blanket scarves and sweaters, the transition from long, hot days to shorter, chillier ones is a welcome one. Several activities simply encapsulate that fall feeling, whether it's because of nature, entertainment, or fabulous fall flavors.
Fortunately, many quintessential fall pastimes involve being outdoors, which is essential to consider right now. If you're looking for something to fill an afternoon or a Saturday, here are eight activities you can pack into a day trip or an afternoon.
Follow Topics for more like this
Follow for more stories like this
Go apple picking at a local orchard.
Whether you want to eat apples plain, bake <a rel="noreferrer noopener" href="apple%20pies,%20or%20can%20applesauce%20for%20next%20season,%20heading%20to%20a%20local%20orchard%20provides%20a%20greater%20variety%20than%20you%E2%80%99ll%20find%20at%20your%20local%20supermarket.%20Plus,%20selecting%20apples%20and%20picking%20them%20off%20the%20trees%20is%20a%20memorable%20experience%20for%20all%20ages.%20However,%20many%20orchards%20only%20offer%20apples%20to%20choose%20from%20bins%20the%20later%20it%20gets%20in%20the%20season,%20so%20call%20ahead%20to%20see%20when%20the%20you-pick%20season%20ends.</p>%0A%0A%0A%0A<h2>Visit%20an%20arboretum%20or%20botanical%20garden.%C2%A0</h2>%0A%0A%0A%0A<p>Spring%20and%20summer%20are%20often%20regarded%20as%20the%20best%20times%20to%20head%20to%20flower-centric%20destinations.%20However,%20most%20<a%20href=" https: target="_blank">botanical gardens and arboretums decorate for the season and still have flowers in bloom during autumn. Another perk is that because the warmer months draw more visitors, you will encounter fewer guests if you schedule a trip in the fall.
Get a pumpkin from your local patch.
If you're fortunate enough to have a neighborhood farm that grows pumpkins, make the time to head out and pick a favorite to take home. Even if you can't find locally grown pumpkins, your area may have a patch where you can select pumpkins from bins or sections of their makeshift patch. Big bonus points go to farms that include a hayride to and from the patch, as the ride just adds to the experience of fall.
Spend time at a farmers' market.
On Saturday morning — or whenever your local farmers' market takes place — head to your neighborhood coffee shop to grab your favorite hot drink to take the chill off as you walk around. Visit with local vendors and learn about what is growing in your area as warm weather wanes. Find freshly picked veggies to turn into a hearty soup, or purchase locally, ethically sourced meat to cook for dinner. 
Test your skills at a corn maze.
Some farmers get creative with their past-peak cornfields by cutting paths so that folks can walk through and eventually find the exit; be warned, because field owners carve intricate patterns and shapes into their fields, and certain mazes might be more complicated than others. Some corn mazes stand independently, but others are often coupled with pumpkin patches for added fun. Gather the family, split up into teams, and try to find your way through a local maze.
Walk through an outdoor sculpture museum.
Going through a sculpture garden is something that many folks have yet to cross off their to-do list. Although finding one may seem complicated, these outdoor gardens are often connected to an art museum or centered in a park. Find out the history and meaning behind the pieces by downloading the museum's app or reading the placard alongside the sculpture. You may discover a new favorite artist or gain an appreciation for a particular work as you roam.
Attend a harvest festival. 
Barring that there isn't a pandemic spike in your area, head out to your local harvest festival. These celebrations often have streets lined with crafters, food vendors, and musicians waiting to sell to, feed, and entertain you. Sometimes these gatherings contain art shows and street performers to enhance the experience. Again, keep social distancing and mask mandates in mind, and only head out if it's safe and you feel comfortable doing so.
Take a fall foliage ride.
One of the most beautiful parts of fall is the changing color of the leaves. As green gives way to yellow, orange, and rust tones, schedule an afternoon or weekend ride to see the vivid colors. Check to see when the peak is in your area, and drive to a local parkway or overlook to see the landscape in all its autumnal glory. Be sure to charge your smartphone so that you can snap a few images before the leaves fall if you're in the passenger seat or find a good place to pull over and marvel at the sights.