6 Outdoor Space Revamps That'll Help Sell Your House, According to Home Experts
We independently select these products—if you buy from one of our links, we may earn a commission. All prices were accurate at the time of publishing.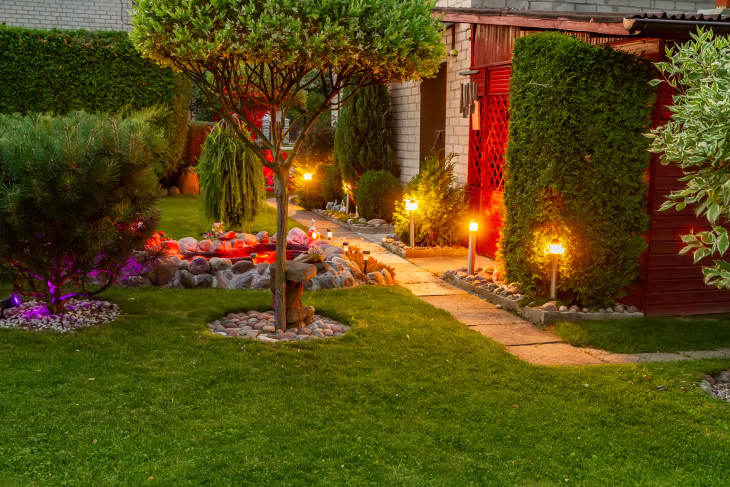 You've probably spent hours decluttering your home, removing personal items, and ticking off the boxes on your realtor's staging checklist. But did you neglect your outdoor spaces? Savvy buyers expect more than a yard with overgrown perennials, so it's worth considering elevating yours.
Follow Topics for more like this
Follow for more stories like this
Experts recommend focusing on the key spots buyers are interested in: the deck, dining area, lounging spots, and pool. Not only can you increase the value of your property, but you'll also create the illusion of more overall living space. Here are six ways to boost your outdoor living cachet and sell your house faster, according to home experts.
When selling your home, staging outdoor spaces is just as important as staging indoor spaces, says Barb Perez, owner and principal home stager with Wall to Wall Home Staging in the Central Maryland and Washington, D.C. area.
"Staging outdoor spaces adds a lot of visual interest," says Perez. "Buyers want to imagine themselves entertaining in their backyard, drinking a glass of wine while enjoying the garden or eating a quiet meal with their family." 
Just as your interiors must be immaculate, spruce up your outdoor space, too, by sweeping the deck, wiping down furniture, and pressure washing flagstones or patios.
"The exterior paint should be in good shape, and the back door needs to look good, too," adds Houston-based designer and real estate broker Laurie Coton.
Think about how buyers will be using the space and plan around that, says Coton. 
"Buyers want a place they can relax and entertain in, and a seating arrangement is key," she explains. "Make it pretty and comfortable, with the same color palette as your interior furnishings, so it feels like the outside space transitions from inside."
Scatter some throw pillows onto a sectional sofa for a pop of color, adds Perez.
"An outdoor rug also brings a seating area together and adds texture and warmth," she says. 
Whether it's an al fresco brunch or an impromptu barbecue, everything tastes better outside. Show buyers where they'll enjoy their morning latte.
"A centerpiece makes the table look more inviting—use potted live plants or flowers, lanterns, candles, or a fun found object," says Perez. "Since we stage a lot of properties on or near the water, we often set up a dining scene that looks like a crab feast is ready to start, with wooden crab mallets, faux crabs and can of Old Bay."  
Ideally, you'd have some shade over your table but if you don't have trees, put up a pergola. Just make sure it doesn't block the natural light going into the home.
Give your garden an instant wow factor
Even the most beautiful outside living space falls short if you don't have any plants or flowers, says Perez. So pop some evergreens and vibrant annuals into your flower beds for impact, and layer on fresh mulch. 
"Be sure existing plants, shrubs, and trees are healthy and trimmed so they look their best. Overgrown shrubbery and dead plant material can make a property seem older and less cared for," she says.  
Small urban yards get a boost from containers packed with cascading flowers, and you can make your space appear bigger by drawing your eye to the back of the space with a colorful piece of art as a focal point, adds Coton.
"A raised garden is wonderful, and it can be a fragrant herb or flower garden. It works the same way as when you walk in a home and smell baked goods in the kitchen. It just makes you feel at home."
Creating different vignettes will help buyers picture themselves enjoying and entertaining outdoors, suggests Coton. Picture a luxurious hotel—and make your place look like that.
"Set up a bar area, and put out a bottle of wine, wine glasses, and a corkscrew; it makes people see this as a nice serving area," says Cotton, whose other tricks include arranging comfy lawn furniture around an in-ground pool, rolling up fluffy white towels in baskets, and putting some balls and floats in the water. Place a book upside down on a chaise lounge and a tall glass of iced tea, plus some sunglasses on a side table.
"If you're in a colder climate, it's great to have a firepit," adds Coton. 
Good lighting can have a magical effect during evening showings, where buyers can fall in love seeing your trees are lit up and your pool looking perfect for a nighttime dip. 
"String lights create a warm ambiance for entertaining at night, and they add lots of charm, too," says Perez. Hang them diagonally across, on top of, and behind your seating arrangement and dining area. Add candles and lanterns for a warm feeling, and pathway lights to help your property feel safer, she adds.