The Under-$30 Expandable Organizer That'll Turn Any Wall Into a Mini Utility Closet
We
independently
select these products—if you buy from one of our links, we may earn a commission. All prices were accurate at the time of publishing.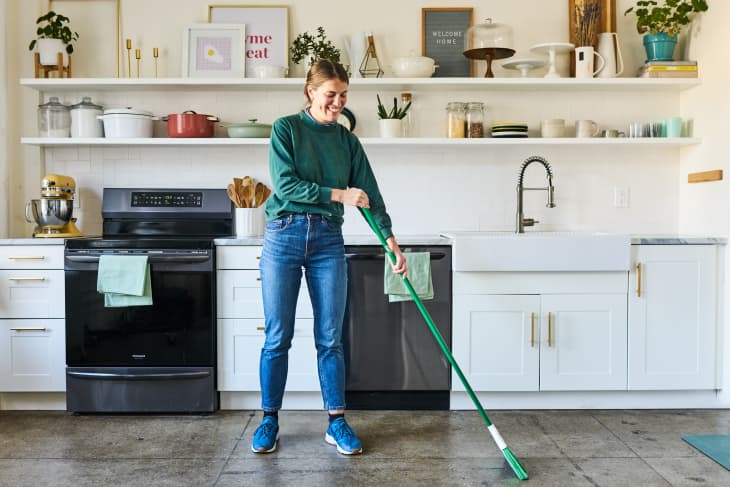 When I made the move from New York City to the suburbs a little over a year ago, I expected so many of my household pain points to just disappear. As many of us know, city living often comes hand in hand with snug spaces, and, after a decade of cramming as much life as I could into 400 square feet, I was ready to have a little room to breathe. I had big dreams of a walk-in pantry, a mudroom where I wouldn't have to stare at my coat and boots all winter long, and a utility closet that kept all my cleaning supplies neat and tidy.
While I am overwhelmingly in love with the home we ended up in, I am here to say that most — nay, all — of those fantasies were just that: pipe dreams. While we probably could have found a home that boasted a retail-worthy pantry or utility closet, we ended up in a 200-year-old colonial. And let me just tell you this: Those folks were not really concerned about where to keep their Dyson or mop hidden.
As living in an apartment, life in our home has forced us to find some creative solutions for our things, particularly when it comes to storage. Cleaning supplies, in particular, have been a serious issue for me — we use our vacuums, mops, and Swiffers too frequently to store them in the basement (hello, life with a toddler and a dog is messy) but I am very much against the idea of keeping them out in the open. Lucky for me (and maybe for you, fellow commiserators?) OXO has the key: the Expandable On-The-Wall Organizer.
This handy wall gadget instantly transforms any blank swath of wall space into a makeshift mudroom or utility catch-all that can literally, well, catch it all. The adjustable design expands from 15 inches to 24 inches, with customizable non-slip grip locks and hooks that can be arranged to accommodate hard-to-store tools and supplies (think: mop handles of different widths, dustpans, and more). The clips can be adjusted to be as far apart or as close as you need, ensuring you can max out the available storage space and eliminate unnecessary clutter.
Personally, I plan on attaching this organizer to the back of my basement door to keep my cleaning supplies out of sight while still in reach. But that's just me — other buyers have used it everywhere from in the pantry to the bathroom. "Cleaning is my least favorite chore, so to drop some cash on a rack to store tools to clean with, was not easy, " says one reviewer on Amazon. "Putting up the rack may have been easier! Which it actually was. I didn't need any help and I certainly would not consider myself a "handy-woman" by all means. I've been using [the organizer] for a while now and so far, it's held up exceptionally well. It's adjustable horizontally which I like, so before you hang it, you can determine how wide you would like it. I do like the lever-style latches which hold my OXO poles and handles quite well, and there are enough hooks to hang my dusters and whatever else that needs hanging. The rack keeps everything neatly stored in one place, and when you live in a smaller home, this type of organization means less clutter and less mess."
Whether you own the expansive utility room of my dreams or are floundering for a bit of space to organize your cleaning accessories, OXO's Expandable On-The-Wall Organizer could be the key to your tidying success. Plus, at under $30, you really can't go wrong!