This Under-$25 Gadget Will Keep Your Counters Clean While Cooking (Yes, Really!)
We
independently
select these products—if you buy from one of our links, we may earn a commission. All prices were accurate at the time of publishing.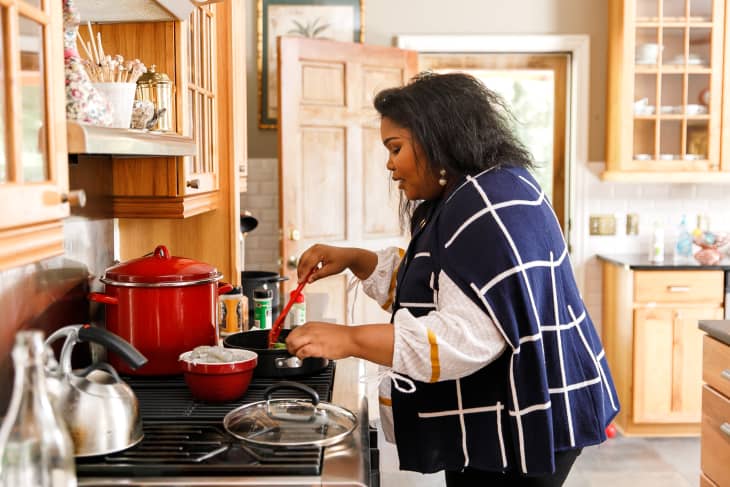 We were probably six months into dating when my husband, very affectionately and very cautiously, called me "a complete tornado" in the kitchen while I was cooking him dinner one evening. And listen — he's not wrong. I've always been a passionate home cook and, after living in small city apartments for over a decade, I certainly gained a reputation for leaving disaster in my wake whether I was whipping up eggs for breakfast or cooking a three-course dinner for my roommates.
Needless to say, moving in together (and eventually getting married) required I work on some of my tornado-like habits. Because I know this unsavory character trait of mine, I'm always on the lookout for products that will make meal prep easier and cut down on the mess created while cooking. The latest gadget popping up on my radar? The Stainless Steel Spoon Rest and Lid Holder from OXO.
You probably already know we have big love over here for OXO, the innovative kitchen tool brand seen everywhere. They're constantly churning out products that are specifically designed to make life in the kitchen easier (like their shredding claws, drawer organizers, angled measuring cup — the list goes on!), simplifying meal prep and, in turn, making cooking that much more enjoyable. The Stainless Steel Spoon Rest and Lid Holder falls in line with this ethos, solving a practical problem that plagues many home cooks (not just tornados, like me) — drippings from the stove.
If you've ever whipped up a Sunday Sauce or thick soup only to finish up and notice it's alllll over your countertops, you're not alone. Between dirty spoons and drippy lids, there's a lot you have to be mindful of when cooking up heartier fall dishes, making this genius OXO product all the more necessary. This streamlined stainless steel piece boasts a generously-sized base (backed with slip-free silicone) made to hold multiple cooking utensils plus a wire rack that stores the lid of your pot or pan vertically to catch any condensation or drippings. The compact design folds and stores flat when not in use, and the whole thing is dishwasher safe — which is more than you can say for your countertops.
Reviewers on Amazon love this gadget for how simple — yet functional — it is. "Before purchasing the OXO spoon rest, I would lay a paper towel down on my countertop for the pan lid and use a spoon rest for my stirring utensil. When I was finished cooking I would have to clean the countertop where the moisture from the lid had soaked through the paper towel. With the OXO spoon rest, the lid and stirring utensil are in one place, taking up less space, and the moisture from the lid drips onto the spoon rest. No more mess," says one reviewer. "The little stand is sturdy enough to even handle my gigantic and heavy dutch oven lid," says another. "I just made a big pot of soup with it and it withstood the heat from the lid and kept the counter free from water."
My advice? Snag this handy item before fall cooking really kicks into high gear and things get saucy. At under $23, it's a small price to pay for less post-dinner cleanup!