3 Paint Colors You'll Want to Use on the Outside of Your House This Season
We independently select these products—if you buy from one of our links, we may earn a commission. All prices were accurate at the time of publishing.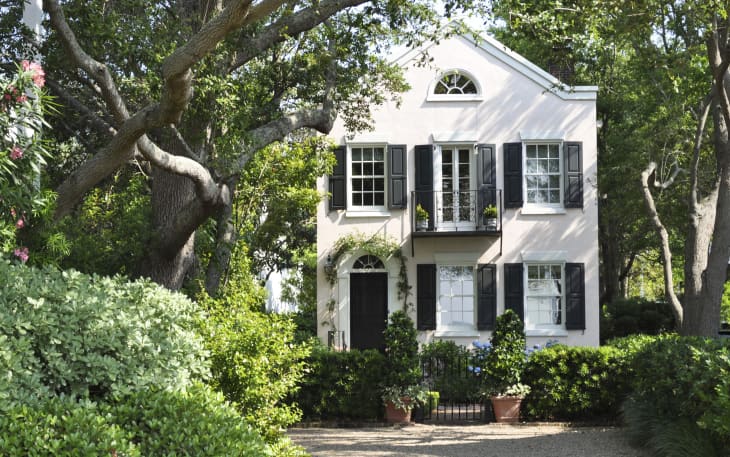 While many color trend discussions focus on the interior of a home, there's something to be said about freshening up the look of your property's exterior. 
Follow Topics for more like this
Follow for more stories like this
But before you go into sticker shock over what it might cost to hire a house painter, keep in mind that the exterior of your home is just that — anything that's on the outside of the home. That includes the door, porch, deck, shed, and even your mailbox. So if you're looking to ramp up your curb appeal with a DIY project, it might only take an afternoon.
Opendoor's 2023 Home Decor Report found that one in five respondents (21 percent) think the exterior color of a home is important. If you've got an eye toward resale value in the near future, you might be reluctant to change up your property's color palette too much. Never fear, homeowner! I checked in with some real estate agents to see what exterior color trends are the most interesting for buyers.
Not surprisingly, the Opendoor report found that understated neutrals and warm tones are still a hit (41 percent of respondents), particularly beige, tan, and camel (41 percent). 
"The most popular paint colors in the U.S. are still neutral colors such as beige, gray, and white because these are a safe bet as they provide a clean and classic look," says Eric Bramlett, cofounder of Bramlett Residential, an Austin-based real estate business. "These colors also allow potential buyers to envision their own personal style and decor without being distracted by bold or bright colors." 
Casey Napolitano, real estate agent and founder and CEO at NDA Real Estate in Beverly Hills, agrees. "White-painted exteriors have always been a classic choice, and they look clean, crisp, and timeless," she says. "They can also make a small house appear larger."
Muted Blues, Greens, and Yellows
If neutrals make you snore and you're so over greige, Bramlett says it's OK to venture into other colors — provided you opt for muted shades, that is. He has found buyers who crave homes with "a bit of personality" like muted shades of blue, green, and yellow. 
"These colors can add a touch of warmth and character to the property without being too overwhelming," he explains.
If you thought black made a statement for your wardrobe, think about what it could do for your house. Admittedly, this is not the right choice for every home or buyer, but it can make a powerful impact on curb appeal. 
"Black-painted exteriors have been gaining popularity, as they give a bold and dramatic feel, and they look especially striking when paired with wood trim," says Napolitano.
The Opendoor report also found that some buyers appreciate color palettes that combine dark and light shades for dramatic effect, like navy with white accents (21 percent) or white with black accents (21 percent).
How to Choose the Right Exterior Colors for Your Home
Choosing the wrong color for an interior accent wall might be a bummer to fix, but at least it's literally hidden behind closed doors. Going with the wrong color for something on the outside of your home, on the other hand, can turn your property into fodder for neighborhood gossip.
I asked Gena Kirk, VP of corporate studio for KB Home, for advice on how to avoid painter's remorse when it comes to exterior colors. Here's a list of questions she suggests pondering before painting.
What is your home's style/architecture?
Is there any brick or stonework to consider?
What colors are you drawn to?
What color palettes are your neighbors' homes?
Is there any landscaping or exterior fixtures to complement/contrast?
Choosing a color is rarely ever black and white (pardon the pun), especially when you take into account undertones and the warm/cool factors within the same color. Kirk recommends using a color wheel — a visual representation of how the primary, secondary, and tertiary colors relate to one another — when making your choices.
"I recommend testing a few colors in large swatches on your home and reviewing them at different times of the day," says Kirk. "Natural light will affect the look and feel of any color, and when a color is painted over a large surface, it can read darker." She recommends using a free visualizer app: "Take a photo of your home and apply color to see what it looks like, so you don't make an expensive mistake," she says.
If painting the entire house isn't feasible, try just the door. "When choosing a front door color, it's important to consider the rest of the house, both inside and out, including your neighborhood and surroundings," says Opendoor broker Jennifer Patchen. "Because the front door is the first thing your guests or potential home buyers will see, I recommend choosing a color that not only complements the exterior, but also sets the tone of the interior style. 
The Opendoor report found that 44 percent of responding homeowners prefer doors in — you guessed it — neutral colors like white, gray, gray-blue, and gray-green. Bright colors like yellow, red, and teal might seem like a good idea, but 48 percent of respondents said these colors don't do it for them.
"Ultimately, the best exterior paint color for your home is the one that you love and feels right for your personal style and the architecture of your home," Napolitano says.