This Paint-It-Yourself Mindful Wallpaper Wants To Help You Unwind
We
independently
select these products—if you buy from one of our links, we may earn a commission. All prices were accurate at the time of publishing.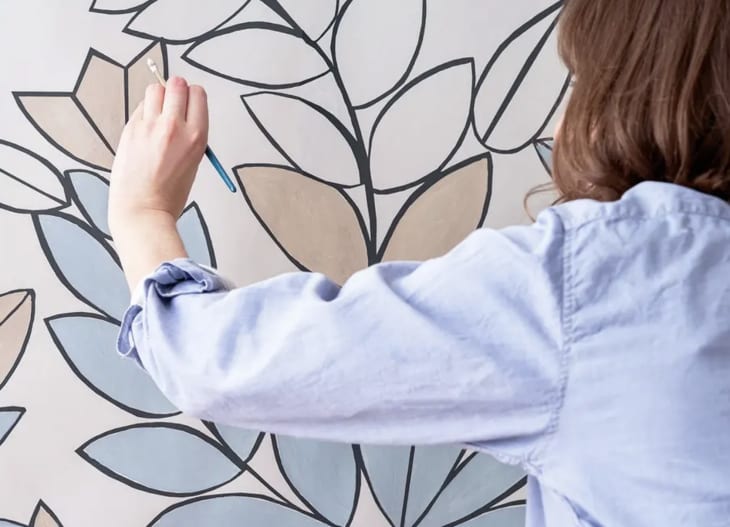 "Creative activities like painting are not only deeply satisfying, it can help you unwind and take a step back from all the pressures that life throws at you," Simon Gunning, CEO of CALM, said in a statement. "That's why we're delighted to team up with Lick to offer this mindful wallpaper and soothing color palette."
Mindful 01 wallpaper features a simple, leafy design, which you can transform yourself using the calming color palette's six paint shades — all hand-selected by Lick's team of in-house color psychologists for their soothing qualities.
Not sure where to start? Tash Bradley, Lick's Director of Interior Design and Color Psychologist, has some tips. Bradley points out that the color green has an "instantly calming effect," since our eyes don't need to adjust to it.
"If you'd really like to tap into the foliage and forestry tones that'll match the design itself, we'd suggest going for Green 02 or Green 09 and pairing that with White 06 or Beige 03 to give you a soft and warm nod to nature," he says.
Bradley also praises blue as a color that helps us slow down and relax. "[Blue 15] instantly makes you think of the blue sky, which we often connect to happy and sunny days," he adds. "This design would look beautiful painted with a mix of blue, pink, and white, with pink being the color of comfort, making it soothing to look at."
Discover more about each color below.
Mindful 01 wallpaper, which retails for $90.62 (or £75) per roll, is available to purchase on Lick.co.uk, with 100 percent of profits going to CALM. A U.S. launch date for the collection has not yet been announced.