This Is the Easiest-Ever Paint Trick to Pull Off in Your Home
We independently select these products—if you buy from one of our links, we may earn a commission. All prices were accurate at the time of publishing.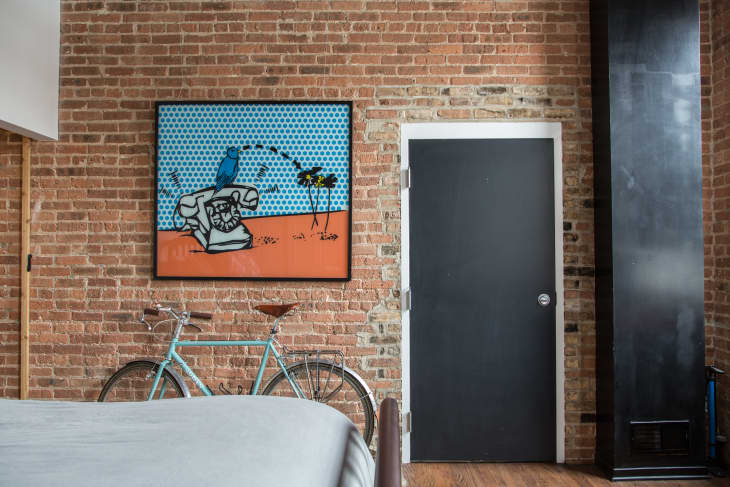 People have been having more fun at home with paint at than ever, and I can't argue with the results. Geometric murals, arches, half-painted walls: Those are just some of the trendy paint ideas that have come out of this creative renaissance. And you don't even have to cover your entire walls — or buy gallon upon gallon of paint — to make a major impact with color.
Follow Topics for more like this
Follow for more stories like this
To that end, when I recently took a virtual spin through Stephanie Wilson's Maximalist Denver apartment, which she shares with her boyfriend, Matt, and dogs, Gidget and Sweet Pea, I loved how she took the idea of adding a pop of color to door and window trim with paint and made it her own. Instead of focusing on trim outside of the door fame, she gave her door jamb a coat of neon yellow (as pictured below) and called it a day. This got me to thinking: If we paint door trim and jambs, why not the edges of doors themselves?
I live in a rental with lackluster hollow-core doors, and their plainness has always bothered me. I've hung a full-length mirror on the reverse of my bedroom door and an over-the-door towel storage rack on the bathroom door. I'd never given much thought to otherwise embellishing the doors' front or back surfaces with paint though, thinking it'd be a pain to return them to white when the time comes to move. I'm all about small, easily reversible paint jobs that make a big difference though — specifically the ones you can do with a $5 sample pot from the home center or the paint store. So that's why I love the idea of painting just the edges of a door to jazz it up. If you're comfortable with your DIY skills, you can even take your doors off their hinges to make it easier to tackle this kind of project.
Maybe you're lucky enough to have some kind of paneling, trim, frosted glass, or decorative insets on your own interior doors. The thing is though, you can still pull off this paint job without distracting much attention away from those other details. Painting this area is like a little design secret, that is, until you swing your door open. I mean, just look at that neon green and gray combo in the Toronto apartment shown here!
You could also try this pop of paint on the edges of kitchen cabinet doors or even on a piece of furniture with doors. Go as bold or subtle as you want for your edges, too. Black or terracotta can be just as striking as a punchy pink or blue; just make sure there's some level of contrast with the door's base color and that the shade you choose works in the overall palette of your room. All you need is an hour (if that!) and a sample pot of paint to make your doors just a little bit more exciting in this easy, budget-friendly way.