Before and After: $130 and 6 Paint Colors Make a Dreary Fence Museum-Worthy
We independently select these products—if you buy from one of our links, we may earn a commission. All prices were accurate at the time of publishing.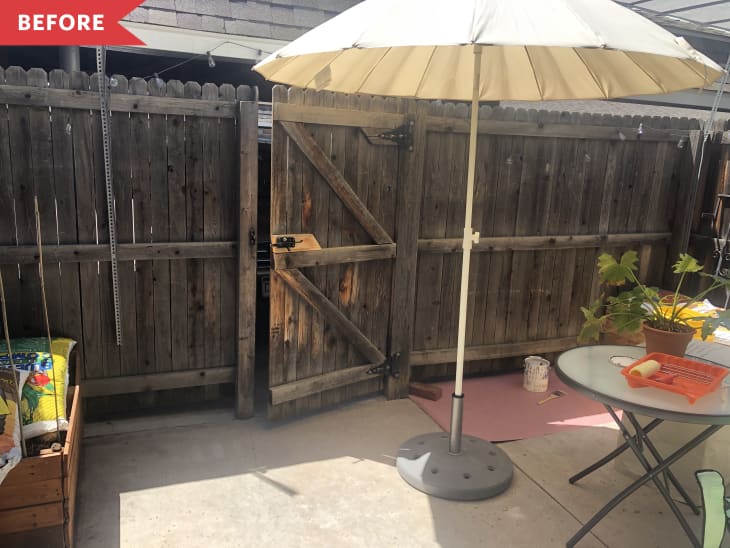 You know paint can go a long way in reviving the atmosphere of your home inside — but don't forget that it can do the same outside your home, too.
Follow Topics for more like this
Follow for more stories like this
Case in point: Tina Frank and her boyfriend's patio transformation. The area started out feeling pretty blah, she says: "The patio had dark wood fencing on three sides, a concrete floor, and our yellow brick condo wall as the fourth side," says Tina. "Add in our large air conditioning unit and the setting was not very cheerful or inviting."
Tina's goal was to emulate the trendy patio vibes she and her boyfriend had enjoyed in bars and restaurants using only paint.
Tina started by using a day to prime the fence; it took two coats to keep the wood fence's yellow undertones from bleeding through the white. Tina also primed the gate's hinges so that she could paint over those as well to give the mural a cohesive, uninterrupted look.
Things were going swimmingly until halfway through the project when Tina stopped in her tracks, "After the priming, but before adding the color, I had a huge, WHAT DID I DO?! moment because the bare white fence looked horrible," she says.
Thankfully, she forged on. Tina had already pre-planned her design on paper, drawing out the fence and the shapes she wanted to include, so she knew what it would look like. From there, she freehanded the design onto the fence itself. "I didn't tape anything because I liked the wobbly line effect," Tina says. "This also made the project go faster."
The entire process took only about two days, and completely changed the look of the patio.
Now, Tina and her boyfriend have a bright and cheery place to spend time that didn't require a major space overhaul, not to mention a huge budget. If you're tempted to take on a mural like hers, Tina says not to sweat the process: "If you get worried about how the project will turn out when you're halfway done, push through it!" she says. "The during phase looks nothing like the end product."

Inspired? Submit your own project here.