The One Thing to Consider Before Painting an A-Frame House, According to a Real Estate Agent
We independently select these products—if you buy from one of our links, we may earn a commission. All prices were accurate at the time of publishing.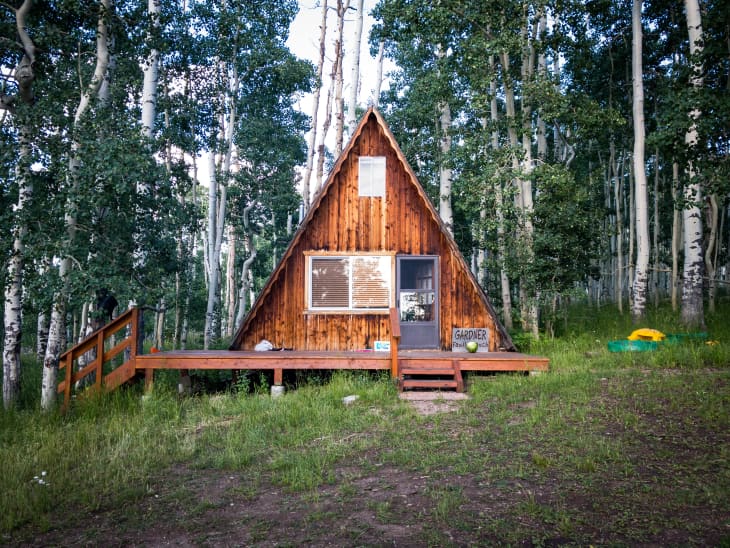 If you scroll through Instagram's collection of #aframehouse imagery, you'll notice that these homes tend to be at the edge of a forest, standing solo in a field, or perched on the edge of a cliff. This is no coincidence. A-frames are designed with adventure in mind, so remote, in-the-thick-of-nature backdrops are pretty on-brand for this unique style of housing.
Follow Topics for more like this
Follow for more stories like this
The first A-frame homes were built in the U.S. in the 1930s and became more popular in the 1950s. Around this time, many Americans were in the market for secondary properties, and because they were relatively inexpensive and easy to build, A-frames became a common style for vacation homes. 
These days, A-frames still tend to be synonymous with vacationing, as well as off-the-grid living. They are lightweight yet triangular in shape, giving them a natural sense of stability. Meanwhile, the steeply sloping rooflines help to facilitate runoff of water and snow. 
Because A-frames have such a distinct look, Vanessa Reilly of Domo Realty recommends being judicious when it comes to painting them. "There's no need to go nuts with color on an A-frame. Let the architecture and pitch of the roof be the star and simplify everything else," she says. 
Before taking a paint brush to your A-frame, take some time to consider how you can best compliment the materials on the home, as well as the surrounding landscape.
"The paint really depends on so many different factors and there is no one-size-fits-all paint scheme for an A-frame," says Reilly. "So, ask yourself some questions: Do you want to accentuate the angles with darker trim or keep everything monochromatic and let the architecture speak for itself? Same goes for the interior."
For the inside, Reilly recommends spending some time observing natural light in the home before making any final choices for paint. "Always test out your paint during different times of day because reflections from the floors or the outdoors can make a color feel totally different on a wall than it looks on a color swatch," she says. "And if there's original wood and tongue-and-groove on the vaulted ceiling, I would say don't paint it because that's the best feature."