This Surprising Aluminum Foil Hack Will Help Save Time on Your Next DIY Project
We
independently
select these products—if you buy from one of our links, we may earn a commission. All prices were accurate at the time of publishing.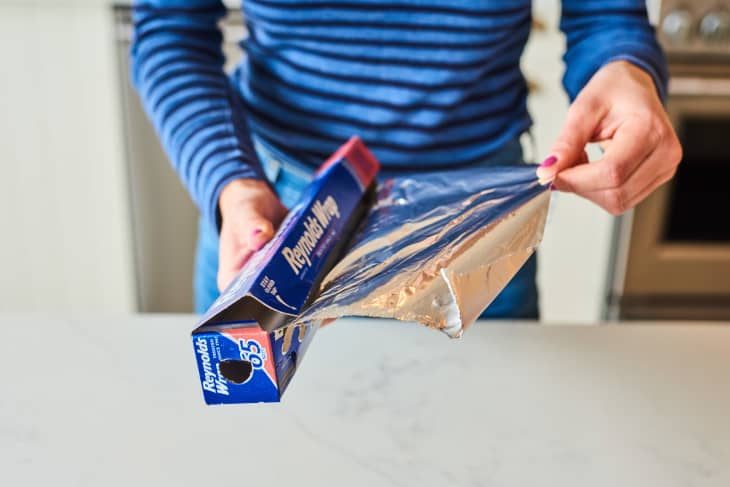 Now we've got another surprise for you. We've found a new, unexpected use for aluminum foil, and it has nothing to do with food.
In fact, it's a painting hack — which is pretty timely, considering all of the kitchen renovation projects that have been happening. As people have discovered the positive impact a new coat of paint can have on their surroundings and their mood, they've been looking for DIY ways to make the job a lot easier — and a lot less expensive.
That's where aluminum foil comes in. A short, 22-second YouTube video from The Home Depot shows why you should wrap foil around door knobs before painting a door.
It's brilliant in its simplicity. Anyone who has ever painted a door — to, say, your pantry or from the kitchen to the garage — knows how quickly paint can drip onto knobs and handles. If you don't scramble to wipe them clean, they can stain and ruin expensive hardware.
Taking a minute to wrap the knob in aluminum foil before you actually start painting can save you time, money, and aggravation. It's super simple because the foil is flexible enough to mold easily to any shape. And it's better than tape because it won't stick, and you don't have to get crafty by cutting out pieces.
Here's all you do: Grab a box of aluminum foil, and tear off a square, making sure you have enough to totally cover the knob. Mold the foil around the knob, covering it completely. Then, start painting! Once the door is completely dry, remove the foil and recycle it.
That's it! It really couldn't be easier. Plus, it's so convenient because you almost always have foil on hand.