Palm Springs Grandmother Is the New Coastal Grandmother — Here's How to Get the Look
We
independently
select these products—if you buy from one of our links, we may earn a commission. All prices were accurate at the time of publishing.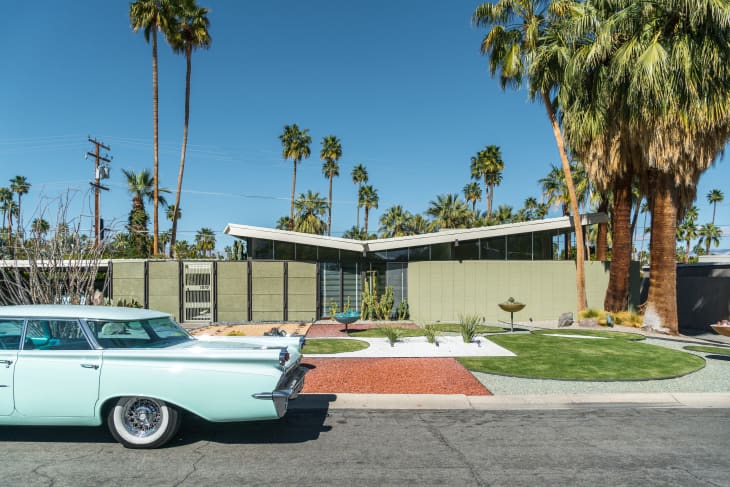 But then another grandmotherly force came in and shook things up. Palm Springs Grandmother first debuted as a personality on blogger Grace Atwood's Instagram, a colorful character with a penchant for caftans and cocktails, who never met a day where she couldn't kick back and relax. 
Atwood explains, "Coastal Grandmother was aspirational, but Palm Springs Grandmother would be her naughtier, more fun sister who drank martinis and lived in kaftans." Where Coastal Grandmother is subdued, calm, and embodied a crisp white sense of hospitality, Palm Springs Grandmother may or may not get up from her lounge chair of her desert-side pool, but she'll certainly tell you there are snacks inside by the record player. 
Coastal Grandmother was a welcome warm hug after 2020 and 2021, but Palm Springs Grandmother is here with a flirtatious wink to usher in a little more fun. For fans of "The Crown," think of her as the Princess Margaret to Queen Elizabeth. Both have their attributes, but only one is going to propose a spur-of-the-moment weekend trip somewhere indulgent.
Palm Springs Grandmother resurrects a collective eternal love of mid-century, of Mad Men, and modern. "She's not afraid to wear bold colors, probably swears too much, and thinks slippers are fine for outdoors and sunglasses are great for inside," explains Atwood. She's happy to greet the comeback of terrazzo and she'd love to spend hours comparing and contrasting the use of turquoise and fabulous umbrellas in Slim Aarons and Gray Malin's work. Collecting real art is a must, and she'll always use the nice glassware. 
Her home is filled with furniture that is curvy and feminine, bold and sculptural. Colors don't have to match as long as the vibes are right. Rooms are meant for lounging, reading, and relaxing because her motto is all about enjoying the luxuries of life. She'll splurge on the logo-draped vintage luggage or that iconic 1960s chair. Classic to her is whatever grabs her attention. If you love it, that's reason enough. 
Entertaining is done on a whim. There's always a chilled bottle in the fridge and a tray of nuts ready for happy hour. Palm Springs Grandmother never over-thinks anything, as long as she has either stories in her repertoire and guests in her pool or a good book in her hand, she's content.
And, while Atwood has retired Palm Springs Grandmother for the time being, this vibrant, lighthearted aesthetic is just getting started. Here's what I imagine Palm Springs Grandmother has around her home, so that you can get the look.