Pantone's Colors of the Year from 2010 Through 2020 All Appear in the Simpsons' Living Room
We independently select these products—if you buy from one of our links, we may earn a commission. All prices were accurate at the time of publishing.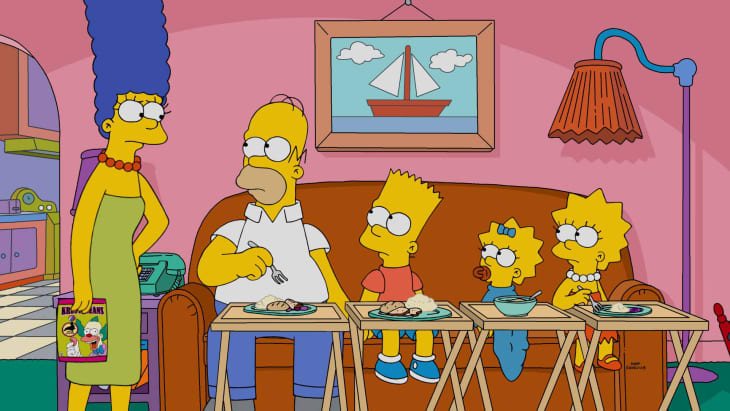 The Simpsons are one of the biggest American pop culture phenomena of the past few decades. In their 31 seasons, the animated family has influenced generations of people around the world. But did they also predict all the Pantone colors from 2010 to 2020? One blog post argues that they have, and it makes a pretty convincing case.
Aspire Doors, a U.K.-based door company, put together an image showing how each of the Pantone colors of the year from 2010 through 2019 appears in the Simpson family's living room. As for the eleventh color, that's 2020's classic blue, which bears a striking resemblance to Marge Simpson's hair color. Maybe once Marge and family are seated in the living room with all their various outfits, they'll account for the next few years' colors.
Follow Topics for more like this
Follow for more stories like this
The blog post from Aspire Doors breaks down the colors and their placements in the living room:
Let's begin with Pantone's Colour of the Year for 2013: Emerald. This hue is also the colour of the Simpsons' carpet. In 2016, Pantone made history by selecting two shades for Colour of the Year: Serenity and Rose Quartz. Mix these together and you get the colour of the walls in the Simpsons' living room.
2019's Living Coral matches the skirting boards, 2018's Ultra Violet is the colour of their television, going all the way back to 2010 where Pantone's Colour of the Year – Turquoise – matches the colour of their telephone. From the magazine rack to the side table, rug and curtain, they all match up.
While working through how The Simpsons may have been able to predict the future, the blog post taps into a fan theory that the show's creator, Matt Groening, is a time-traveler. Not only has the show "predicted" the Pantone colors, but, as the post points out, it's also shown technology like smart-watches and video calling before it became reality.
Who would have guessed that the Simpsons' living room would be so enduringly stylish?